Acronis

Cyber Protect Cloud
Landing a spot on the Canalys Leadership Matrix is an impressive achievement that showcases the industry's top-tier vendors who continuously demonstrate excellence across channel and technology strategy, performance and execution. Exploring the report offers valuable insights to help service providers strengthen partnerships with channel ecosystems and enhance ransomware protection growth to clients. Canalys Managed BDR Leadership Matrix 2023 has named Acronis a Champion, which is the highest level of classification.
Understanding the Canalys Managed BDR Leadership Matrix
Unlike other analyst reports, Canalys Leadership Matrix is the only channel-focused assessment which scores the leading technology vendors through an MSP-centric lens. Each year, Canalys Managed BDR Leadership Matrix assesses and benchmarks global managed backup and disaster recovery leaders.
The report reveals findings based on 20 key metrics used to determine vendor performance in their respective areas over the past 12 months. With an MSP-focused mindset, vendors are assessed and analyzed on ease of use, technological capabilities and market performance. The Matrix evaluates three primary inputs, including analyst assessment, ecosystem feedback and market share metrics.
These metrics feed Canalys' proprietary model, which yields a series of two scores, the Leadership score and the Momentum score. The overall Leadership score represents the vendor's current standing against the three primary inputs, while the Momentum score indicates the degree of change.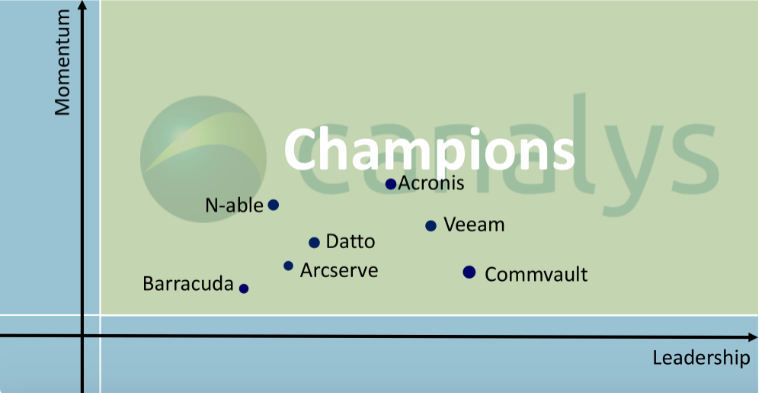 Acronis emerges as a Champion again
We are pleased to announce Acronis is crowned a Champion in 2023, earning high ratings across all evaluated metrics. With a dedication to excellence, Acronis remains positioned as an innovative leader in BDR since our appearance as a Strategic vendor in 2022. Our commitment to driving future improvements in channel management, strategy and execution, backs our high-caliber standing and proven channel performance. These improvements include expanding protection to Microsoft 365 and Google Workspace and the addition of public cloud locations and management tools.
Acronis' stellar performance in key areas
We excel in various areas, including MSP channel investment, robust services and support, and seamless integrations. The innovation, growth and development of cyber protection capabilities such as backup for M365 data, backup and recovery for Google Workspace and Advanced Automation makes Acronis a key player in the BDR landscape. The report highlights Acronis' outstanding performance which resulted in over 10,000 MSPs served.
Notably, Acronis surpassed Datto and outperformed the IT solutions company with a higher score in both Leadership and Momentum. Acronis' Leadership score of 64% compared to Datto's 58%, and Acronis' 63% Momentum score compared to Datto's 59%, indicate Acronis' continued improvement and success to drive secure, efficient and reliable BDR built for MSPs.
See the scores for yourself. Discover why Acronis is a top-ranked backup and disaster recovery vendor.
About Acronis
Acronis is a Swiss company, founded in Singapore. Celebrating two decades of innovation, Acronis has more than 1,800 employees in 45 locations. The Acronis Cyber Protect Cloud solution is available in 26 languages in over 150 countries and is used by 20,000 service providers to protect over 750,000 businesses.