Acronis

Cyber Protect Cloud
Today's business users are more reliant on data than ever before, so any downtime or data loss can devastate an organization. Since data loss can happen at any moment, as a service provider you need to restore your clients' business-critical data as quickly as possible.
How quickly they get back to normal depends on when you last backed up their data. Poor data protection can set them back hours, days, or perhaps weeks – severely impact their employees' productivity and the organization's long-term viability.
What is continuous data protection?
Continuous backup or real-time backup, more commonly known as continuous data protection (CDP), is a process in which every change a user makes to data automatically triggers a backup of that data, essentially recording every version the user saves. The true power of it comes from your ability to restore client data to any point in time without any data loss of critical assets. It is officially defined as "a backup system in which a copy of every change made to a storage medium is recorded as the change occurs."
Simply put, CDP ensures end-users don't lose their in-progress work by capturing changes made in real-time. Near CDP versus True CDP Solutions Continuous data protection has evolved into two distinct categories based on recovery point objectives (RPOs), or the maximum allowable amount of time in which data might be lost because of an incident.
Near CDP – When some data loss is tolerable, near CDP is acceptable. These are typically limited to a certain number of backups so that any earlier versions would be overwritten.

True CDP – When acceptable RPOs are zero, true CDP continuously backs up data with every change. True continuous backup systems record everything in a changelog on the CDP system, thereby keeping all changes before an incident affects your clients' employees, so you can restore to any point before their data was corrupted or lost.
How does continuous data protection work?
Continuous data protection (CDP) copies any changes to source data to a separate target.
Typically, the target disk will be in the same network as the source, allowing you to recover any lost client data quickly. Off-site replication, wherein the target disk is not on the same network, provides better protection but also introduces higher latency.
In some instances, continuous backup systems will allow replication to two locations, one on-premises for instant recovery and another off-site in cases of disaster recovery.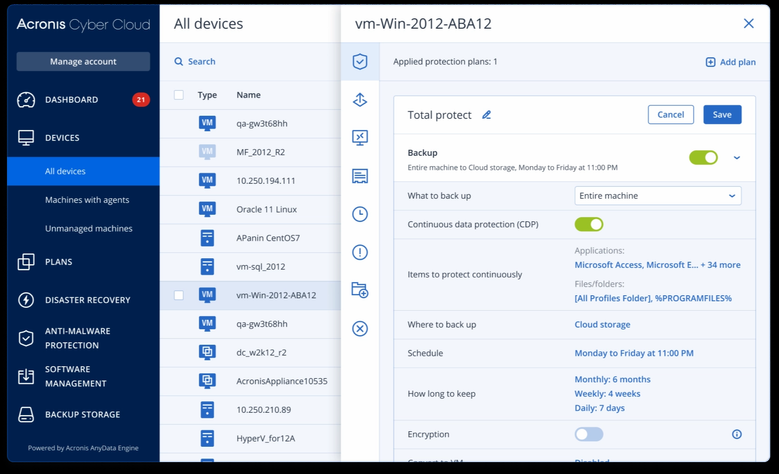 CDP data types Continuous data protection can back up and record changes to many types of data:
Emails in mailboxes

Messages

Database files

Database logs

Application data and files
Benefits of continuous data protection
There are many benefits to CDP, which enables you to store clients' data securely. However, it also provides some challenges.
Benefits
Every change is recorded, and copies are created so you can find it in the changelog and recover data from any point in time.

Every data transaction is preserved, which is critical for clients in regulated industries who need to meet compliance requirements, especially security incident forensics.

Backups can be replicated as frequently as required to a remote data center, which plays a vital role in your disaster recovery services.

With multiple backup copies of every file, you can roll back to any previous version without data loss.
Challenges
CDP requires fast disk drives, which may involve a significant investment in physical disk storage.

Data volumes increase exponentially because everything is immediately backed up. This volume may cause performance or stability issues for critical data resources.
By defining a list of critical applications your clients frequently use (and can't afford to lose data from), the Acronis agent monitors every change made in the listed applications and continuously backs them up between scheduled backups, so no data is lost – helping achieve near-zero RPOs.
Paired with cyber protection, this helps you offer the best prevention and recovery services available.
About Acronis
Acronis is a Swiss company, founded in Singapore. Celebrating two decades of innovation, Acronis has more than 1,800 employees in 45 locations. The Acronis Cyber Protect Cloud solution is available in 26 languages in over 150 countries and is used by 20,000 service providers to protect over 750,000 businesses.