formerly Acronis Cyber Backup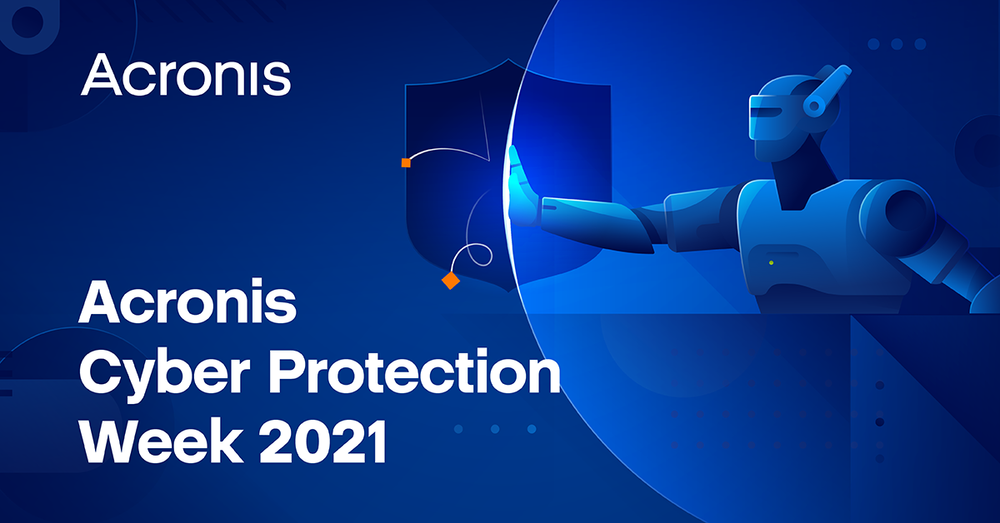 Given all of the risks to data that exist in the modern world, relying on a traditional approach to backup is no longer enough. To draw attention to this growing gap in protection, last year we expanded World Backup Day (historically marked on March 31) into the first-ever Cyber Protection Week.
Almost immediately after our event launched, the entire world was shaken up by a year of lockdowns, uncertainty, and the need for sudden, drastic shifts for people, processes, and technology.
This Cyber Protection Week, which occurs March 29 through April 2, individuals and organizations around the globe are still experiencing changes they couldn't have planned for a year ago. Many have found that the solutions they had in place before the pandemic weren't enough to protect the data they rely on:
It's time to rethink how we protect data, applications, and systems. And to do that, we surveyed 4,400 personal IT users and IT professionals from around the world, collected their unique experiences and concerns to create the inaugural Cyber Protection Week Global Report.
Curious how individuals and organizations are approaching cyber protection, the gaps that remain in their protection strategies, how cybercriminals look to exploit those gaps, and IT service organizations are prepared to counter them? Our key takeaways are below and your copy of the full report is available here.
More solutions don't mean more protection
A trend we've seen in recent years takes center stage in our research. To try and protect rapidly expanding digital environments, IT teams layer on new cybersecurity and data protection solutions and services. This year's Acronis Cyber Protection Week Global Report found that nearly 80% of organizations now have up to 10 different protection and security tools and agents running simultaneously.
For around 75% of organizations, that includes all of the cybersecurity technologies that industry experts recommend, including continuous data protection, vulnerability assessments, URL filtering, automated patch management, and more.
Unfortunately, these services are delivered by different vendors and solutions. As a result, the complexity of maintaining and managing them is often difficult. Securing remote environments, ensuring availability, and maintaining employee productivity remain major challenges for IT professionals and patchworks of protection inevitably lead to vulnerabilities. More than half of the IT professionals we surveyed saw downtime that led to data loss in the last year.
How Acronis helps partners eliminate complexity
Acronis has long recognized the cost, efficiency, and security challenges that arise from using multiple solutions, which is why the company pioneered the field of cyber protection, integrating cutting-edge cybersecurity, best-of-breed backup, and protection management in a single solution. Managed service providers can build their IT services on Acronis Cyber Protect Cloud, while businesses can gain the same unified capabilities with the company's on-premises solution, Acronis Cyber Protect 15.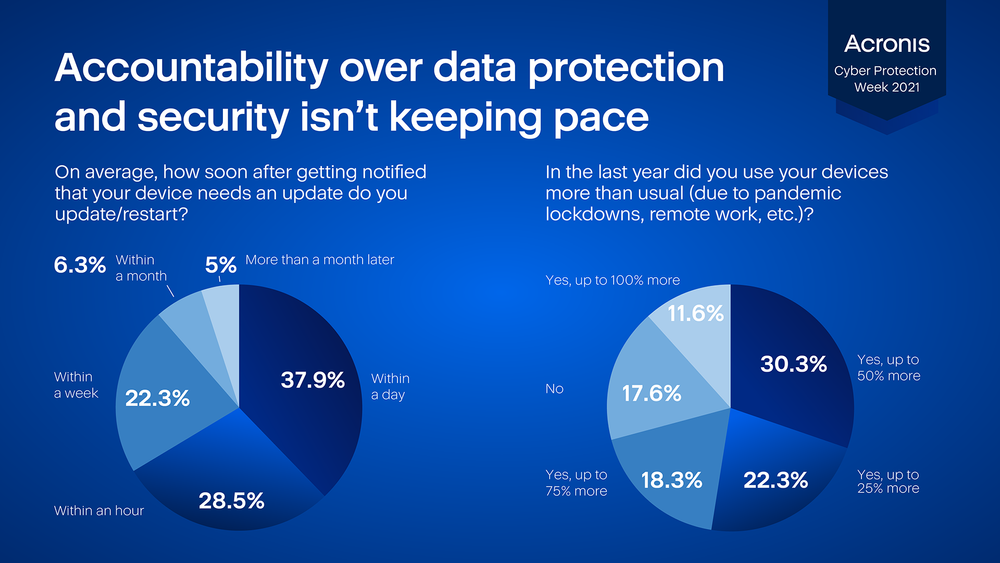 Personal IT users don't feel accountable for their own security
Through the COVID pandemic, technology around the world saw more use than ever before. Our research found that 82% of IT users spent more time on their devices in the past year but just half took any steps to increase their protection to account for this increased risk.
What's worse, most of the data protection and cybersecurity defenses that individuals have in place are automated solutions that many feel are enough to keep themselves protected without needing to actively participate in their own protection.
Backups are commonly done automatically to the cloud but when recoveries are needed individuals can spend up to 12 hours regaining access. Additionally, 75% of personal IT users have irretrievably lost data. Despite this common experience, efforts to ensure online privacy don't reach far beyond common sense steps that are often a prerequisite for modern apps including strong passwords, secure Wi-Fi connections, and multi-factor authentication.
How Acronis helps user enhance their security
Our cyber protection solutions extend defenses to all data, apps, and systems including Microsoft 365 and videoconferencing solutions that don't automatically perform backups or cybersecurity scans. Plus, with at-a-glance reports in Acronis Cyber Protect Cloud for service providers, Acronis Cyber Protect 15 for organizations, and Acronis True Image for individuals, users can confirm that they're protected in no time.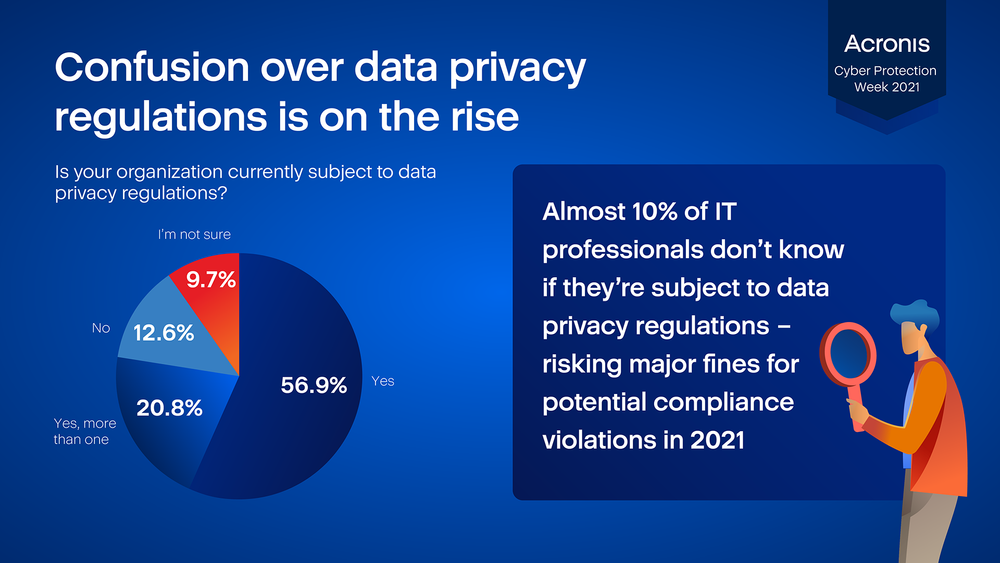 A lack of awareness causes a lack of protection
One major challenge illustrated in the Cyber Protection Week Global Report that affects both individuals and organizations is a lack of awareness regarding cybersecurity and technology capabilities.
Just 13% of IT users and IT professionals follow backup best practices

68% of IT users and 20% of IT professionals wouldn't know if their data had been unexpectedly modified because tools don't make it easy to find out

43% of IT users don't know if their anti-malware stops zero-day threats because it's not easy to find out

Roughly 25% of IT users don't know what ransomware, cryptojacking, Dos/DDoS, and IoT attacks are

10% of IT pros don't know if they're subject to data privacy regulations, risking major fines for potential compliance violations
While most of our research indicates that the majority of respondents are in tune with modern IT challenges and how they can start to overcome them, a noteworthy minority lack knowledge that would be integral to keeping the data they rely on safe and secure.
How Acronis enables individuals, organizations, and partners
The cyberthreat landscape is constantly evolving. Staying informed is the best way to stay ahead of risks stemming from external sources like cybercriminals and from internal sources like human error. To help give Acronis users and partners an edge, we've created a wealth of content including the new Acronis Cyber Protection Week Global Report that are design to provide all the insights needed to rethink how you approach protection.
Looking for even more customized cyber protection insights?
Gain a more tailored perspective of the modern cyber protection landscape and unlock findings unique to your team and market with our four Regional Deepdive assets:
About Acronis
Acronis is a Swiss company, founded in Singapore. Celebrating two decades of innovation, Acronis has more than 1,800 employees in 45 locations. The Acronis Cyber Protect Cloud solution is available in 26 languages in over 150 countries and is used by 20,000 service providers to protect over 750,000 businesses.