Acronis

Cyber Protect Cloud
Hurricane Matthew took the lives of hundreds of people in Haiti last weekend, then steamed up the southeast coast of the United States, threatening lives, businesses, roads, bridges: everything in its path. It caused widespread power outages, flooding, and network havoc throughout Florida, Georgia, and South Carolina.
Millions of people were ordered to evacuate their homes and businesses in Florida alone. Florida Governor Rick Scott stated, "This is deadly… if you choose to stay and try to ride the storm out, your life is at risk."
Yours may be one of the businesses in Hurricane Matthew's path — and our heart goes out to every person currently suffering through the aftermath of this force of nature. But if you are safely out of its path, and like me, are following the hurricane via Twitter and Instagram, now is the time to think.
You have Backup, but do you have a Disaster Recovery plan?
You may have good data backup, but do you know what to do when you lose your data or when your business has to relocate in an emergency? Do you know how to restore your backup? Do you know how to access protected data when something goes wrong? Do you have a plan to ensure business continuity? Have you even thought about it?
If you run a business, now might be an appropriate moment to think about data security, backup and recovery in the context of a potential emergency like a hurricane, tornado, flood, earthquake, tsunami or blizzard. Do you have a plan on how to roll out your business in a different location? How would you avoid extended periods of downtime and ensure business continuity?
Disaster Recovery is not only about restoring backups. It's about having a plan, knowing exactly what is required to bring your business back online when something unforeseen or unfortunate happens to your business, having periodically rehearsed and tested that plan. We may talk about purely data-centric metrics like amazing recovery point objectives (RPOs) and lightning-quick recovery time objectives (RTO), but if you are not prepared for a disaster, backup may not be of much use to you. A carefully thought-through disaster recovery plan is a must for any business that relies on data.
A few years ago, it may have been acceptable to sit down and wait for an IT guy to rebuild a crashed server and to take his time to restore backups. Today, that approach not an option. The digital world has taken control of every aspect of our business and personal lives, and without data your business may not be able to survive.
Thus it is imperative to have a Disaster Recovery plan, and building one may require a substantial paradigm shift in the way you view your business. You may have invested in backup software and even hardware. However, when you start thinking about recovery from a natural disaster, you may see your data protection objectives in a very different way and conclude that you must invest in Disaster Recovery services to complement your backup.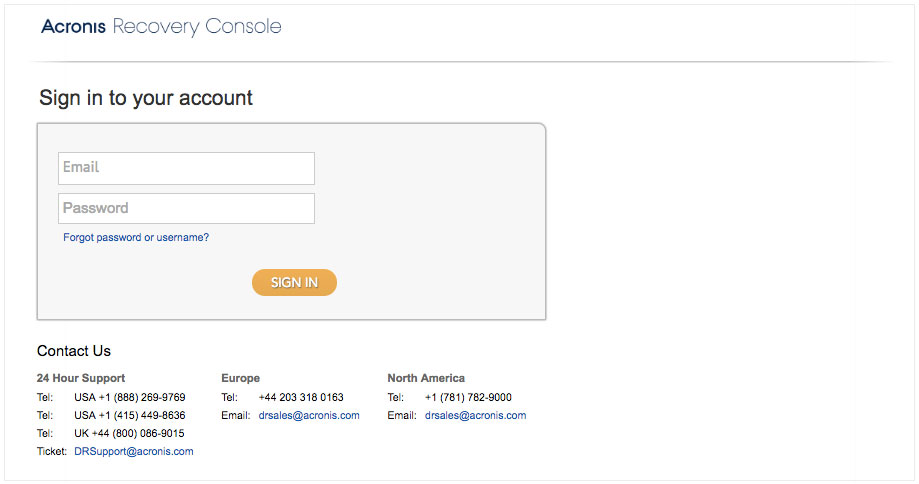 Acronis Recovery Console login screen.
The good news is that it's easy. Companies like Acronis offer a blended solution that complements backup functionality with Disaster Recovery features, such as a single pane of glass that enables you to monitor your entire data protection infrastructure and take any actions needed for both backup and recovery operations.
It allows you to replicate your systems into an on-site appliance and a cloud data center. If you local infrastructure is affected by a natural disaster, you'll be able to recover and restart your systems in the cloud and continue providing IT services from a new location, until you can safely fail back. Acronis Disaster Recovery Service can protect any physical and virtual system in any environment and in any location.
If you are a small business and haven't yet thought about disaster recovery, now is the time to do so. The failure to quickly recover from a disaster and resume delivery of IT services to your employees and customers can lead to the failure of your business. A good disaster recovery plan built around a proven solution that integrates data recovery with backup can ultimately save your business.
If you wish to learn more about disaster recovery and business continuity solutions, contact an Acronis representative in your area or visit http://www.acronis.com/en-us/business/disaster-recovery-service/
About Acronis
Acronis is a Swiss company, founded in Singapore. Celebrating two decades of innovation, Acronis has more than 1,800 employees in 45 locations. The Acronis Cyber Protect Cloud solution is available in 26 languages in over 150 countries and is used by 20,000 service providers to protect over 750,000 businesses.