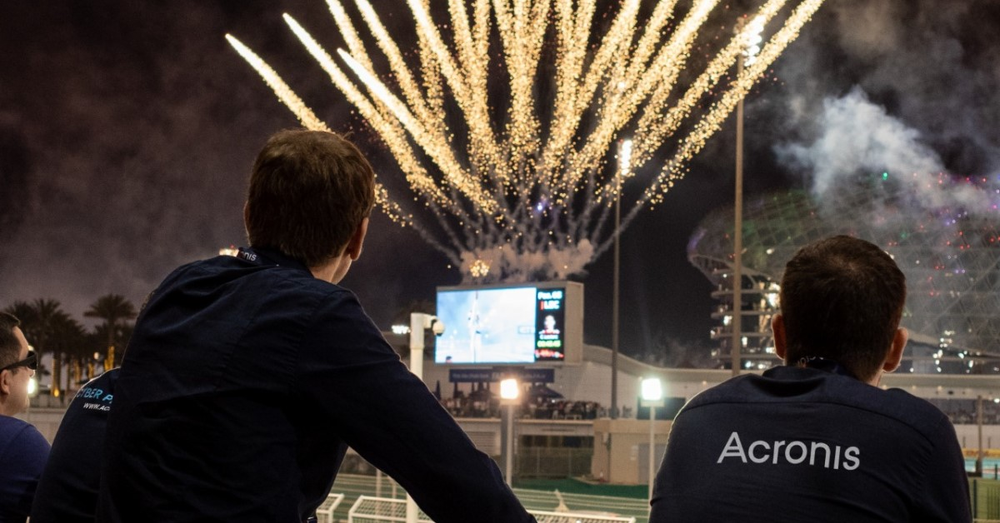 Rich with learning, training and networking, partners raved about the now-complete Acronis #CyberFit Summit saying the event was "perfect," "very insightful," and "important to be here" with "great organization" and "lots of information." Indeed, from November 27 - 28, service providers and business IT professionals convened to get hands-on insights about the latest cyber protection innovations that will help shape the future of the IT industry – and fun and enjoyment were not in short supply either.
From the robust lineup of trainings that kicked off the Summit's first day to a second day that began with a dramatic Acronis Cyber Dragon Cup soccer face-off and followed with insightful presentations, an eye-opening panel discussion, and two breakout session learning tracks, attendees had a full and informative experience. The occasion concluded with a memorable Women in Tech Gala Reception too.
If you weren't one of the attendees at this year's event – or are looking for a recap – continue reading for highlights from the Acronis #CyberFit Summit and to find helpful links, including to all recordings.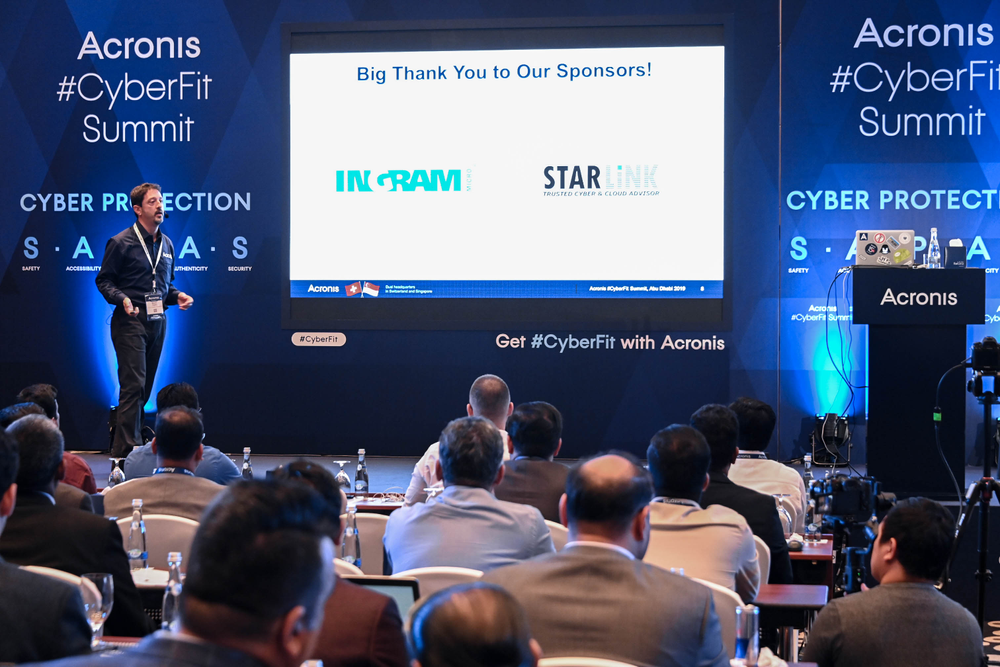 Special thanks to our sponsors:
Ingram Micro and StarLink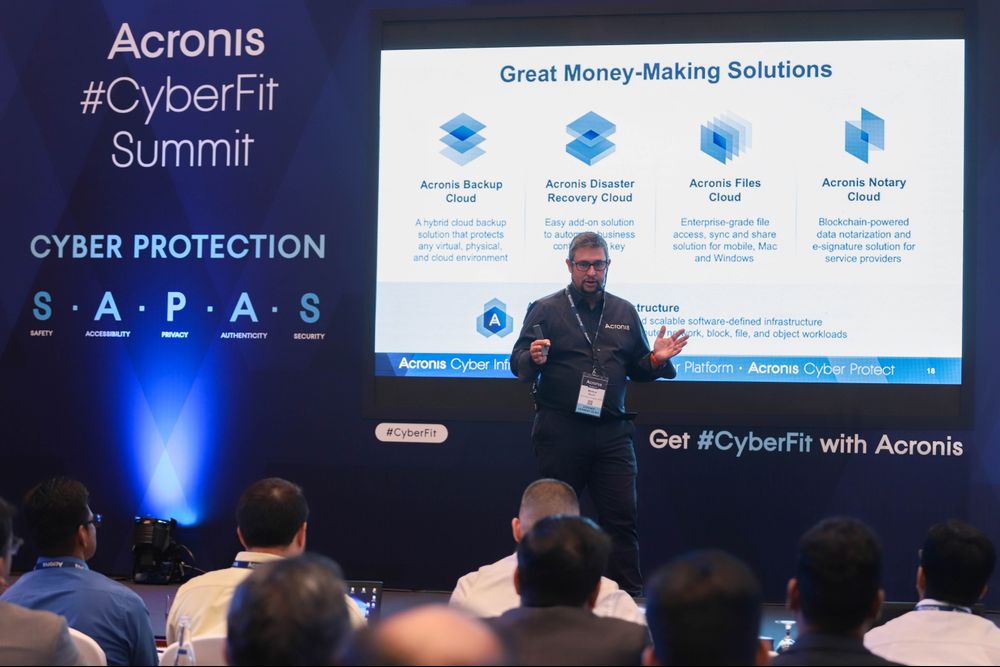 Business-Boosting Trainings
To bolster a wider understanding of and the need for cyber protection today – which IDC has dubbed the new IT discipline – IT pros themselves need practical training to educate customers and prospects about this critical and complex field, and to deliver the essential cyber protection services that business require. That's why the Acronis #CyberFit Summit began with a full day of top-notch sales and technical trainings.
Sessions were packed with hundreds of attendees excited to gain key skills to educate customers and leverage the cyber protection advantage once back home. Tracks included the Acronis Sales Professional Training (and certification) program, the Acronis Backup Specialist Training (and certification) program, and a new workshop dedicated to the latest Acronis Cloud Solutions.
Anyone who could not attend the Acronis #CyberFit Summit, but who still wants to leverage the opportunities available should visit our Partner Program page.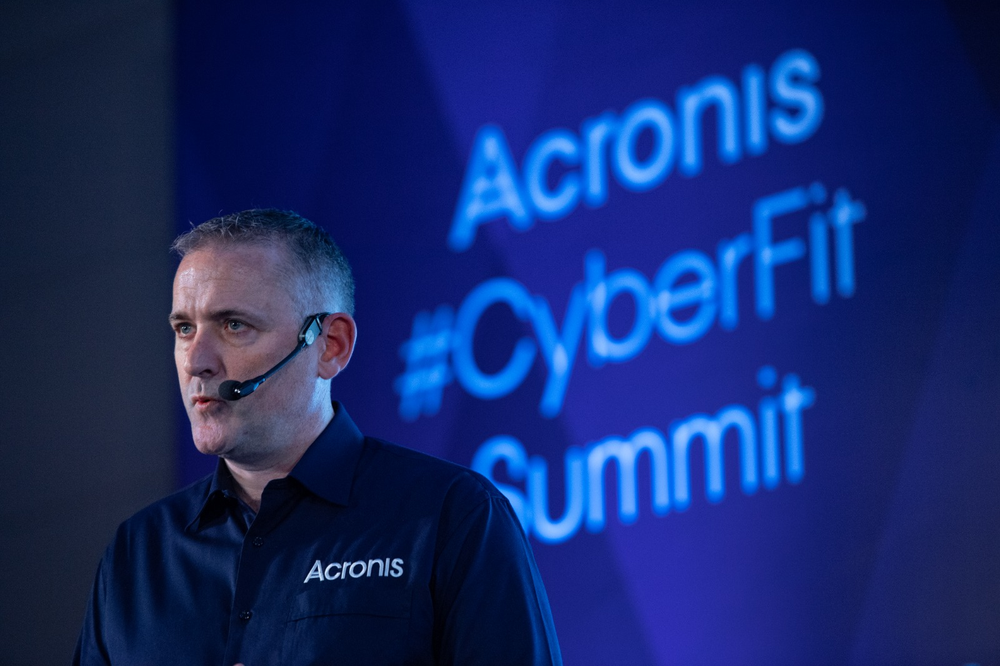 Insights from Acronis Execs
Ronan McCurtin (Acronis); Pasha Ershow (Acronis)
Acronis Execs teamed up on day two to provide a critical backdrop to the cyber protection revolution that's underway – the world is digital and as data volumes grow and methods of access to data changes (not to mention the applications and systems that rely on it) there are complex and often competing considerations. Coping with these challenges requires new solutions that improve efficiency and control costs.
Because data has exploded in recent years, Ronan McCurtin explained, "we have to broaden our thinking around data and how we protect that data. Cyber protection is the merging of data protection and cyber security to give you additional layers of protection for your data."
Called the Five Vectors of Cyber Protection, Acronis has developed a unique approach that addresses and balances key requirements today: safety, accessibility, privacy, authenticity and security for all data, applications and systems. Better still, Pasha Ershow illustrated how implementing Acronis' cohesive approach ensures that partners can do so easily, efficiently and securely. That's because innovation is the cornerstone of our work (e.g. leveraging artificial intelligence and blockchain technologies).
Nick Grebennikoff (Acronis); Vasily Rudomanov (Acronis); Stas Pavlov (Acronis); Victor Batraev (Acronis)
As part of day two's presentations, Pasha Ershow was joined on stage by Acronis' elite technical team. Together they showcased four new cyber protection solutions, which are designed to provide comprehensive cyber protection while boosting margins and market opportunities for Acronis partners.
To hear the executive team's insights and see Acronis' latest solutions in action, access the replay here.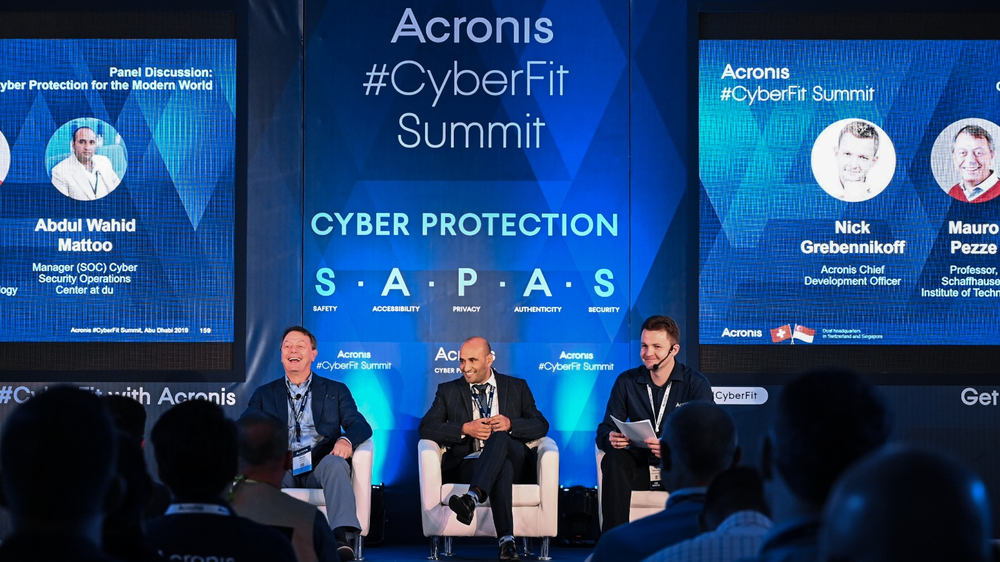 Learning from the Experts
Mauro Pezzè (Shaffhausen Institute of Technology) and Abdul Wahid Mattoo (Cyber Security Operations at du)
Next, participants heard about the latest technical advances that will have the largest impact on society – and therefore industry.
Professor Mauro Pezzè of the Schaffhausen Institute of Technology shared how his new, multi-disciplinary research institute – with computer science and software engineering at the core – will work collaboratively to address real social problems. You can access his presentation about self-healing (cloud) systems and how they can help overcome existing limitations here.
Moderated by Nick Grebnnikoff, a rich panel discussion about how cyber protection is impacting the modern world followed later. Together Mauro Pezzè and du's Abdul Wahid Mattoo discussed security threats, security technologies, and the shortage of skills in the market. Their lively conversation drew from real use-cases and focused on the rise and impact of cyberattacks, and how to take action to stay ahead of challenges. They also covered the growing cybersecurity skills gap and strategies to close it on a global scale.
Find the recording here.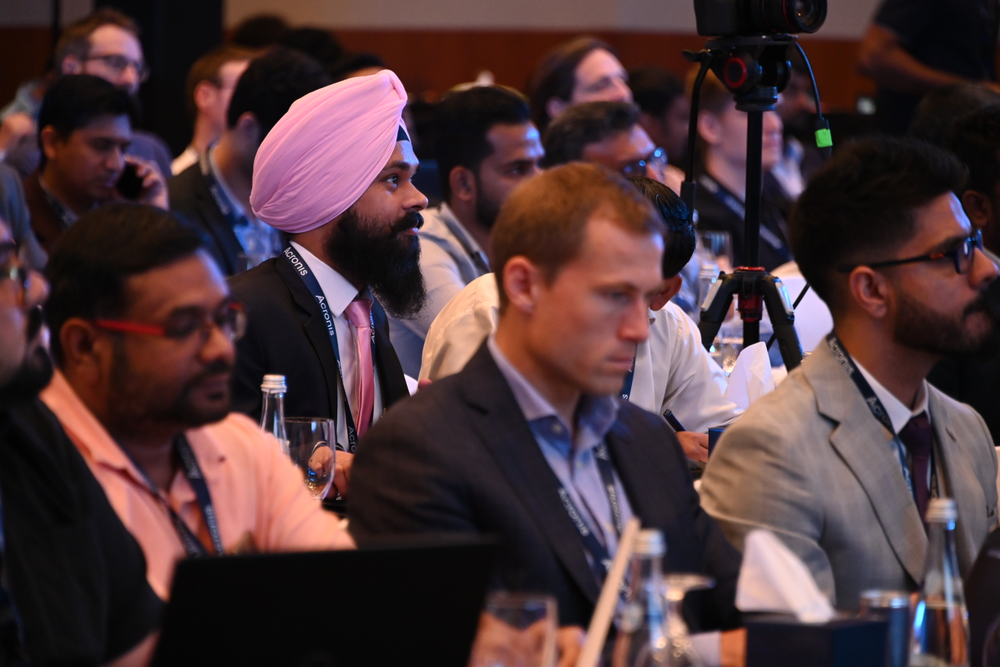 Enlightening Educational Tracks
After lunch, attendees at the Acronis #CyberFit Summit participated in one of two educational tracks:
The first track focused on how Acronis Cyber Cloud enables service providers to Modernize Their Business and Grow; how Acronis' product Roadmap to Innovations in Cyber Protection paves an easy, efficient and secure way forward; and how Leveraging the Acronis Cyber Platform for a Competitive Advantage is possible with specific integration, customization, and extension opportunities now available to service providers via the Acronis Cyber Platform.
The second track dove deep into the Future of Cyber Protection in the Cloud; how powerful integrations coming soon in Acronis Cyber Protect will offer one complete and efficient solution that covers you end-to-end with backup, disaster recovery, AI-based malware protection, remote assistance, and security; and how it's possible to Win the Trifecta in Infrastructure by Finding the Easy, Efficient and Secure Way to Have it All – Modern Infrastructure Options That Create Opportunity Over Complexity.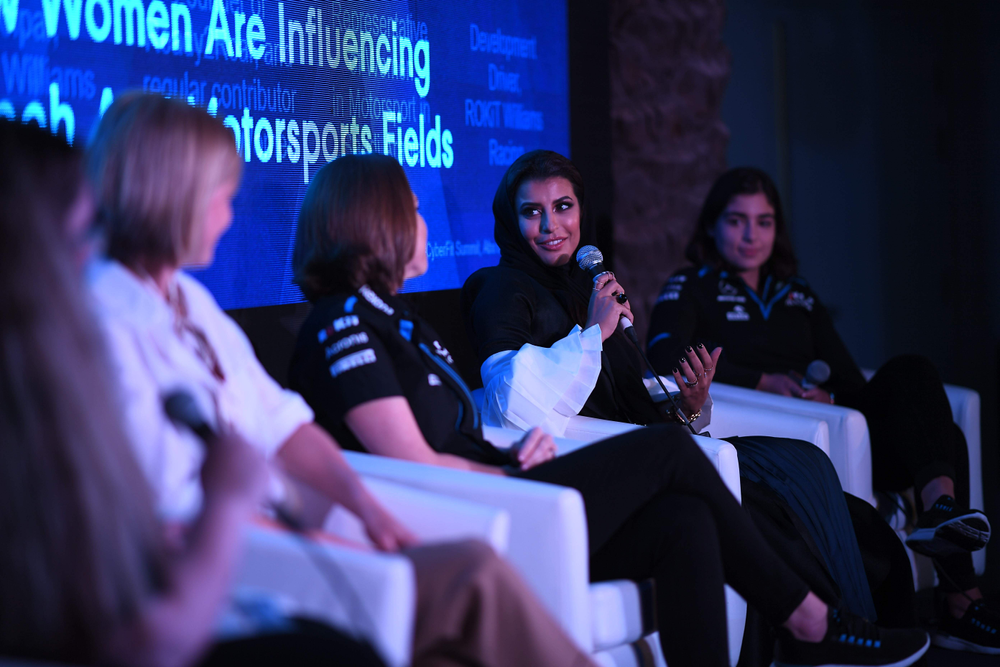 Rewarding Women in Tech Gala Reception
Jamie Chadwick (ROKiT Williams Racing); Susie Wolff (ROKiT Venturi Racing); Aseel Al-Hamad (Women in Motorsport in Saudi Arabia); Claire Williams (ROKiT Williams Racing); Leoni Rossberg (Acronis Cyber Foundation); Dr. Cheryl Robinson (Ready2Roar, contributor for ForbesWomen)
The night ended with a Women in Tech program, which drew attention to the role women play in the fields of technology and motorsport. Committed to addressing complex issues and promoting equal opportunities industry-wide, the speakers talked about the business and community benefits of empowering young girls and employing more women. For example, Susie Wolff talked about the Girls on Track Initiative and Claire Williams shared her experience managing a Formula 1 team. Leoni Rossberg presented examples from the Acronis Cyber Foundation's great work as well as educational opportunities for boys and girls around the world.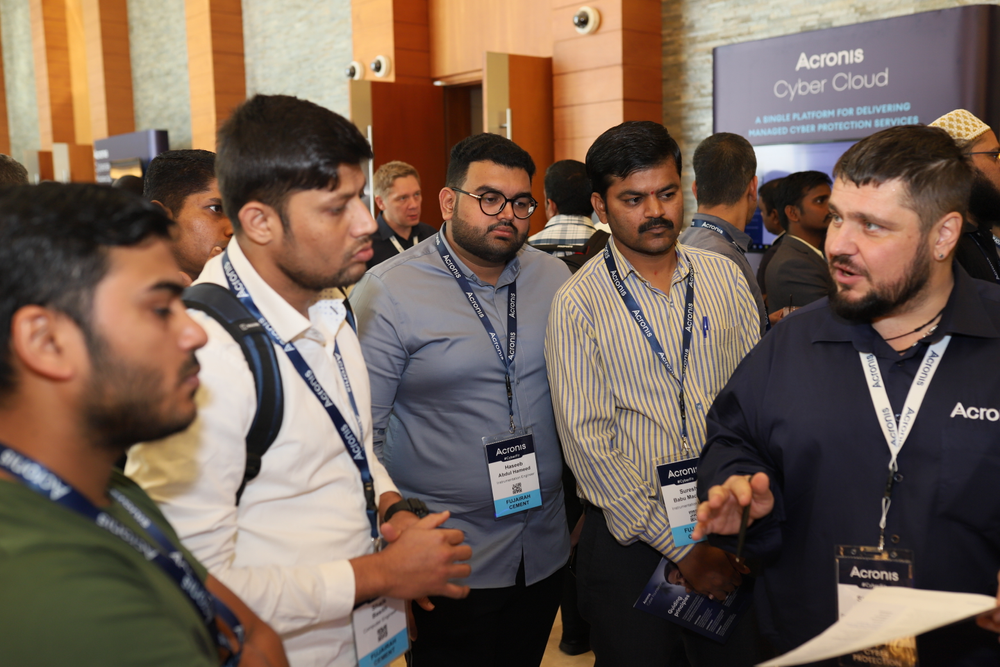 There's no doubt that engagement at this year's Acronis #CyberFit Summit in Abu Dhabi demonstrated the dramatic need for advanced tools and talent to address modern data management challenges and the rise in cyberattacks – the cyber protection revolution is just getting started.
The next step is for attendees to leverage the tech, insights, and connections they made at the Summit to keep their businesses – and customers – safe from threats.
To stay current with all things cyber protection, be sure to follow Acronis and continue exploring how your IT environment can benefit from Acronis cyber protection services.
As we look ahead to 2020, there's more to benefit your organization coming, including details about next year's Acronis #CyberFit Summit. Stay tuned!