The floor is buzzing at the first full day of IT Nation Connect in Orlando and the Acronis team is having some great conversations as nearly 3,000 MSP professionals are roaming the show floor. As Gold Sponsors of this year's event, it's great to hear that so many attendees who are looking to expand their business are finding value in the program and their interactions with different vendors.
And since today is also Halloween, plenty of our peers are having fun with costumes and candy, making the show floor as festive as it is informative.
While visiting Acronis at Booth #108, attendees expressed a lot of interest in many of the presentations that directly touched on concerns facing MSPs – particularly those regarding the rise in cyberthreats that Acronis has been addressing.
One of the major topics attendees are voicing concerns about is cybersecurity, which was covered in a few sessions.
Several MSPs talked about how they had concerns about meeting their customers' cybersecurity needs in an IT environment where threats are always changing. They appreciated the presentation by ConnectWise's CISO John Ford and VP of Brand and Ecosystem Evangelism Arlin Sorensen, which offered some insights into how they can build a security offering at different stages of the growth process.
Others were interested in the afternoon Torch Talk that featured security experts talking about the steps different governmental agencies are taking regarding cyberthreats and how they see those threats evolving in the future.
Whether it's governmental agencies, large enterprises or small businesses, Acronis believes the need to protect data is universal. MSPs need to be able to help all of their customers with modern solutions that address both their data protection and cybersecurity needs.
This is the vision of the cyber protection revolution that Acronis has been leading – and delivering to MSPs.
To effectively protect data today, modern solutions need to address the Five Vectors of Cyber Protection – ensuring the safety, accessibility, privacy, authenticity, and security of data. With our service provider platform Acronis Cyber Cloud, service providers are able to offer a unique, powerful, and profitable set of cyber protection services, including backup, disaster recovery, file sync and share, and blockchain-based notarization and e-signature services – all through a single management console.
As a result of our close relationship with ConnectWise, Acronis Cyber Cloud features native integrations with ConnectWise Manage, ConnectWise Automate, and ConnectWise Control – making it a powerful tool for MSPs who rely on ConnectWise.
To see how the integrations between Acronis and ConnectWise create a clear advantage for service providers, IT Nation Connect attendees can stop by Booth #108 for a demo.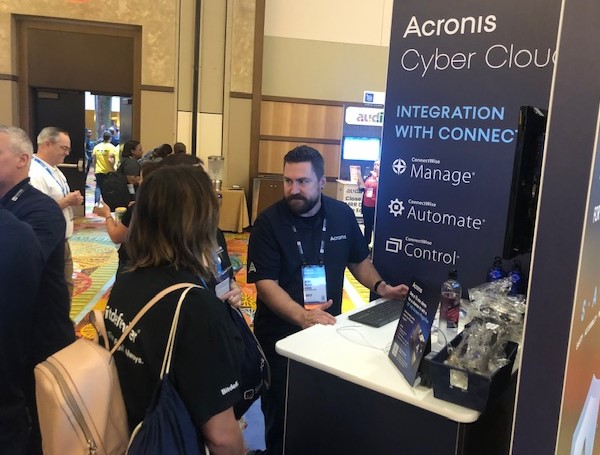 In fact, the first five people who stop by the booth during tonight's Halloween Pub Crawl and watch our 15-minute demonstration will receive a $50 gift card.
ConnectWise knows what MSPs are facing and they know Acronis has the solutions, which is why our companies work so well together and have such a long partnership.
To learn more about how Acronis Cyber Cloud can help you build your MSP business while meeting all of your customers' modern IT needs, visit Acronis at Booth #108 at IT Nation Connect. You can also learn more on our website.