Acronis

Cyber Protect Cloud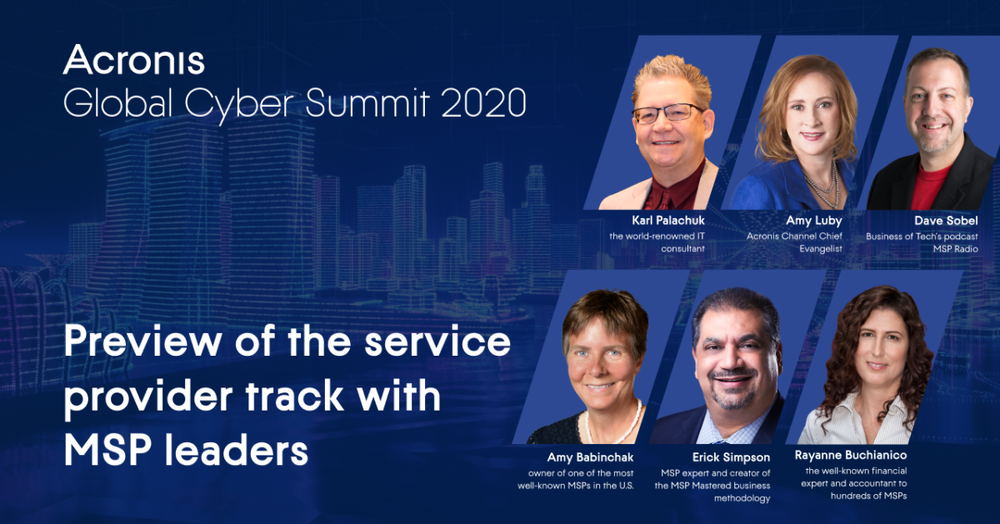 The Acronis Global Cyber Summit 2020 is only a few days away. This year we are bringing some of the most influential experts trusted by managed service providers (MSPs) to the stage, each running live workshops for the global MSP Channel Community.
Let's be honest: 2020 has been a rough year. While members of the global MSP Community stepped up to be the heroes of the rapid shift to work from home (WFH) that was required dictated by the COVID-19 pandemic, we still have a lot of work to do.
The global security landscape has changed dramatically and it continues to evolve today. MSPs are perfectly poised to take advantage of this reality in the near term and long term future, but it will take some forethought and planning. That requires stepping back and thinking about what comes next.
That's why I want to personally invite you to come away for a bit, step out of your day-to-day routine, and take some time to work on your business by listening to the experts at the 2020 Summit.
Helping MSPs build their businesses
The channel experts who are sharing their insights at the Acronis Global Cyber Summit next week will be covering every aspect of your MSP business: from marketing and sales to operations and finance.
One of the best parts will be that these workshops are live. That means you can interact with them in real-time to ask the hard questions. You can bring your real-world scenarios to the table and they'll discuss it with you.
At the end of the three-day Summit, you'll walk away with the tools you need to assess your business, spot your gaps, and immediately apply what you've learned to your business.
Heavy-hitters of the channel
Since I'll be hosting the Service Provider/Channel Track at the Summit, I recently spoke with these thought leaders. You can hear from these experts first-hand about their upcoming workshops.
Here's a quick look at who these experts are and what they'll be covering at the Acronis Global Cyber Summit.
Amy Babinchak, owner of one of the most well-known MSPs in the U.S., Harbor Computer Services and Third Tier, is leading the "Don't become obsolete" workshop where you'll learn first-hand what it takes to build a security-first organization using modern strategies and modern tools.
Erick Simpson, MSP expert and creator of the MSP Mastered business methodology, will show us how to get to win in the cloud. He will show you shortcuts to success, the pitfalls to avoid, and how to plan for post-pandemic IT environments.
Rayanne Buchianico, the well-known financial expert and accountant to hundreds of MSPs, is giving a workshop that's focused on the economics of the recurring revenue model. She will walk you through the service provider P&L, balance sheet, and cash flow statements. You'll leave her workshop with a clear understanding of your own financials so you can keep your own business healthy. You'll also get a checklist to spot the five most common red flags on your P&L.
Karl Palachuk, the world-renowned IT consultant and author of more than 20 books on the business of being an MSP (including this e-book for Acronis), brings us his workshop on designing, positioning, marketing and selling managed security services in today's threat landscape. His bottom line? You can't keep selling new things the old way! You'll walk away with the top 10 most critical components of a modern sales and marketing approach to creating and selling security services.
Dave Sobel will join us throughout the Summit, bringing his Business of Tech podcast MSP Radio live to the event, asking his famous question, "Why do we care?" Dave will break down the event, report relevant stats, update everyone on the highlights, and give his recommendations for what not to miss at the 2020 Summit.
At this year's Summit, our service provider track is focusing on sharing the best practices for building a security-first services organization. To do this, we've assembled some of the best in the business to share their tips, tricks, and secrets to building a modern, agile, and profitable security services organization. I'm excited to host them, and I hope you'll take some time out of your day to join us.
And don't worry: the Acronis Global Cyber Summit 2020 is being offered as a free virtual event this year, so you don't have to worry about the cost. It all starts with a day of training and certifications on Monday, October 19 before kicking off on October 20 and 21.
To reserve your spot and to see the full agenda, visit https://acronis.events/summit2020/.
About Acronis
Acronis is a Swiss company, founded in Singapore. Celebrating two decades of innovation, Acronis has more than 1,800 employees in 45 locations. The Acronis Cyber Protect Cloud solution is available in 26 languages in over 150 countries and is used by 20,000 service providers to protect over 750,000 businesses.