formerly Acronis Cyber Backup
Acronis has moved away from big, version-based launches of the Acronis Cyber Cloud platform, and switched to a new cadence of monthly updates to the MSP services platform. Since the 9.0 release, when Acronis Cyber Protect Cloud was introduced, there have already been two product updates —July's release is the third. These rapid improvements brought a number of highly demanded cyber protection features to help you successfully adjust your clients to working remotely without sacrificing their protection.
Going forward, we'll have smaller but more frequent releases. This approach will simplify and speed up the adoption of new capabilities — each release will have fewer changes, making it easier to learn and implement. The shortened planning and development cycle will enable us to quickly address changes in the current work environment, so we can deliver the most demanded features and innovations in Acronis products every month.
The Acronis Cyber Exceed program allows you to access Acronis services before anyone else and share your experiences with the Acronis R&D team directly. It gives you, our service provider partners, the power to influence how the product will look before the official release, and it helps Acronis to provide a better experience for all users. The Acronis Cyber Exceed program is designed to help us to stay better connected to you, so we can quickly deliver the capabilities you need to make a positive impact for your clients and your bottom line.
Acronis Cyber Cloud – July 2020 Release
This month, we are proud to share some new features that reinforce the positioning of Acronis Cyber Cloud as an easy, efficient, and secure delivery platform for cyber protection services built for service providers. Here are some of the improvements that we believe will make a positive impact on your business:
#CyberFit Score: One of the best ways to acquire a new account is to demonstrate where you can offer additional value as a managed service provider. Our security assessment and scoring tool is now available as a standalone tool, that you can use in a prospective clients' environment. It identifies security gaps by looking at common threat vectors provides detailed recommendations on how to improve security posture and safeguard systems from modern threats.
Microsoft Teams backup and recovery: Search and investigations can be a time-consuming process. With Microsoft Teams backup and recovery — which will be gradually rolled out in the next couple of weeks —you can not only backup and recover your clients' entire Teams site and channels (including mailboxes, meetings, and channel content), but also perform full-text searches within channel conversations. This helps you easily protect your customers' data while helping them stay compliant.
Enhanced URL filtering: Help your clients manage employee productivity by leveraging URL filtering. Advanced categorization by website type allows you to choose which categories users have access to when browsing the web, enabling them to stay more focused.
Assign users access permissions: One of the best ways to secure data is to compartmentalize who has access to it and who has permissions to change it. We've taken a similar approach to our platform, and now support read-only user permissions to help you better secure clients' accounts within your organization.
Enhanced password strength policy: Weak or compromised passwords offer an easy way for a cybercriminal to get access to an account. The Acronis Cyber Cloud platform now includes new password precautions that check users' passwords against top leaked and bad password databases, blocks user and company names from password inclusion, and leverages a password strength meter to encourage better security practices.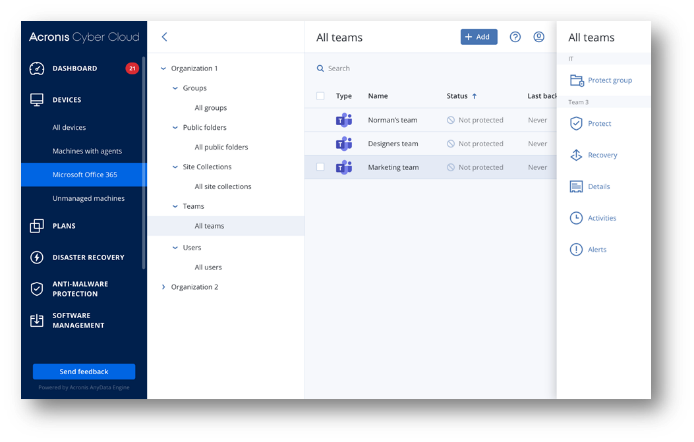 Combined together, we believe that these features can help you find new business opportunities while strengthening your customers' security posture. At Acronis, we strive to set the standard for cyber protection through our innovative backup, antiransomware, disaster recovery, storage, and enterprise file sync and share solutions. Visit this link to learn more about this update and other features we've added since the Acronis Cyber Cloud 9.0 release.
About Acronis
Acronis is a Swiss company, founded in Singapore. Celebrating two decades of innovation, Acronis has more than 2,000 employees in 45 locations. Acronis Cyber Protect solution is available in 26 languages in over 150 countries and is used by 18,000 service providers to protect over 750,000 businesses.