formerly Acronis Cyber Backup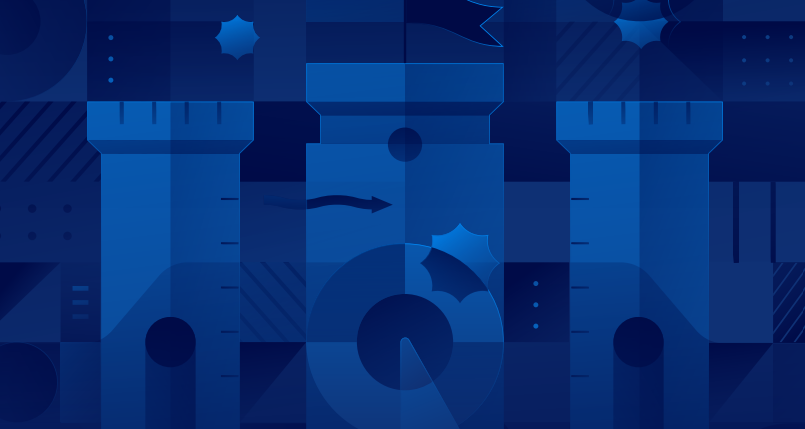 Everyone in the world relies on data – from students attending classes on Zoom to MSPs managing the IT needs of dozens of different companies. But their experiences, concerns, and priorities when it comes to technology are uniquely their own.
Today, we're recognizing three of these distinct perspectives: sharing the most important takeaways from the 2021 Acronis Cyber Protection Week Global Report for personal IT users, end-user IT professionals, and professional IT service providers.
Looking for the insights that are most interesting to you? Feel free to jump ahead:
Top three takeaways for personal IT users
For this year's Cyber Protection Week, we surveyed 2,200 individual IT users from 22 countries on six different continents. In the past year, as the COVID pandemic incited global lockdowns, uncertainty, and insecurity, these people turned to their data and devices more than ever. Kitchen tables became remote offices, couches became classrooms, and data reliance reached an all-time high.
Their approach to cyber protection, however, isn't keeping pace.
1.Data loss is on the rise. Data protection is declining.
One in 10 people don't back up their data or devices. These people feel that data loss is either unlikely to affect them or unlikely to be an issue if it does.
Three-quarters of personal IT users that do back up have had to recover data from a backup, however, indicating just how common data loss can be for individuals. That said, when performing those recoveries, 79% of IT users spend up to 12 hours trying to regain access. This suggests issues with the recovery process, which may stem from unfamiliarity with the technology or issues with the way the backup was performed.
In either case, permanent data loss is on the rise. Nearly 75% of personal IT users have had experience permanently losing data – a segment that will only grow if individuals don't improve their data protection processes.
2.Gaps in awareness are threatening personal IT users
Cyberattacks grew by 400% during the past year, yet nearly 25% of personal IT users aren't familiar with ransomware, cryptojacking, DoS / DDoS attacks, or IoT attacks. This speaks to a shocking lack of awareness that individuals revealed throughout this year's Cyber Protection Week report – all of which correlates with the rise in data loss that our research found.
Nearly 40% of personal IT users admitted that they wouldn't know if their data was unexpectedly accessed or modified – 10% more than our 2020 Cyber Protection Week results. Even more (43%) don't know if their anti-malware can stop zero-day cyberthreats. This is particularly troubling because 350,000 new malware threats are discovered every day, any one of which could compromise the security and privacy of these ill-equipped personal IT users.
3.Personal IT users depend on automatic fixes
Individual IT users are taking steps to defend their privacy online, though the steps they're willing to take don't go much farther than basic steps – often automatically encouraged or enforced – like the use of strong passwords, secure Wi-Fi connections, and app-driven defenses like multi-factor authentication and cloud backup storage.
Use of cloud backups is up 20% over last year's response, likely because public cloud solutions perform backups automatically. Going beyond these largely automatic efforts is much less prevalent because it would require proactive steps and consistent awareness about evolving and emerging cyberthreats.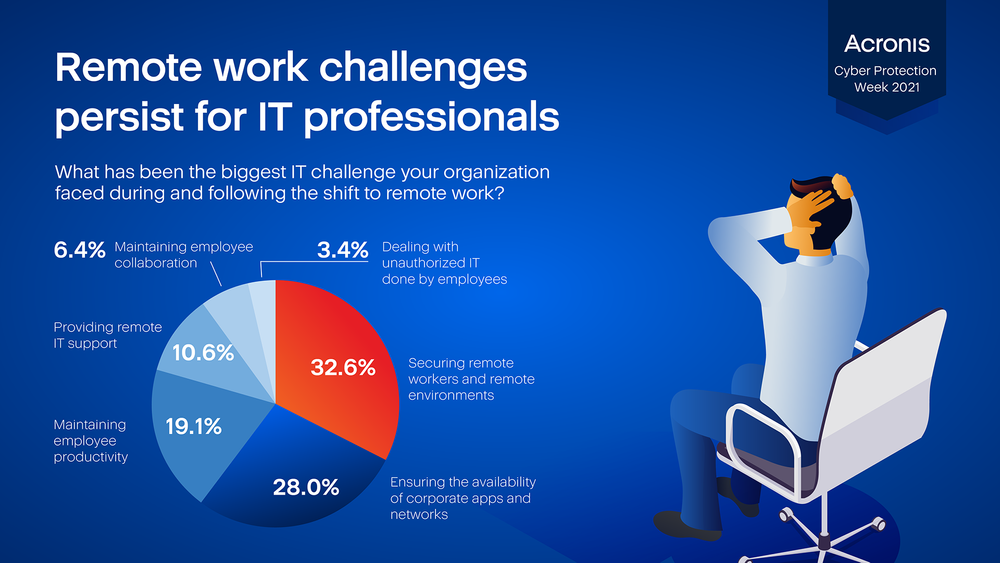 Top three takeaways for corporate IT professionals
As part of our Cyber Protection Week report this year we surveyed 2,200 IT professionals from 22 countries around the world. These IT professionals work at organizations ranging from SMBs to enterprises in a wide variety of industries, all of which are now a year into work in the time of COVID and still adjusting to the challenges that has created.
The strategies they have in place, unfortunately, aren't delivering the cyber protection they need.
1.Remote work challenges are still a frustration
The drastic shift to remote work during the COVID pandemic saw 95% of organizations moving some portion of their staff away from offices and many of the challenges that arose during that move continue into 2021. As we shared in our 2020 Cyber Readiness Report, the top considerations included enabling/instructing employees on remote work, securing remote work, and ensuring the availability of corporate apps and networks – all of which remain significant challenges according to our new research.
This difficulty is to be expected both because organizations haven't had to respond to a challenge like COVID since the beginning of the digital age and because of the methods IT teams used to keep their organizations running through the remote work migration.
2.IT pros rely on complex patchworks of protection
For years, IT professionals have been working to deliver safety, accessibility, privacy, authenticity, and security to IT environments that are exploding in scale and complexity. To do that, IT professionals have stocked their IT stacks with a wide variety of different solutions from different vendors, each designed to support or defend a different set of apps, devices, and workflows. The COVID pandemic accelerated this strategy even more.
Nearly 75% of IT professionals we surveyed claimed that they had all of the recommended cybersecurity technologies in place and that, as a result, were relying on up to 10 different services and agents to defend their data, applications, and systems. Unfortunately, this patchwork defense doesn't work against modern IT challenges. Instead, it introduces more complexity, more management difficulties, and a greater likelihood that security gaps will form in the spaces between unintegrated solutions from competing vendors.
Our report illustrates that despite all of the solutions organizations have enabled, half of the IT professionals still reported data loss that resulted in downtime in the past year. That's an increase of 7% over our 2020 findings and 18% higher than 2019.
3.IT team priorities reflect a fresh look at cyber protection
IT professionals are beginning to rethink their approach to cyber protection in light of these challenges. Top priorities include enhancing data privacy and compliance processes, modernizing cybersecurity to reduce risk, and supporting remote work environments into 2021.
To reach these goals, 70% of organizations are planning to increase their 2021 IT budget compared to last year. This suggests that IT professionals are mindful of the challenges their organizations are facing and are prepared to find modern solutions to address them, upgrading outdated and ineffective solutions with modern solutions that better address today's IT challenges.
Top three takeaways for IT service providers
For IT service providers, our Acronis Cyber Protection Week Global Report results illustrate an enormous opportunity guiding and supporting organizations ready to pursue more comprehensive cyber protection. With these insights in mind, MSPs with modern cyber protection services in their offering can unlock expanded revenue streams with both existing and new clients.
1.Clients are concerned about compliance and cyberthreats
Organizations are still adapting to the challenges sparked by the COVID pandemic. As they expanded into remote work environments, concerns and confusion about data privacy and security became top-of-mind.
Nearly 10% of IT professionals aren't sure if they're subject to data privacy regulations – twice as much as our 2020 survey findings. At the same time, more than 60% of IT professionals reported that they were concerned about all cyberthreats included in our survey:
Cryptojacking – 61%

DoS / DDoS attacks – 64%

IoT attacks – 66%

Ransomware – 69%

Phishing attacks – 78%

Malware – 86%

Data theft – 89%
Offering cyber protection solutions like Acronis Cyber Protect Cloud ensures that you can provide proactive, active, and reactive defenses against all modern cyberthreats – including the waves of new, zero-day threats that are emerging each day – while keeping your clients in compliance with the unique regulations they're subject to.
2.Organizations are ready for streamlined cyber protection
Despite most organizations having all recommended cybersecurity solutions in place, nearly 50% saw data loss and downtime last year. This is because IT end-users are relying on more solutions, thinking that that approach will deliver more protection. What they're finding out, however, is that using separate tools to address individual types of exposure is complicated, inefficient, and costly.
With that in mind, IT service providers and MSPs can attract the attention and business of organizations frustrated by patchwork protection by promoting the smarter, integrated approach offered in cyber protection, which unifies data protection, cybersecurity, and protection management in one.
3.Clients want to be ready for the next disaster
The COVID pandemic changed the way businesses went about their business. IT had to rapidly adapt to account for new environments, restrictions, and ways of communicating. It makes sense, then, that organizations want to be prepared for whatever disaster may strike next. Asked about their IT priorities in 2021, IT professionals listed both supporting improved remote work environments and building a disaster recovery program in their top four – alongside the data privacy and modern cybersecurity enhancements that we mentioned above.
With Acronis Cyber Protect Cloud, Acronis partners can expand their service offering with ease to incorporate advanced disaster recovery capabilities, advanced security capabilities, and advanced backup capabilities to enable more reliable protection for clients – no matter what 2021 has in store.
Looking for even more cyber protection insights?
Get your copy of the 2021 Acronis Cyber Protection Week Global Report to learn how individuals and organizations around the world are approaching cyber protection. Gain a more tailored perspective of the modern cyber protection landscape and unlock findings unique to your team and market with our four Regional Deepdive assets:
About Acronis
Acronis is a Swiss company, founded in Singapore. Celebrating two decades of innovation, Acronis has more than 2,000 employees in 45 locations. Acronis Cyber Protect solution is available in 26 languages in over 150 countries and is used by 18,000 service providers to protect over 750,000 businesses.