Today was a jam-packed day at the Acronis Global Cyber Summit as the world's largest gathering of cyber protection professionals kicked off the cyber protection revolution with our inspiring Women in Tech Breakfast panel, insightful keynote messages and the unveiling of three new cyber protection solutions.
If you missed the keynotes and product announcements, you can read these highlights or watch the full presentations on our video streaming page.
Also, if you missed the Women in Tech Breakfast you can catch some of the insights and concerns that were discussed by watching theCUBE's interview with panelist and Carnegie Mellon Professor Linda Babcock, which occurred immediately afterward.
In the afternoon, the hundreds of attendees joined unique educational tracks designed specifically for service providers, resellers, developers and ISVs, and enterprise IT professionals.
If you weren't able to make it to this year's Summit, here are some of the most memorable moments from the Day One panels in each of these educational tracks. Learn all the cyber protection discussions that are going to shape the future of the IT industry and share your thoughts on them all on Twitter with #AcronisCyberSummit and #CyberFit
Service Providers Look for Success in the Cloud
The Super Villains of Cyber Crime
Lance Crosby, CEO of Stackpath, led a review of the state actors and criminal gangs that threaten modern IT.
Looking at the threat landscape and how a new model for cloud computing is necessary to meet the needs of today's industry trends, he suggested that deep partnerships are needed "to create a seamless security fabric that extends all the way from the middle of the cloud to end users and devices​".
2 + 2 = 5: Leveraging the Acronis Cyber Platform for a Competitive Advantage
Led by Acronis' own Dan Havens, this session explored the integration, customization, and extension opportunities now available to service providers via the Acronis Cyber Platform.
By accessing the platform, service providers can protect customers from growing cyberattacks, automate and modernize their services to drive better customer satisfaction, improve employee productivity, and increase average customer recurring revenue, reduce churn, lower cost of sales, and improve margins​.
Transform Your Reseller Business
Innovations in Cyber Protection
Resellers heard from Acronis Development Officer, Nick Grebennikoff and V.P. of Acronis Cloud (EMEA) Bertil Brendeke as they detailed the competitive advantage Acronis Cyber Protection services offer and shared a peek at Acronis' technology roadmap.
Optimizing Your IT Practice for the Cloud
MSP, Cloud, and IT Security Expert Erick Simpson shared tangible strategies for resellers to optimize their IT practice for the cloud – from services to offer, to pricing, to keeping customers engaged and buying.
Five Ways to Win with Cyber Protection
Resellers closed out their day with Acronis veterans Dan Havens and Greg Howard, who led an exploration of why cyber protection solutions sell well, why they're easy to sell, and some key ways to optimize their IT practice for the cloud, with practical insights into how Acronis Cyber Protection solutions can get them started or differentiated from their competitors.
ISV and Developer Sessions: Integration and Automation
State of the API Economy and MSPs
Travis Vigneau of ConnectWise discussed the unique "profitability window" that currently exists for IT businesses and what establishing key partnerships can mean for accessing that opportunity.
Moderated by DevOps.com's Alan Shimel, this panel featured cybersecurity pros: Dennis Zimmer (vChain), Bruno Rodriguez (BitDefender), and Vince Crisler (DarkCube). In it, Shimel mused on the key drivers behind modern automation and security resources: "What makes automation so attractive is that it can bring meaningful security to SMBs who couldn't previously afford it."
Finally, participants joined Acronis leaders Victor Batrev and William Toll, and DeviceLock's Alexei Lesnykh for an exclusive first look at the Acronis Cyber Platform.
The team revealed its capabilities, its APIs and SDKs for ISVs, and the Acronis ecosystem. They then revealed integration opportunities and how to get started with the Acronis Developer Network.
Moderated by Acronis' Ryan Davis, Forrester's Naveen Chhabra, and Scale Computing's Jeff Ready, this session explored how to manage the security risks given the emergence of edge computing worldwide.
Ready summed up the challenge: "Ransomware doesn't always involve cybercriminal gangs - it could very well be an inside job. Now what are you gonna do?"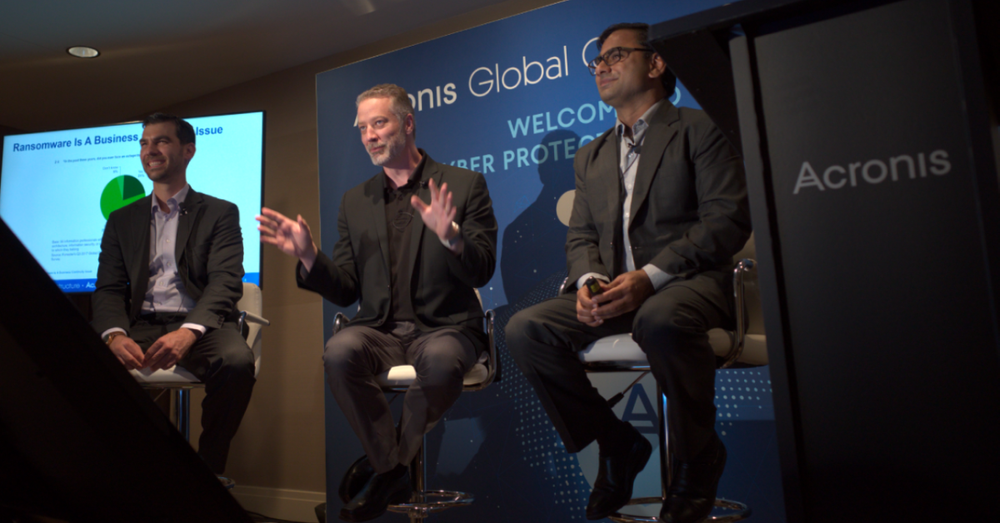 The Data Explosion and Armageddon Aren't the End
This session took a close look at disaster recovery in the modern age – while creating business opportunities. The IT intersection of cyber protection, edge computing, and hybrid cloud was examined by Acronis' Mark Jameson, Tom Gillispie of ExaGrid, and Karl Rautenstrach of Microsoft.
Captain's Log: Real Insight from the Front Lines in the Enterprise
Edge participants ended Day One with Ryan Davis for a final panel discussion – hearing true stories and gaining essential insights from Vice President of Technology at the Boston Red Sox Brian Shield, Directeur Steven Trommel of Proud Innovations, and Craig Nunn, Infrastructure Manager at Foodstuffs NZ.
Shield warned that "At the end of the day, we are a vulnerable as our weakest link," adding that's why Acronis is an important partner to the Red Sox.
Those who couldn't attend the session may want to listen to Shield's interview on theCUBE, in which he shares some of those same real-world insights.
Stay tuned for more revelations on Tuesday
We covered a lot of ground today in Miami, and more is on the way! Join us again tomorrow morning for these talks:
08:20 AM - The Entrepreneur Story: Serguei Beloussov
09:05 AM - Acronis: Stanislav Protassov
09:20 AM - KEYNOTE: Keren Elazari
10:05 AM - KEYNOTE: Michael Frisby / Vuzion
10:55 AM - Panel: Governments Face Cyber Threat Inflection Point
11:40 AM - Acronis: Gaidar Magdanurov
11:50 AM - (Dasho) Kinley Gyeltshen – Deputy Mayor of Paro district on Gross National Happiness