Cyber Protect Home Office
formerly Acronis True Image
There are two "digital truths" today. The first is that our daily reliance on data has never been greater. The second is that, at some point, we will all experience data loss at some point. Whether we accidently delete file, our hard drive suddenly fails, or ransomware seizes our system, no one is immune.
Smart users protect their digital assets by backing them up. Reliable backups are the fastest way to recover from a data loss event – and when it comes to machines running Windows 10, full backups and file-level backups can be easy to create.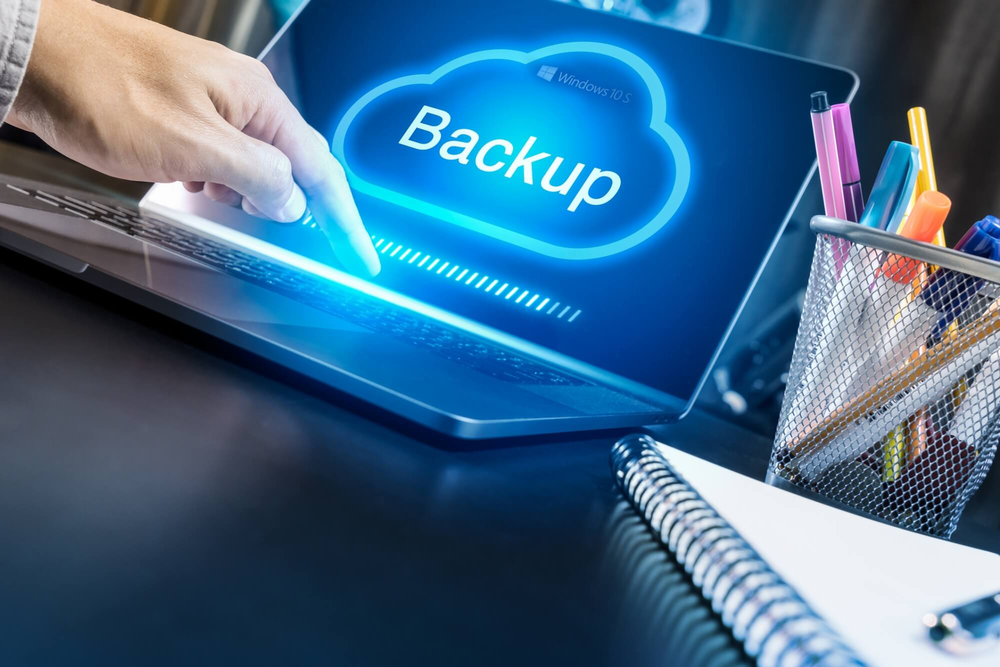 We'll take a look at the importance of creating a complete Windows 10 backup, how to use the tools included in Win10, the areas where they might fall short, and how to improve on the data protection they offer.
Why full images are needed
When people think about backup, they often think they are protected by simply creating copies of important documents, precious photos and videos, media files, etc. But if something happens to cripple your computer, you will still need to reinstall your operating system, all of your applications, reconfigure your settings and preferences, and then upload those copies. That reconstruction process takes a tremendous amount of time.
Compare that to a full image backup, which capture everything on your system, including the OS, apps, settings and hidden files, in addition to all of the important files you want to protect. Restoring your system from a full image backup is faster and easier that trying to reconstruct your PC.
Storage strategy for your backup
Before we get into how to do a complete Windows 10 backup, let's talk about where you should store it. While you could save your backup file to your hard drive, it's not a good idea. After all, if the drive fails, you lose both the original data and the copy you were going to restore your system from.
A better strategy is to follow the 3-2-1 approach.
Create three copies of your backup so no one event can destroy all your data.
Save those backup files on two different formats, like an external hard drive and in the cloud.
Keep one copy off-site to protect against a physical disasters like theft, fire or flooding.
The 3-2-1 approach ensures you have redundancies built into your data protection strategy. A fire might destroy your original data and local copy, but backing up to the cloud means you have a recently updated version that is untouched by the disaster.
Where in Windows 10 is full backup?
Since backup is such a vital part of protecting your data, Microsoft has built a few tools into Windows 10 to help you create file-level and full system backups. Some of these tools were part of earlier editions of Windows, while one is new to Win10.
But if you can't find how to make a full image backup, you're not alone. That is one of the biggest complaints against Windows 10's native tool, but we'll make it easy for you.
You'll need three things:
An Administrator account, since you'll be asked for an Administrator password

An external hard drive with enough storage space to fit your system image backup

Windows 10 rescue media, either a USB or bootable DVD (For information on using creating and using rescue bootable media, read this article)

How to do a full system backup in Windows 10
To back up with Windows' native tool, you'll use File History. To get started, connect your external drive and then:
Open the Start Menu and click on Settings.
In the Settings window, click on Update & Security and then select Backup.
In the Backup section, click on the Plus symbol [+] next to the Add a Drive option below Back Up Using File History. A list of available drives will appear, and you choose the external hard drive as the destination for your backup.
At this point, the option Add a Drive has changed to Automatically Back Up My Files. This is now the default, and while you can change the setting, it's recommended to leave it as is to ensure automated, scheduled backups occur as planned.
Now you are ready to create your full image backup. With the external hard drive connected:
Go to File History following the instructions above
Click on System Image Backup in the lower-left corner
Click Create a System Image in the left panel

Once the setup wizard launches, assign the connected external drive as your backup destination

Then select the partitions you want in this image backup, or simply use the default

Confirm your settings and then click on Start Backup
If you want to keep your backup secure, using File History for your backup means you'll also have to become familiar with Microsoft's BitLocker app, which you can find in the start menu. That will allow you to encrypt the backup destination.
For greater security, it is worth noting that other backup software like Acronis True Image will automatically encrypt your files on your hard drive, in transit to backup destination (either the cloud or an external hard drive), and while in storage.
Managing your backup plan
Now you'll want to establish your backup plan, including how often to back up and how long to keep files.
File History backs up your data once an hour by default, but you can adjust that setting under the More Options section – from every 10 minutes to once a day or less.
The More Options section is also where you can set how long File History keeps copies of your backup. The default is to keep backup files forever, but you might want to consider deleting older backups automatically to help manage space limitations on your hard drive.
Storing your backup in the cloud
The best practice for backup is to store a copy in the cloud to keep a safe, off-site version that you can use if both your original files and local backup are destroyed by something like a fire or virus (if you keep your external hard drive connected). There are a few options you might consider for cloud storage.
If you use Microsoft 365, your subscription includes a terabyte of OneDrive. The problem is it lacks flexibility if you back up individual files and folders. OneDrive only creates new versions Office file formats. If you edit a document, photo or video, you won't be able to retrieve older versions.
Another option would be a sync-and-share cloud service like Dropbox or Google Drive, but if you're using their free versions, they don't offer you enough memory to store a full image backup. Another issue with sync-only solutions is that if you accidentally delete a file from one device, that file is deleted from your online cloud storage and other devices as well. For backup, cloud sync solutions fall short.
A more secure and convenient option would be a cloud backup solution, which is designed to keep your backup file secure so it is available when you need it.
Restore Windows from backup
The beauty of a system image backup is that you can restore Windows, including your preferences and all of your data quickly and easily. If you need recover your system from a full image, here's what you do.
To restore using the System Image you created in Windows 10:
Go to Start Menu, select Settings and then Update and Security
Click Recovery in the left-hand panel

If your computer isn't working properly, restart your PC using the recovery partition, which will ask you if you want to restore using a system image
Unfortunately System Image only works by copying the entire backup of your system onto your computer at once. Since you cannot recover individual files or folders, restoring from System Image means new files or changes made since the backup will be lost.
Other full image backup options
Those limitations are why many computer users prefer third-party backup software. The third-party alternatives fall into two camps: freeware and paid software.
There are several free solutions available for download on the internet, and some people will give those a try. However freeware typically has limited capabilities and you may get frequent spam emails with offers for their paid versions. You'll have to decide if it is worth the nuisance.
Paying for backup software usually gets you higher quality backup, a wider range of capabilities, and fewer interruptions from their marketing departments. To find the best paid backup software for your needs, consider the following:
Is the solution known for creating reliable backups?

Is it easy-to-use with a clear, graphic interface?

Are looking for protection against ransomware?

Will it protect mobile devices in addition to laptops or desktops?

Can it create full image, file-level, incremental and differential backups?
If your answer to these questions is "yes" then you might consider a free 30-day trial of Acronis True Image. Not only can you automate the process of making both file-level and system image backups, you can retrieve individual files from full image backups made with Acronis.
A subscription to Acronis True Image 2020 also includes enough cloud storage to ensure you have a version secured safely off-site. A single dashboard lets you manage your backup plans and your cloud storage. And it is the only backup solution that includes AI-based technology that actively detects and stops ransomware attacks.
For additional information about disk imaging and full image backups, you can read more here.
About Acronis
Acronis is a Swiss company, founded in Singapore. Celebrating two decades of innovation, Acronis has more than 2,000 employees in 45 locations. Acronis Cyber Protect solution is available in 26 languages in over 150 countries and is used by 18,000 service providers to protect over 750,000 businesses.