for businesses (formerly Acronis Cyber Backup)
The largest-ever gathering of cyber protection professionals is less than a month away! From October 19-21, the Acronis Global Cyber Summit 2020 will bring together thousands of service providers, developers, sysadmins, distributors, resellers, enterprise IT pros, tech marketers, and sales teams to network, learn, and grow. Completely virtual, this year's Summit is free to join and packed with events and insights from around the globe that wouldn't be possible in a purely in-person venue.
Attendees will have the opportunity to take part in more than 30 sessions in four distinct conference tracks, all led by innovators and thought leaders in the community.
Today, we're taking a sneak peek behind the virtual background to explore some of the most exciting sessions, workshops, speakers, and appearances of the upcoming event. And, whether you're in the Channel, DevOps, Sales and Marketing, or Enterprise IT, we'll be revealing just why the Acronis Global Cyber Summit needs to be on your calendar for next month.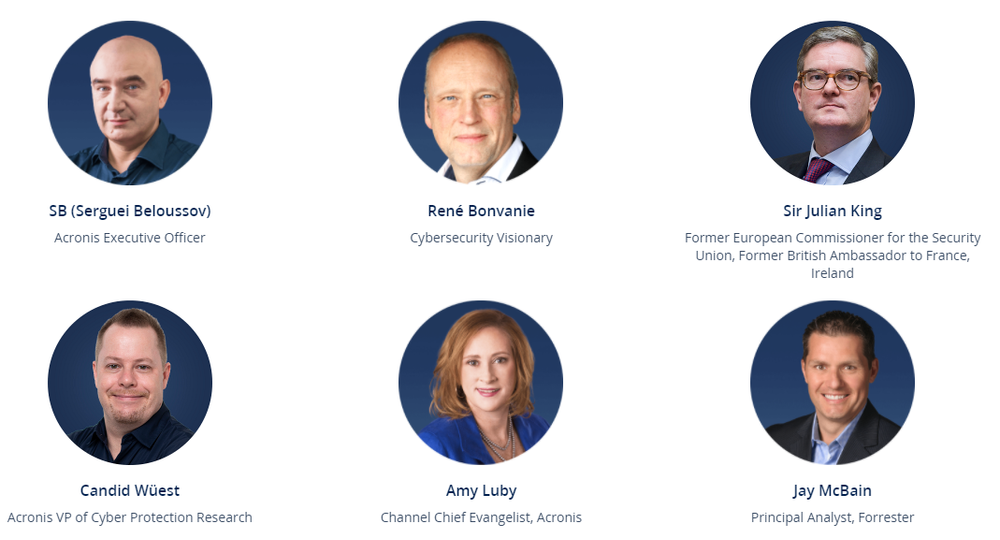 Delivering engaging insights and visionary perspectives on the future of tech, the Acronis Global Cyber Summit will feature some of the world's foremost leaders in the community sharing their latest research, experiences, and advice to help keep your team ahead of the curve. Attendees will have the opportunity to learn from dozens of recognized experts including:
René Bonvanie, cybersecurity visionary

Sir Julian King, former European Commissioner for the Security Union

Larry Walsh, CEO of The 2112 Group

Karl Palachuk, Small Biz Thoughts

Serg "SB" Bell, Acronis Executive Officer
For a full list of this year's speakers and panelists, visit the Summit page.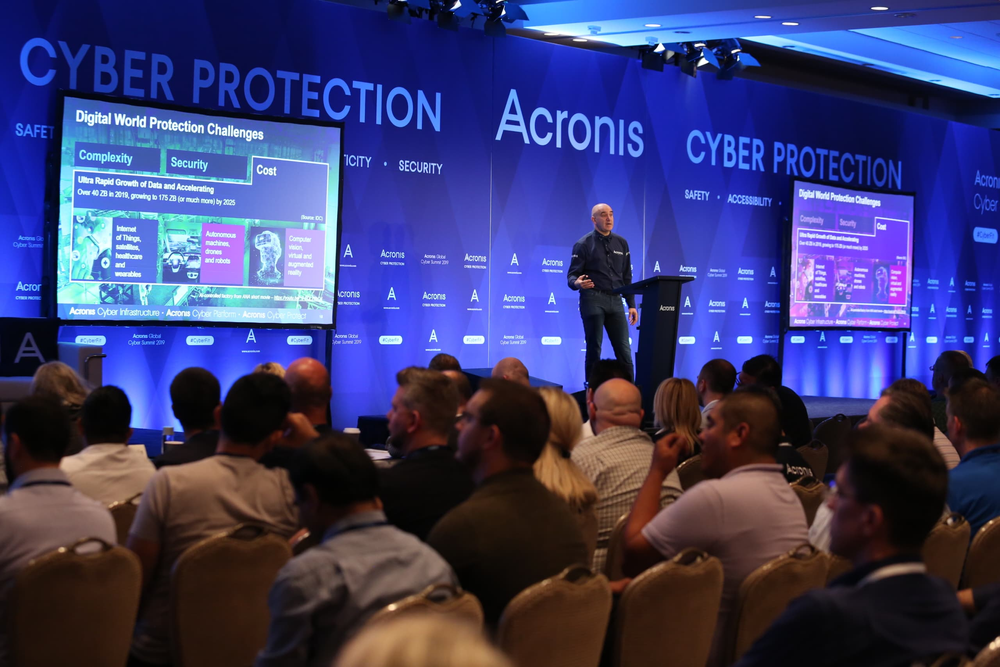 Exclusive keynotes, sessions, and workshops
These speakers will be leading sessions and workshops that explore the rapidly-changing nature of IT services – particularly in the pandemic and post-pandemic landscape. Through these events, attendees will gain actionable insights from community peers and influencers while also getting a first-hand look at emerging innovations designed to help organizations succeed and grow while navigating that landscape.
In addition to the powerhouse keynote addresses from SB, Bonvanie, and Sir Julian, the can't-miss sessions at this year's Summit include:
Navigating and Succeeding in the UK and European Market

Amid High Profile Attacks, Sports Teams Strengthen Cybersecurity Efforts

Don't Become Obsolete! Learn How to Build a Security-first Managed Service Business

The Secrets to Moving Fast and Winning Big with Modern Distribution

Delivering Real-world Digital Resilience for a Secure Digital Transformation

Cybersecurity 2021: The Expected Threat Landscape and How to Prepare Your Organization Now

Streamlined Success: Why Automation is the Key to Bigger Profits and Better Customer Service

Testament of a Developer Evangelist: Lessons Learned from Integration Experts

Pitching Cyber Protection: The New Way the Service Provider Community Can Sell Security to SMBs and Enterprises

Insights from the Industry Press: What Media Pros Really Look for in a Story and How to Tell Your Tale
And to ensure attendees are getting the specific answers and insights they're looking for at this year's Summit, we've expanded our focus on connection and communication to overcome the virtual gap. Each of these events will include Q&A, chat, or break-out discussion opportunities, as well as post-session commentary and analysis with our live, in-person analysts at the Cyber Summit News Live desk.
For a full list of this year's keynotes, sessions, panels, and workshops, visit the Summit page.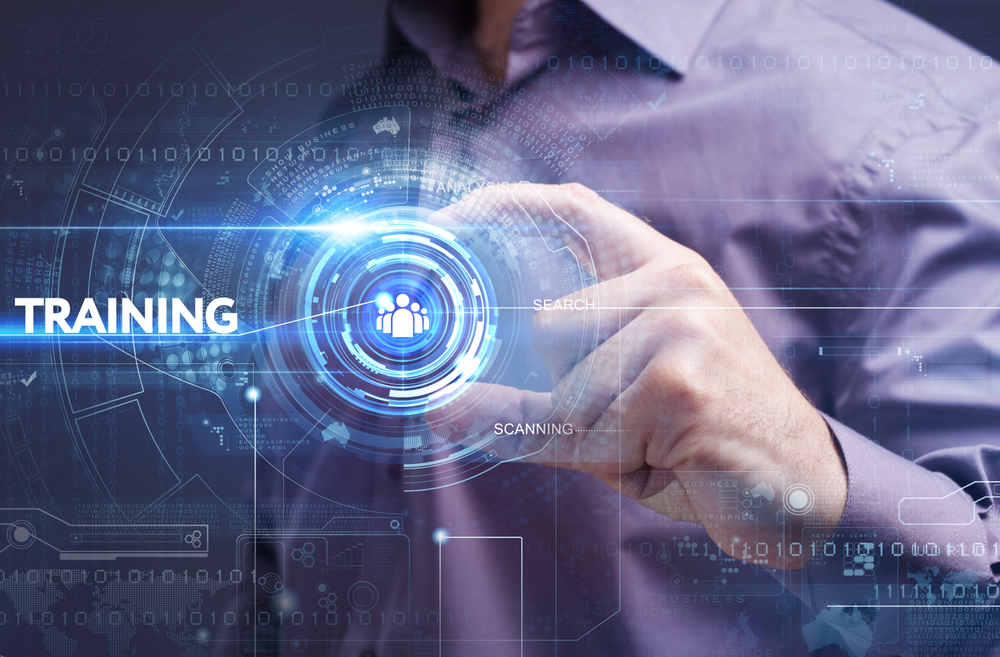 #CyberFit training and certifications
Want to make sure your IT and sales teams are equipped with all the knowledge needed to sell and support cyber protection services, growing your business and opening new opportunities? We've reserved almost the entire first day of the Acronis Global Cyber Summit for free training and certification programs with experts from the Acronis #CyberFit Academy.
Join us on October 19 for the courses needed to certify a member of your sales or IT team as an:
Tech Foundation and Associate (Classic)

Cloud Tech Foundation and Associate

Cloud Sales Foundation and Associate
These courses enable service providers, resellers, and distributors to better attract and protect clients while keeping their own costs down.
#CyberFit training sessions run all day on October 19. Register today to make sure you reserve your seat.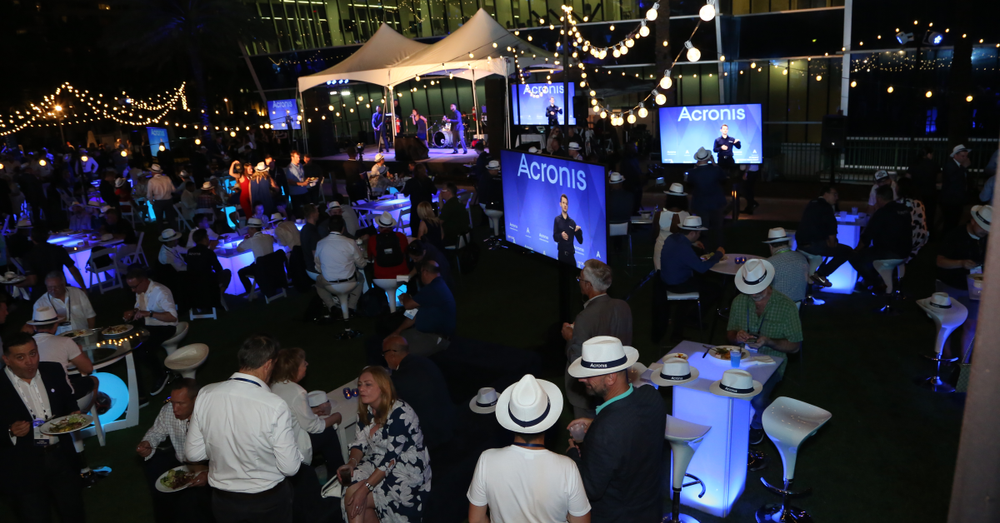 Special events and surprise appearances
Ready for something a bit different? This year's Acronis Global Cyber Summit features exclusive events and experiences designed to delight everyone, plus secret celebrity appearances and giveaways you definitely don't want to miss.
Join our community lounges, daily happy hours, professional chef-led cooking class, health and brain-boosting seminar, and the 2020 Acronis Cyber Dragon Game to expand your network, mind, and skill-set.
Support the improvement of the global tech community with our Women in Tech session, featuring female leaders from the worlds of IT and business. Then help build a better tomorrow alongside sports legends at the virtual auction for the Acronis Cyber Foundation. All donations raised provide schools in underserved parts of the world the resources they need to deliver a real education.
Recognize peer excellence
Join the Acronis team and our amazing partners from around the world for this year's Acronis Partner Awards. We'll be recognizing performance excellence from organizations that are helping to advance the cyber protection era in organizations and markets everywhere.
Enjoy kid-friendly edutainment sessions in our #CyberFit for Kids zone. We're delivering engaging classes on the future of quantum technology, streaming world-famous athletes as they lead a kids book read-along, and much more.
Joining this year's virtual Acronis Global Cyber Summit is completely free and all registrants will gain access to sessions and talks they weren't able to attend following the event.
To reserve your place at the Summit visit: https://acronis.events/summit2020/.
Once you've signed up, you'll be the first to hear about personal agenda building, new session and speaker information, exclusive offers for attendees, and more.