Acronis

Cyber Protect Cloud
Cloud solutions are incredibly valuable today because they enable small businesses with limited infrastructure and staff to access affordable tools that help them do business and grow. If you're a small business owner considering a transition to the cloud and/or how cloud solutions for small businesses could benefit yours, it's useful to begin with an understanding of what the cloud is. If you're a managed service provider looking to deliver cloud solutions for small businesses, it's important to know where you can add the most value.
Let's start at the beginning with a little computing and cloud insight. Then we can consider which cloud solutions for small businesses are popular, and the role an IT managed service provider (MSP) can play to manage additional cloud solutions for small businesses.
If you look back in time to computing before the internet, businesses relied on hardware and software to run business applications. It was complex and expensive, requiring entire departments to manage everything from installation and configuration to running and securing the applications. Updates and testing were additional headaches. Companies of all sizes struggled to build and maintain baseline applications, let alone leverage new ones, and small businesses struggled altogether.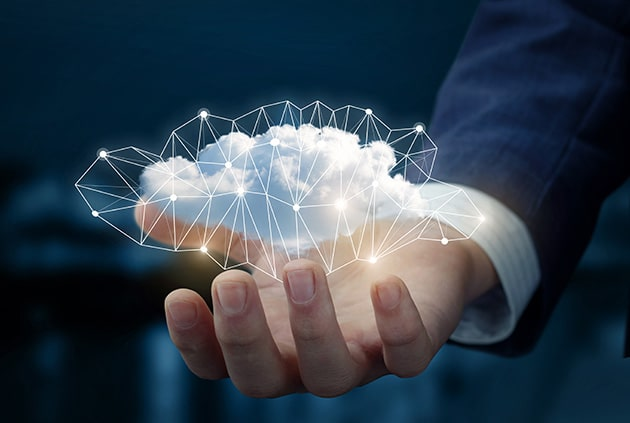 Fast forward to today: Cloud computing means you don't have to store your own data. Data is stored and accessible over a network. The cloud itself is a highly secure physical location – a data center – located off-site from your premises, which is home to countless, networked servers. By leveraging the support of a vendor, you can outsource these hardware and software resources – all you need is an internet connection to access and use key tools. Users simply open their favorite web browser, login to the desired app, customize it (if needed), and get to work.
Cloud solutions for small businesses are different than for individuals or larger companies
Cloud computing naturally has different implications for small businesses than for individuals or larger companies. That's because the needs for the target-user vary – from the actual infrastructure required to the cloud solutions needed.
As a result, there are three primary cloud computing options available to accommodate different needs: infrastructure as a service (IaaS), platform as a service (PaaS) and software as a service (SaaS). If you think of cloud service models like a pyramid, IaaS sits at the base because it enables critical infrastructure. PaaS is the next or middle tier, allowing developers to build applications based on the infrastructure that's available. SaaS rests at the top, ultimately delivering software to end-users. SaaS solutions can be thought of as solutions-in-a-box. Cloud solutions for small businesses typically are SaaS solutions.
Common examples of SaaS cloud solutions for small businesses
While any service or product delivered via the internet is considered a cloud solution, cloud solutions for small businesses largely focus on SaaS, or giving businesses access to ready-made software and services. Popular cloud solutions for small businesses include Google Workspace apps, Microsoft 365 apps, Dropbox, Hootsuite, Shopify, MailChimp, Squarespace and beyond. Of course, cloud solutions for small businesses go beyond these familiar examples, which help boost productivity or enable marketing and sales.
For example, cloud backup solutions for small businesses are critically important as is having one of the best cloud storage solutions for small businesses. That's because, no matter their size, businesses today must cope with exponentially growing amounts of data – it's critical to conduct business and profit. Protecting that data with advanced cloud solutions for small businesses is a must.
Administering cloud solutions for small businesses
The beauty of the cloud is that many essential business services – like those discussed above – are readily available and require minimal management. With many IT vendors today offering a subscription license, small businesses can "rent" cloud solutions and get routine updates (software enhancements) included for a low, regular (e.g. monthly, annual) rate. This approach is particularly beneficial when it comes to cloud-based marketing and sales tools, which are built with the novice in mind.
That said, there are important instances when cloud solutions for small business may require extra help to enable and/or manage. These often have an IT element to them. Consider these examples:
Secure cloud backup solutions for small businesses are vital, and yet there's a lot of confusion about what constitutes cloud backup. For example, Dropbox, Google Drive and similar tools are often misunderstood as cloud backup solutions for small businesses. Be aware, while these solutions do offer file sync and share capabilities, they do not offer backup. Pro Tip: Traditional data protection means you have backup and recovery features that enable you to restore everything you need to pick up where you left off, before a data disaster occurred. An IT managed service provider (MSP) might be needed to help identify and administer the cloud backup solution that's right for your business.

Migrating IT from on-premises hardware to cloud solutions can be time-consuming and is often multi-step, requiring a plan to execute in order to avoid disruption or downtime. That's where an IT managed service provider or a service provider that's skilled in cloud migration comes in.

Integrating complex IT systems is important for all businesses given the ever-evolving, diverse IT landscape – data and services may be distinct, but for a business to run smoothly, each element must work cohesively. Small businesses are often challenged to understand and manage this complexity, but an MSP can help by leveraging certain cloud-based data integration tools.
MSPs can help deliver essential cloud solutions for small businesses
As discussed above, small businesses can now readily access many solutions because of the cloud – but making the shift to the cloud is not always easy, and key IT services (like cloud backup for small businesses) shouldn't be overlooked. Managed service providers can deliver cloud solutions for small businesses that not only help business move into the future, but also help them stay in business.
For instance, since public cloud tools do not offer comprehensive backup solutions, having the ability to offer complete backup-as-a-service (BaaS) solutions is important. Part of that equation – and one that enables MSPs to compete and grow too – is the ability for MSPs to deliver their own cloud storage.
Local cloud storage is an important service for small businesses. Consider this: With other cloud solutions for small businesses, latency and speed is not as significant. But when supplying data protection services (i.e. backup and recovery) network performance is critical. This means that delivering local cloud storage for small businesses is an in-demand service that also offers a high-margin opportunity for MSPs.
MSPs have insight into other key IT cloud solutions for small businesses
Cloud services offer a great opportunity for MSPs to deliver more value to small businesses, with BaaS the first step. Additional services like disaster recovery (DR) go further. Using a turnkey data protection platform, MSPs have quick access to multiple in-demand services, including:
Disaster Recovery. While backup delivers a steady approach to recovery, disaster recovery (DR) gets critical systems up and running almost immediately. MSPs that leverage an optimal disaster recovery as a service solution (DRaaS) like Acronis', can 'flip a switch' to spin up IT systems into the cloud and run them remotely. This strategy cuts recovery times significantly and allows business systems to function remotely until traditional systems are restored. Use-cases include local data loss due to human error, software and hardware failures, malware attacks and natural disasters.

File Sync and Share. Business customers demand choice, flexibility and control of where their files are stored, especially since companies that allow telecommuting experience a big boost in productivity and even cost savings, according to a Stanford University study. But market leaders like Dropbox only offer sync and share through one cloud storage option – their own. MSPs that can enable file sync and share with uncompromised security means customers are guaranteed full control over their data across all platforms (phones, tablets, Macs, Windows).
Blockchain-based Data Authenticity Services. Niche small businesses – like law practices, accounting firms and healthcare providers – have particularly strict needs when it comes to data integrity because they need to comply with regulations. Offering niche cloud services for small business customers like the ability to authenticate their business-critical data is appealing: It mitigates security risks, delivers compliance transparency, and eliminates their need for other third-party solutions. With an easy to enable blockchain-based service for file notarization, e-signing and verification, you can increase loyalty – and enhance your reputation for technical expertise – by providing a key, cost-saving service.
Certain innovative cloud backup solutions for small businesses make it easier for companies to conduct business as well as scale their infrastructure and defend that growth. For the latter instance, often a managed service provider is a big help in identifying the right cloud solutions to achieve that end.
About Acronis
Acronis is a Swiss company, founded in Singapore. Celebrating two decades of innovation, Acronis has more than 2,000 employees in 45 locations. Acronis Cyber Protect solution is available in 26 languages in over 150 countries and is used by 20,000 service providers to protect over 750,000 businesses.