Cyber Protect Home Office
formerly Acronis True Image
Did you know that you can easily backup your Facebook account: all the photos, videos and status updates you've ever posted? We've all heard of people losing their social media accounts because of hacking or some other peculiar reason. It's not something you'd want to experience. But if you do, Acronis True Image backup can take the pain out of that unfortunate situation.
Facebook password could be hacked
Facebook backup has long been one of the most popular features requested by Acronis True Image users. After careful consideration and a lot of testing, the functionality was introduced in Acronis True Image 2017 release, which remains the most comprehensive personal computer backup software on the market. With Acronis True Image, you can back up your Facebook photos, videos, timeline, comments, liked pages and events.
To get started, you'll need a copy of Acronis True Image 2017. You can either buy it outright or purchase a subscription license — just choose the plan that suits you best. One thing to keep in mind is that a subscription license includes free lifetime software upgrades. And Acronis has a lot of new revolutionary features to be released in the coming months.
Configuring the software is easy. Your Facebook profile is treated in a similar way to other computer devices. Just go to Resources, click Add, and select Facebook.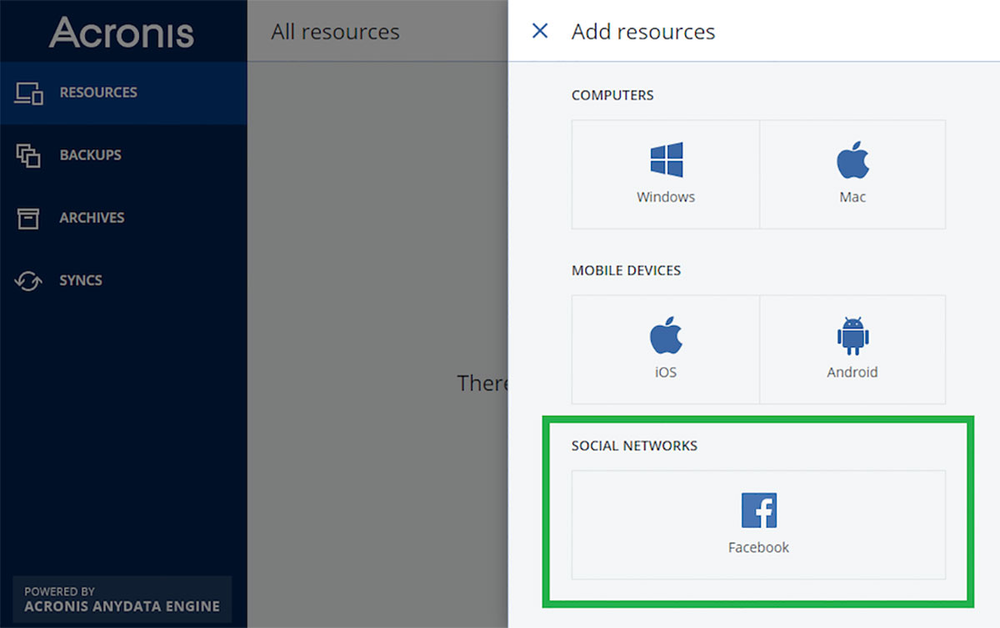 What you'll see next is a standard Facebook login screen asking for your permission to use your Facebook account with Acronis True Image.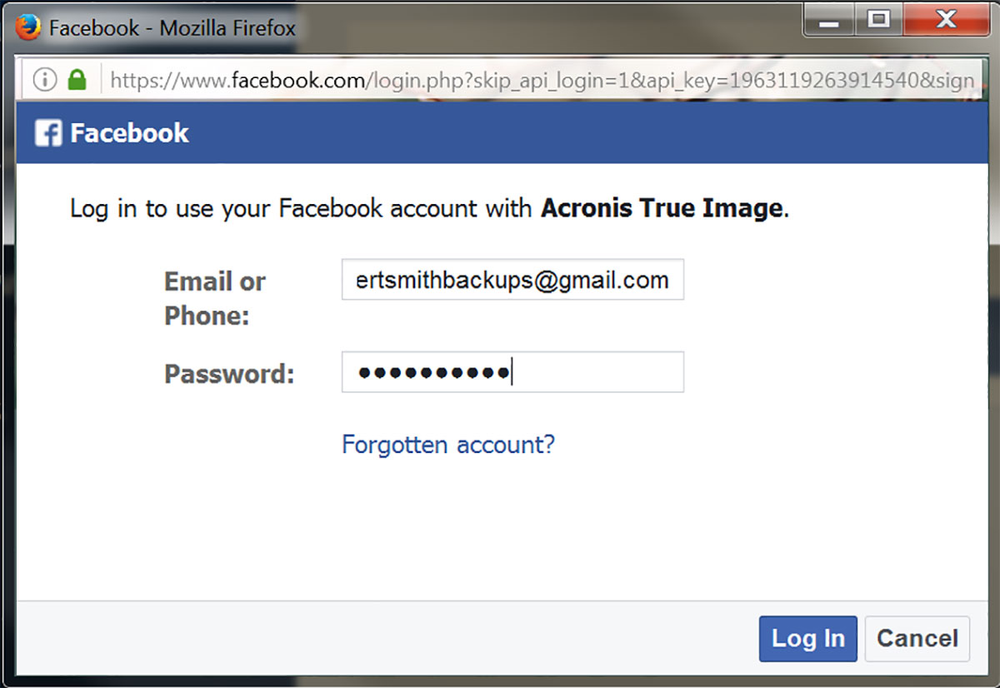 Enter your login details and follow the prompts until you see the familiar "Items to back up" dialog screen.
Tick the "Entire account" box to make sure that all your Facebook content is protected.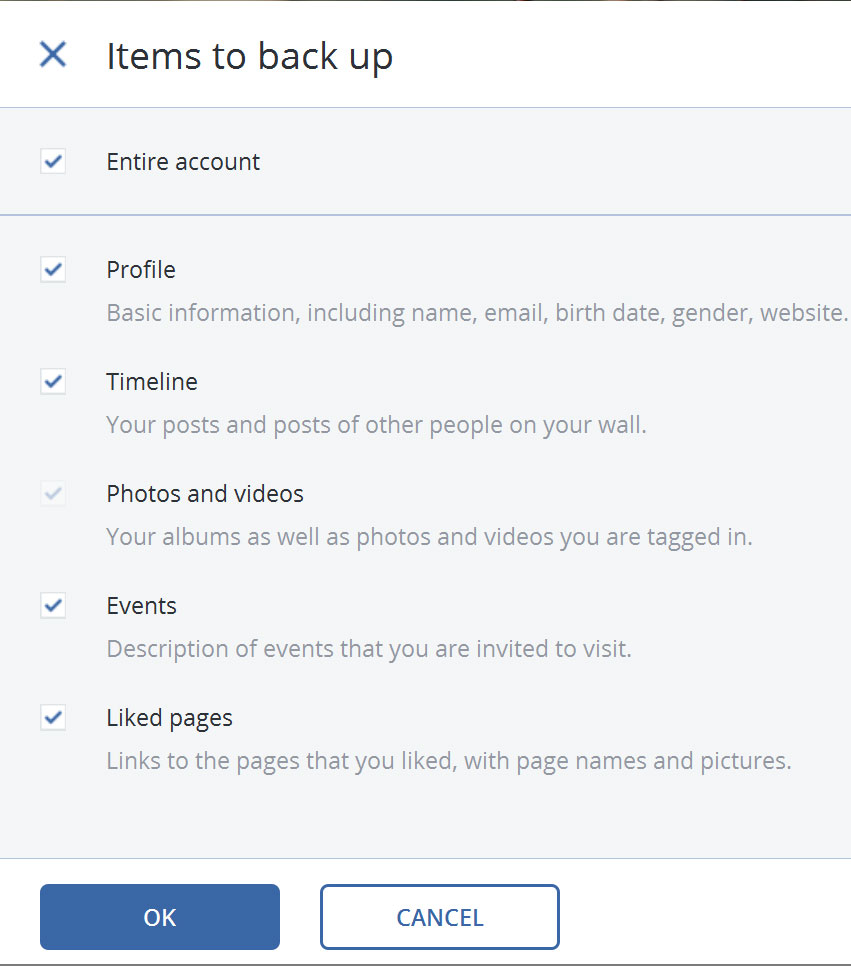 In truth, saying that all Facebook content will be backed up is not quite correct. Acronis True Image accesses your account via the standard Facebook API, and there are some things that Facebook likes to keep to itself. For example, your Friends list is one of the things that Facebook will not let you to back up.
The next step is to set up how often you wish to back up your profile. If you are an active user, you may want to back up your account every day. Otherwise, once every other day or once a week may be sufficient.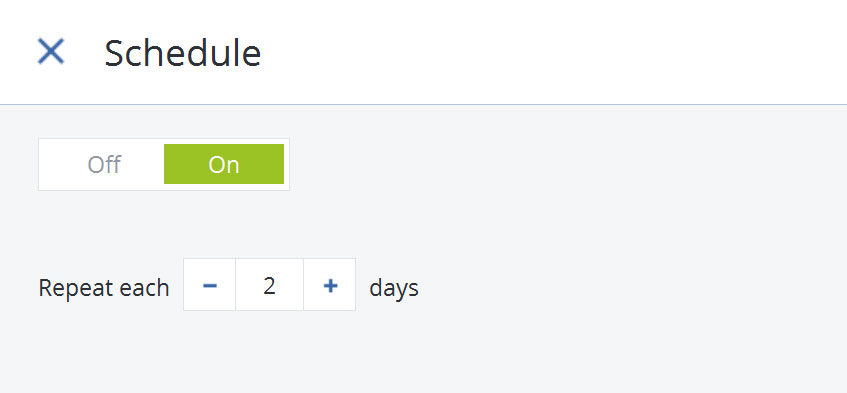 If you don't enable regularly scheduled backups, you can still perform backups manually.
A couple more steps and you're done. Follow the prompts until you see the "Run Now" button. Click the button and go and have a drink. In a few minutes (or hours, depending how big your profile is), your Facebook account will clone itself onto your computer.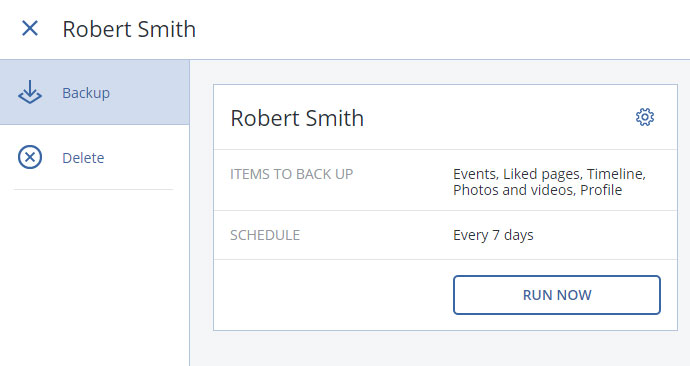 How to restore your Facebook content
In order to restore your Facebook account, open Acronis True Image, find your backup and click Recover.

Here you can browse the contents of your backup and download individual photos, video, and other content.

That's it! Acronis True Image is designed to protect your entire digital footprint. It is a perfect solution for mobile backup, personal computer backup, and now, Facebook backup.
There are new and exciting extensions to Facebook backup coming soon from Acronis True Image. Not to mention other improvements and innovations. Check back soon for details!
READ MORE: