Cyber Protect Home Office
formerly Acronis True Image
With over 2.6 billion active users, Google Workspace has enjoyed widespread popularity among businesses worldwide. But its cloud backup features have proven inadequate in meeting the needs of modern businesses looking for easy backup and data restoration, as well as advanced cybersecurity features.
According to the Acronis Cyber Protection Week Global Report 2021:
● Nearly 75% of personal IT users permanently lost data.
● 79% of IT users spent up to 12 hours trying to regain access to data.
● 10% of individual users never back up data, citing complexity and cost as the primary reasons.
Understanding how your data is backed up and stored in the cloud and having the ability to supply critical data to your customers when needed are key to your business's success. This article explores Google backup features, its benefits, and its shortcomings in the context of today's growing threat landscape.
Can you back up your Google Drive files?
Google offers backup options for your data in its secure data centers, spread out across multiple locations worldwide. The ability to access your stored data anytime, anywhere, and from any device with an internet connection is the main advantage of Google Drive backups.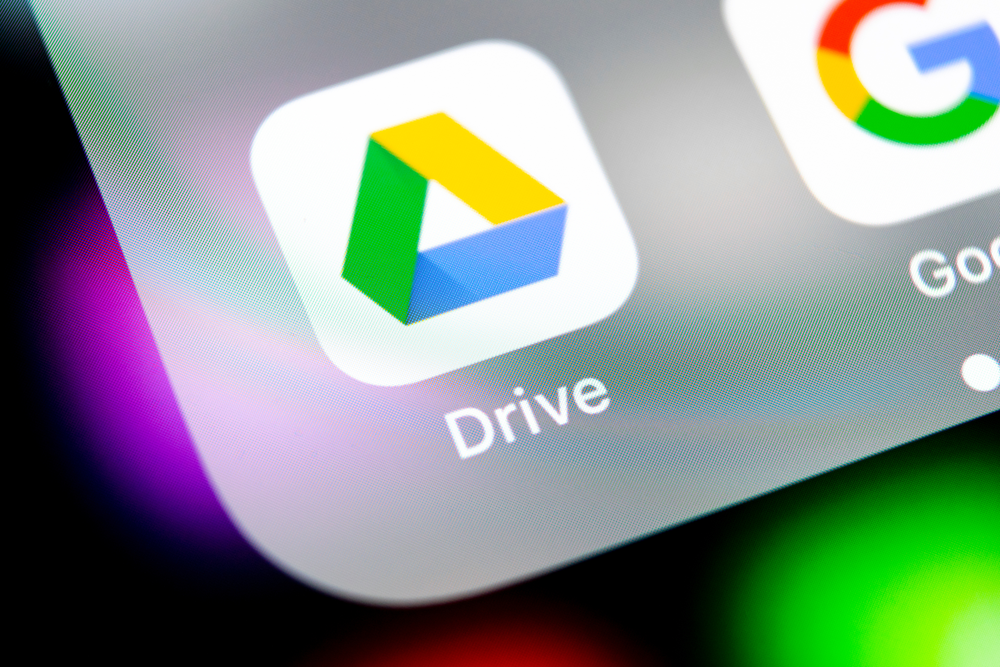 Google drive backup software and tools
Google's data backup tools — namely Google Takeout and Google Vault — enable you to back up your Google Drive Files. Google Takeout, a free data retrieval platform, combines your Google data into one file, enabling you to download it later. Google Vault, an eDiscovery and archiving tool, archives your historical data for legal or compliance requirements.
However, each has its limitations.
Google Takeout breaks down your files and distributes them across multiple zip files. Putting them back in order can be time consuming.
Google Vault is not a backup solution. It simply stores data for as long as you require it but cannot be used to recover data as with backup and recovery tools.
While both tools are useful, you cannot rely on them alone, and it is recommended to use a third-party online backup storage service.
What Google Drive does not do
Despite the benefits Google Drive offers, it also has a number of shortcomings as a backup solution.
1. Does not protect you from ransomware
The greatest drawback of Google Drive is that it doesn't protect you from ransomware. Ransomware is malicious software that enters your network via website scripts, downloads, or email attachments, and encrypts files found on your computer. Google Drive cannot differentiate between ransomware-infected files and files a user has made legitimate changes to.
When a file is corrupted by ransomware, Google Drive will view the encrypted file as a "changed" file that needs to be synced. It will then sync the encrypted file, which causes both the local copy and the copy in Google Drive storage to become corrupt. By the time the end user notices it, it is too late. The user is left with the choice of paying the ransom or to risk losing data.
2. Does not protect you from accidental deletion
Though Google Drive protects your data in case of natural disasters or significant outages, it doesn't protect you from accidental data deletion. If you mistakenly delete a file from your computer, Google Drive will simply sync and remove the file from Google public cloud. Even in the case of an illegal request from malicious actors within your environment, Google Drive has no way of determining whether it is a genuine request or a malicious one.
3. Limited time to restore data
With Google Drive, you have limited time to restore data if it gets deleted. After a certain point in time, the data is lost forever. Google offers two short-term recovery options to restore deleted data — Trash bin and Spam folder.
When you delete a file or email knowingly or unknowingly, it moves it to the Trash folder, allowing for 30 days to retrieve your data from the Trash bin. Once the 30-day mark has passed, the only remaining option is to log in through the Admin Console to restore your data — but you must do so within 25 days. After that period, your data will be permanently deleted. Similarly, the Spam folder offers a 30-day grace period, after which your data will become irretrievable.
Google Drive gives the file "owner" the flexibility to share their content with other users for collaborative purposes. While the feature enables increased productivity, Google grants ultimate power to the original owner of the file. If the owner deletes a file or revokes access for some reason, you could consequently lose access. And if you are a small business owner working from home and have employees, you could lose the data forever if an employee leaves.
5. Limited storage for the free version
Google account users receive 15 GB of free storage after signing up. If you don't have much data to store, this can be a cost-efficient option. However, if you have many files and need additional storage, you will have to pay for it. A Google One membership offers a number of storage plans in different price ranges — from a capacity of 100 GB or more — depending on which tier you choose.
What to look for in a backup solution
Due to the many limitations of Google Drive backup services, today's businesses require advanced backup solution services that go beyond what Drive offers. There are a number of considerations when doing a comparison of cloud backup services. Here is what to look for when choosing a cloud backup for Google.
1. Intuitive, easy to use, maintainable
With 86% of businesses performing backups on a daily, weekly, or monthly basis, manually supervising the process can be time consuming. An automated cloud backup solution offering intuitive dashboards for easy monitoring of the status of your backups in real time enables you to focus on your business, without having to worry about managing cumbersome data backup solutions.
2. Supports multiple devices
A reliable system should support multiple devices and operating systems to work as a one-stop backup solution. With users using different devices for different purposes — a Mac or Windows machine for work, an Android or iOS mobile for leisure, or 2-in-1 machines used for both work and leisure — ensuring your cloud backup solution is able to support all of these devices is crucial.
3. Granular recovery options
While full backup recovery is generally recommended, in some instances, you might want to recover only specific files. Backup solutions offering granular recovery options will enable you to recover only those files you select — making it a faster and more efficient process. Granular recovery is also useful when recovering from the aftereffects of a disaster.
Full-image backups are essential for the complete recovery of systems, but can also lead to longer suspension of services. The granular recovery method, on the other hand, enables you first to recover the most critical files necessary for normal business resumption.
4. Timely assistance from service providers
Disaster can strike at any time. Businesses that run 24/7 require round-the-clock customer support. The service provider should also provide an extensive knowledge base users can access whenever required.
5. Meets compliance requirements
With so many regulations to adhere to — HIPAA, GDPR, FINRA, GLBA, SEC, and GDPR — maintaining compliance rules can be overwhelming. A reliable backup service provider that helps you meet compliance requirements will enable you to focus on your business.
6. Ransomware and malware protection
With cyberattacks up 31% in 2021 and an estimated global economic loss of $6 trillion paid in ransom fees, protection against ransomware attacks is crucial for every business.
While most cloud backup storage solutions offer backup and recovery options, the majority do not offer protection against ransomware attacks. Look for a cloud storage backup provider that stops ransomware attacks in real time and enables you to restore your backups with minimal downtime.
Acronis Cyber Protect Home Office
Acronis Cyber Protect Home Office (formerly True Image) is a feature-rich hybrid online cloud backup storage tool and all-in-one cloud storage backup and cybersecurity solution that backs up the files you store in your local Google Drive folder.
For maximum data protection, Acronis follows the 3-2-1 rule, offering three copies of your data (one primary and two additional backups), with data kept in at least two storage format types and an additional copy stored off-site to ensure protection against cyber theft and other disasters.
Additional features include:
● Tier-4 data centers: Designed to help you recover data to an exact point in time, with minimal downtime. Built with an uptime of 99.995% and 26.3 minutes of annual downtime, Tier-4 category data centers are highly fault tolerant and come with several isolated redundant systems.
● End-to-end AES-256 encryption and zero-knowledge encryption: Only you can access your backup data.
● Security personnel and high-end surveillance: Acronis data centers are physically protected 24/7, ensuring your data at rest and in transit remain secure.
● Full recovery and granular recovery options: Businesses have the flexibility to choose between full-system image or individual file recovery.
Acronis Cyber Protect Home Office offers advanced cybersecurity features to protect your mission-critical data from ransomware attacks. Unlike Google Drive, which uploads "changed" files as is, Acronis uses intuitive AI-based pattern recognition to observe and detect suspicious patterns in data files. Based on previously identified and learned patterns, Acronis can detect all threats, including those with unknown signatures.
Acronis cyber protection solutions ensure the safety, accessibility, privacy, authenticity, and security (SAPAS) of your data. Acronis' Early Launch Anti-malware (ELAM) driver runs anti-malware (AM) software on third-party components before enabling them to operate. An allowlist of authorized programs prevents authorized activities from being falsely identified as unauthorized or as ransomware operations.
Acronis Cyber Protect Home Office delivers everything you need to safeguard your Google Drive files and all of your PC or Mac data from today's threats — from disk failures to ransomware attacks. Its unique integration of backup and cybersecurity in one saves you time while reducing the costs, complexity, and risks of managing multiple solutions.
Protect yourself from all threats. Learn more about Acronis Cyber Protect Home Office or try it out for free.