The Acronis Global Cyber Summit site is now live! With just two weeks left until the 2020 Summit and limited space in some of our most exciting workshops and sessions, now's the time to register and start building your custom agenda.
In this quick guide, we'll take a look at everything you can do today to make sure your experience at our virtual conference is full of the networking opportunities, expert insights, and actionable takeaways you're looking for.
How to get started at the #AcronisCyberSummit
Already registered for the 2020 Acronis Global Cyber Summit? You should have received an email with a unique link to access the Summit site. Follow this link and verify your email to receive an individual login link.
If you can't find the email, you can always log in to the Summit site with the same email address you used to register. The system will send you a new email with your individual access link included.
Haven't registered yet? No problem! You can register here or by visiting the Summit site and clicking on the "Get Access" button in the banner.
Regardless of whether or not you've registered, you can always contact us at summit2020@acronis.com to resolve any issues that arise.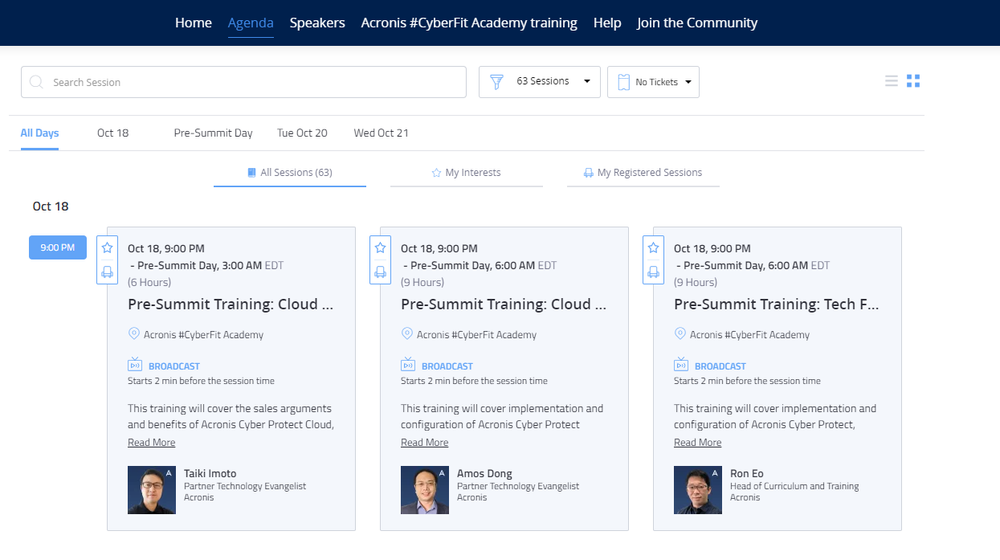 Once you're registered for the 2020 Acronis Global Cyber Summit, you'll have access to everything on the Summit site as soon as it becomes available. That includes the ability to browse the profiles of more than 100 experts and thought leaders who will be speaking at the event, reserve a seat at one of our free Acronis #CyberFit Academy training sessions, and filter through all of the workshops, keynotes, and special events running from October 19 – 21.
To make sure you don't miss out on any sessions that interest you, be sure add events to "My interests" by clicking the star icon on each event featured on the Agenda page. You can sort through the Summit's full agenda with filters for event day, time, audience, topic, format, and more.
Creating a custom "My interests" list will help make sure you can join the sessions you don't want to miss by keeping them just a click away throughout the entire event.
RECOMMENDATION: Build your agenda soon. To ensure that speakers are able to address attendees on a more personal level, our most interactive events such as workshops and training sessions have limited capacity. Once these sessions are full, you won't be able to join them.
You can also visit the Speakers page to learn more about the Summit speakers, find out which sessions they'll be featured in, and keep an eye on their Twitter feeds in real-time as they join in on all of the Summit's most exciting events.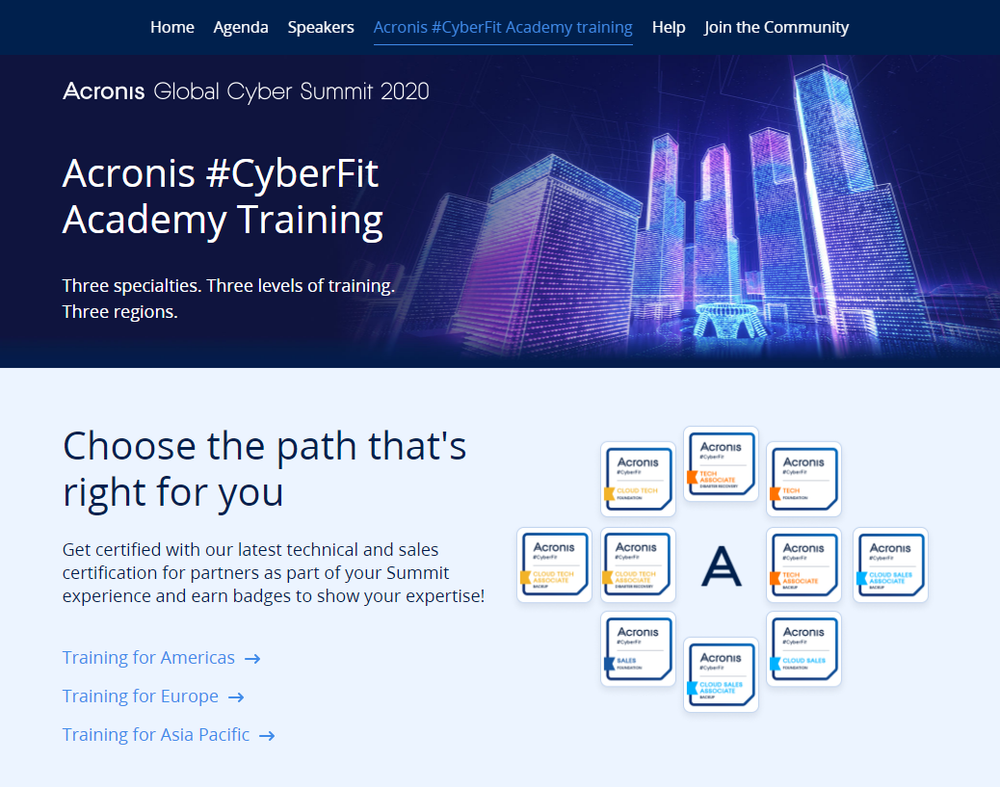 Become #CyberFit certified
Reserve your seat at free technical and sales training courses running all day on October 19. On the Training page, you can register for three in-depth Pre-Summit training courses designed to cover everything from go-to-market strategies to implementation and configuration of the innovative Acronis Cyber Protection Solutions available for your organization and your clients. Each course concludes with an exam covering the content you just learned and, upon passing, you'll be awarded an electronic certificate and badge as proof of your certification. Space for these courses is limited so be sure to register soon.
When you've built your own custom agenda under "My Interests" you'll have the option to add sessions to your Google, iCal, Outlook, or Yahoo calendars. We highly recommend you do so to ensure you don't miss a single insight, reveal, or celebrity appearance.
After your agenda is added to your calendar, you'll receive notifications and a quick shortcut to join the session so you don't need to worry about anything slipping off your radar.
On October 19, the pre-Summit training courses occur and then the Acronis Global Cyber Summit 2020 officially begins on October 20!
You can join a session two minutes before its scheduled start time from virtually anywhere on virtually any device. Our Summit site supports
Windows 7 and above (running Chrome, Firefox, or Edge)
MacOS 10.9 or later (running Chrome and Firefox)
iPhone 5S or later (running iOS 11 and up)
Android 4.0 or later (running Chrome)
Join in on all the Summit events at your desk or on-the-go with a tablet or smartphone – whatever works for you.
In almost all of this year's sessions, you can use the built-in Q&A window to raise questions that the moderator will pass along to the speaker(s). For breakout sessions, you'll find a unique chat visible only to the attendees and speakers of that event – helping to keep the discussion focused and relevant for all participants.
Register for the Acronis Global Cyber Summit and start building your custom agenda today to ensure you have a front-row seat for all of the best moments from this year's biggest cyber protection event. Looking forward to seeing you there!