Acronis

Cyber Protect Home Office
formerly Acronis True Image
It's two months since Apple released iPhone 7 and millions of people around the world have already migrated data from their old iPhones to new. For some it was easy. For others, it would have been a daunting task — visits to the Apple Store, asking for help, and so on. What was your experience? Did you migrate data from one device to another with the help of a backup or did everything manually bit by bit?
There is an easy way to move data from one iPhone to another with Acronis True Image mobile backup. Here is my first-hand account of how I helped my mother.
Migrating data from one iPhone to another in five easy steps
We decided to use Acronis True Image because of its attractive price and complete functionality. We purchased a one-year subscription, which included support for 1 computer, unlimited mobile device and had some cloud storage, and followed these simple steps: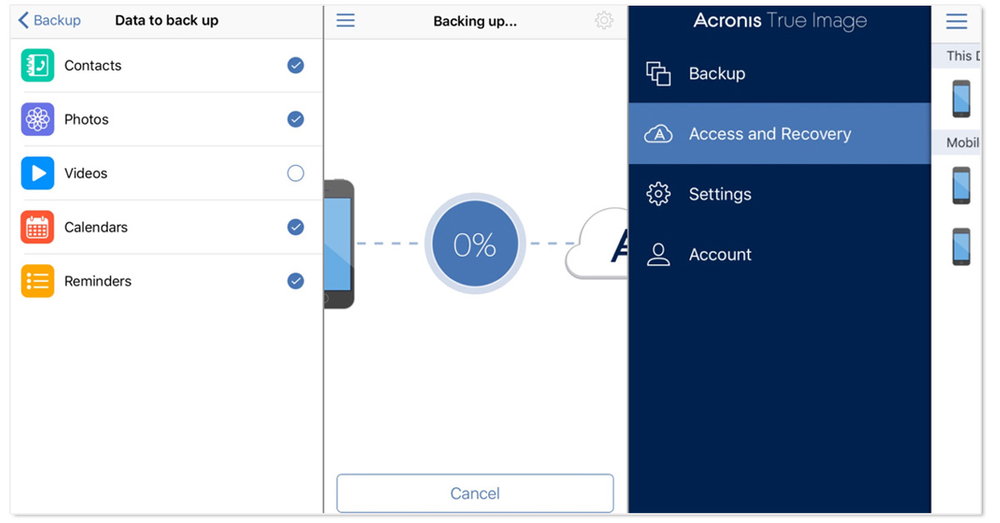 1. Create an account. Once you purchased Acronis True Image, you'll need to create a new account with Acronis, if you don't already have one. Keep your login details handy — you'll need to enter them in the app in order to connect your iPhone to the cloud.
2. Download and install Acronis True Image app. Go to App Store and search for "Acronis True Image." You'll see an app called "Acronis True Image Storage: Restore Deleted Photos." This is the one we need. Download the app and sign in into Acronis Cloud with the login details created earlier. The app is free, and it hardly consumes any resources. You'll need to install this app on both phones.
3. Configure the app on the old phone. The app will give you an option to select what to backup. I selected Contacts, Photos, Calendars, and Reminders.
4. Run your first backup. Select Backup and then "Back up now". It may take a few seconds to backup your contacts and calendars. It may take a little longer to backup photos and videos, especially if you have a lot.
5. Restore the backup on the new phone. Start the app on the new phone and select "Access and Recovery." You will see the backup that you created on your old iPhone. Select "Recover All" and wait a few minutes. That's it! The data from the old phone is now migrated to the new device! For me, the whole procedure took less than one hour. It's quick and easy!
It is recommended to leave Acronis Cyber Protect Home Office running on your new phone at all times to avoid losing important data. Mobile backups can also be stored on your home computer. Just install and configure the desktop version of Acronis True Image, and you're done. It's fast, easy, and complete.
Acronis Cyber Protect Home Office
For Home Office
Data Migration Made Simple - Get Started Now!
RELATED:
About Acronis
Acronis is a Swiss company, founded in Singapore. Celebrating two decades of innovation, Acronis has more than 2,000 employees in 45 locations. Acronis Cyber Protect solution is available in 26 languages in over 150 countries and is used by 20,000 service providers to protect over 750,000 businesses.