Selling managed cloud backup offers a bread and butter business opportunity for managed service providers (MSPs) today. Modern businesses rely on data to keep running and grow, making it a valuable resource that needs to be protected. Meanwhile, even smaller organizations that have historically relied on a do-it-yourself IT strategy are recognizing that growing data, increased IT complexity, and rising cybersecurity threats make it harder – and increasingly inefficient – to continue on that path alone. In fact, a Spiceworks survey found online backup and recovery services are the second highest budget allocation for cloud services (2020), making a managed backup service a valuable business offering for MSPs.
Let's look at what managed cloud backup delivers and key reasons businesses are wise to invest in a managed backup service. Then we can address how MSPs can use this insight to effectively sell the service, and how leveraging a modern managed cloud backup solution can maximize revenue too.
What is managed cloud backup
Cloud backup enables data, systems, and applications on an organization's servers to be backed up and stored remotely in a data center or "the cloud". This approach is part of the ideal 3-2-1 rule of backup: creating three copies of your data, storing (at least) two copies on different types of media, and ensuring one of these copies is stored off-site. By leveraging the power of cloud backup, organizations ensure that should something happen to a local copy of their data, it is still recoverable and that they can run remotely until systems are restored.
Service providers can orchestrate cloud backup for customers, through managed cloud backup. This offering is one piece of broader managed cloud services.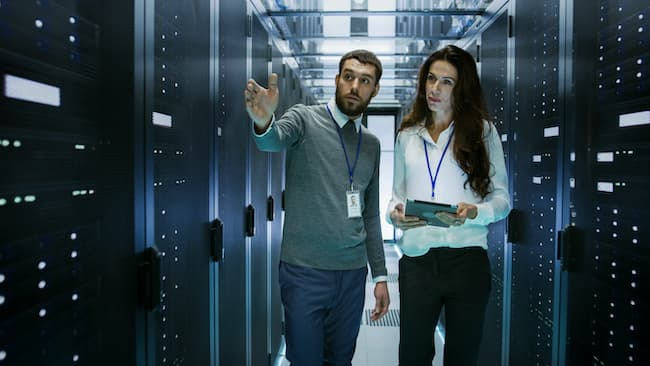 Managed cloud backup, a use-case
While cloud backup is necessary for all workloads, let's look at one in particular – software as a service – to demonstrate the benefits organizations can realize by leveraging managed cloud backup.
Today cloud technologies are handy for a number of reasons – just think how much more efficient it is for organizations to work with business-optimizing solutions like Microsoft 365, Google Google Workspace, and Salesforce.com. By outsourcing their daily IT management to a cloud infrastructure, organizations can focus on their core business operations.
This means businesses are getting more familiar with and comfortable 'renting' IT solutions through the cloud. The challenge is that they can get too comfortable, which presents an opportunity for service providers that deliver managed cloud backup. Here's how:
Always-on solutions (like Microsoft 365, Google Workspace, and Salesforce.com) can create a false sense of security. Organizations need to understand that SaaS companies are focused on maintaining their own infrastructure and applications uptime, ensuring services are always available to their subscribers. However, they are not concerned with protecting the customer data that lives within those applications.
That's where managed cloud service providers come in, providing clarity on how certain IT services work, potential gaps, and how their services – like managing an organization's entire cloud backup strategy – can help bridge those by providing an essential safety net that ensures business continuity, efficiency, and security.
Selling your managed backup service with ease
MSPs need to be sure prospects and existing customers alike know what managed cloud backup is in terms that matter to them. That is, securing managed cloud backup is just good business for them. Start prospecting conversations by pointing out the value the service delivers to a customer's bottom line, and the continuity and security having this managed backup service ensures.
You can ease customers into a revealing conversation about their pain points with probing questions that resonate, such as:
Data security: Have they ever been targeted by cybercriminals (e.g. malware, ransomware, viruses)? Is this a concern, or are they just hoping 'it won't happen to me'?
Lost revenue: Have they ever accidentally deleted a file or lost data because of rogue employees or employee departure, and then calculated the time spent trying to regroup? What does one hour of downtime mean to their business? Eight hours? A week?
Reputational damage: What would happen to their business and reputation should they be unable to fulfill online orders, run their POS system or production line, respond to clients, or carry out client work in a timely manner, etc.?
Compliance issues: What regulations are in place in their industry and what is the cost of non-compliance? Have they considered how a data loss event could result in fines or other penalties?
Intellectual property loss: What data is most sensitive in their organization? If someone outside the business got ahold of it, what could that mean to their reputation, competitive advantage, and more, in a best and worst case scenario?
Once you've opened the door with questions like these, you can clarify how your managed backup service specifically offers key business advantages, for example, if it goes beyond traditional backup and offers complete cyber protection.
Core criteria for evaluating managed cloud backup solutions
Whether you have the capacity to onboard new customers, want to focus on boosting revenue among existing ones, or both, when it comes to evaluating which modern managed backup service is best for your business, there are two main criteria you should be investigating:
BaaS solutions that are built for MSPs, optimizing your delivery of managed cloud services and ensuring you also gain margin-boosting efficiency

BaaS solutions that ensure your managed backup service stands out from the competition
Top solutions will:
Provide complete cyber protection (including AI-based anti-ransomware protection) for all popular platforms (including SAP HANA and Oracle Database backup)

Safeguard all workloads, including cloud apps like Microsoft 365 and Google Workspace data

Ensure compliance via local, pubic- and private-cloud storage options

Ensure business agility with built-in integrations that connect to your billing, management, and provisioning solutions

Guarantee zero up-front costs to get started, with no need to purchase or install any software or hardware so you can start selling managed cloud backup in just a few hours
How to maximize revenue with modern managed cloud backup
Delivering modern managed cloud services requires having services that can meet today's data protection challenges (i.e. cope with rising IT complexity, cost, and security concerns). It also requires a services delivery platform that allows you to work efficiently and grow. Solutions that address both of these MSP need areas can skyrocket your business.
Acronis Cyber Backup Cloud is a modern managed cloud backup solution built for service providers. It allows you to quickly realize incremental revenues, with no upfront costs and a pay-as-you-go business model. And since you need to be able to support numerous use-cases to retain customers – and/or expand to meet the needs of others – you need tools and options that allow you to do so. Acronis' managed cloud backup solution protects any virtual, physical, and cloud environment; plus, you have control over all aspects of your managed backup service – from deployment and licensing, to branding and running your business via key integrations.
Acronis' modern managed cloud services solution ensures a broad set of features are at your fingertips, including:
Multi-tenancy to support multiple customers

Multi-client, multi-service management portal

Both per-GB and per-device pricing models

White-label options, allowing you to brand the service as your own

Agility to create various offerings and service bundles

Service usage quotas and reporting

Integration with PSA and RMM tools

API for customer integration

Partner-hosted cloud storage option
In addition, Acronis Cyber Backup Cloud is a part of Acronis Cyber Cloud, a platform for service management, onboarding, integration, and customization. That means you can deliver more than just managed cloud backup, but also complete managed cloud services including hybrid cloud backup, disaster recovery, AI-based ransomware protection, file sync and share, and blockchain-based file notarization and e-signature services, all managed from a single console.
To learn more about what makes Acronis' managed cloud backup solution unique, visit Acronis.com.
About Acronis
Acronis is a Swiss company, founded in Singapore. Celebrating two decades of innovation, Acronis has more than 2,000 employees in 45 locations. Acronis Cyber Protect solution is available in 26 languages in over 150 countries and is used by 18,000 service providers to protect over 750,000 businesses.