Throughout the IT channel, solution providers are, in large part, defined by how their offering meets the needs of their channel partners. For companies like Acronis to continue providing our partners with the solutions and support they need, we've got to be listening to them. What tools are being adopted? What are the challenges that solution providers face? What's working — and what's not?
Earlier this month, we shared the results of our Pulse of the MSP 2021 report. To further our understanding of providers' current needs, Acronis recently partnered with Pax8, Channelnomics, Dropsuite, IBM, Microsoft, and Novacoast on another collaborative study. Here, we explore some highlights from the resulting report: SMB Channel Services Transformation.
Channel trends and targets
The SMB Channel Services Transformation report collected data from more than 400 solution provider participants, all of whom primarily serve small to mid-sized businesses (SMBs). Most of these providers are SMBs themselves, and 75% self-identified as MSPs. A majority (56%) have been in business for 11 or more years, and a plurality (34%) have annual revenue below $500,000.
Across this group of respondents, we can see some prevailing trends and opportunities for growth.
Over the past two decades, solution providers have watched the profitability of commoditized hardware and software steadily decline — and they've had to adapt to keep the lights on. Traditional provisioning remains a foundation for those in the channel, but solution providers have found stronger margins in selling attached services, such as cloud-based backup and cybersecurity.
That's not to suggest that providers are shifting away from hardware and software sales. These remain foundational, but from a profitability perspective can perhaps be better understood as a means to an end. Traditional products are a growth catalyst — soon, the services attached to these will be the core component of solution providers' revenue.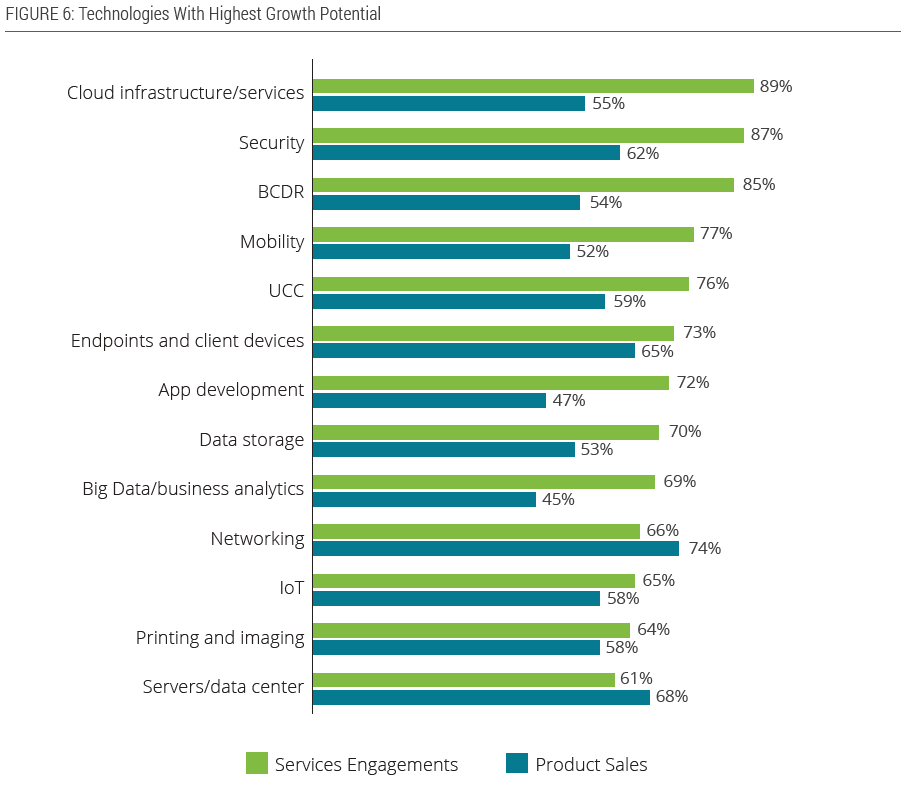 When it comes to growth opportunities, solution providers are quite bullish on services — especially those that can support traditional products. According to the report, 89% of solution providers see strong potential in cloud services and infrastructure. We found the same conclusion in the Pulse of the MSP 2021 report.
Increased demand for robust cybersecurity
Drilling down into the specific types of services that solution providers aim to offer, we see that security services and cloud backup/recovery were both singled out as powerful growth areas — by 87% and 85%, respectively, of those surveyed. It's notable as well that 20% of respondents identified security threats as a serious challenge facing their own businesses. These findings also align with those of the Pulse of the MSP report, in which nearly all MSPs reported an expected increase in managed security service offerings over the next two years — and cloud-based security and backup were predicted to become top revenue drivers during that time.
The cyberthreat landscape has grown by leaps and bounds in recent years, as we highlighted in the recently published Acronis Cyberthreats Report 2020. The COVID-19 pandemic has only hastened this shift, as businesses around the world rushed to adopt new remote access and collaboration tools — often without the time to properly vet solutions or the budget to work with tried-and-true vendors. Cybercriminals see a huge attack surface with large gaps in cyber protection.
Modern businesses are more reliant than ever on data, both to enable everyday operations and to provide critical insights that inform future development. The demand for cutting-edge cyber protection services will only continue to increase.
Top challenges facing solution providers
Like any business, solution providers face certain worries and operational challenges. Some of the more commonly-attested ones include:
Sales and marketing
Sales and marketing are long-standing areas of difficulty for solution providers. Among those surveyed for this report, 43% said that closing sales was a real issue for their business, and 33% cited marketing as a pain point. Together, these issues can hinder revenue streams and even threaten a solution provider's stability.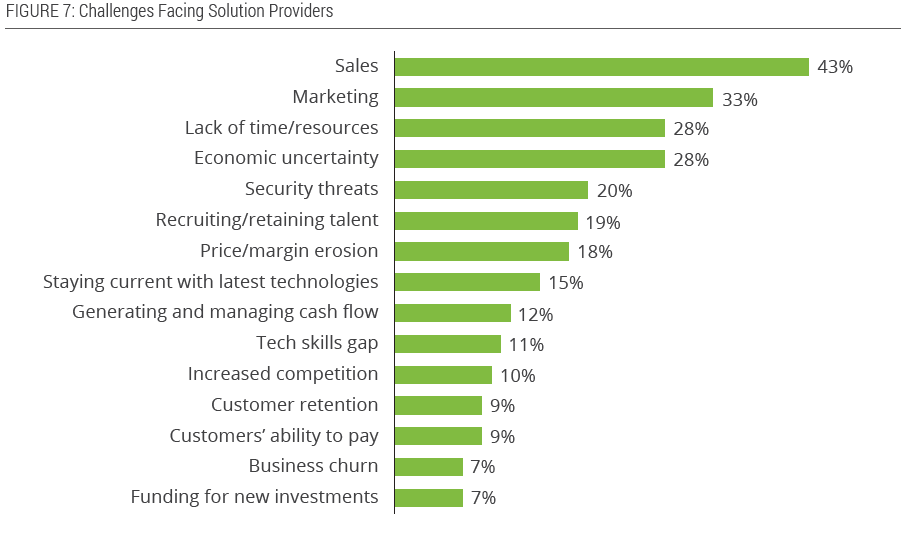 While the report found that most solution providers plan to add more services to their portfolios over the coming year, only 14% have specific plans to market these services. Sales and marketing represent some of the most important areas in which solution providers must boost their efforts.
Uncertainty and unpredictability
The work that solution providers do keeps small businesses around the country operational, but not all providers turn the same level of attention to their own organizational health. Only 60% of respondents reported having a general business plan, and a mere 33% have formalized sales plans — it's likely that this contributes to the frustration around sales and marketing mentioned above.
While it can be tough to measure the impact of limited planning on sales and profitability, it almost certainly leads to uncertainty in daily operations and can make growth forecasting difficult. After sales and marketing, some of the most commonly cited challenges facing solution providers were economic uncertainty, resource limitations, and talent recruitment/retention.
Limited reinvestment
As a general best practice, most businesses should reinvest at least 10% of net profits — a relatively modest percentage — into business development. Yet nearly half of solution providers reported reinvesting less than that.
Expanding service offerings and marketing require internal investment — both to enable infrastructure and training around new products, and to support new customers brought into the fold. The average solution provider already works with around 11 vendors and includes about seven service products in each sale. Providers should consider their reinvestment strategies a key area to reevaluate.
As the profitability of traditional hardware and software provisioning shrinks, solution providers look to continue investing in services that generate predictable, recurring revenue.
Solution providers have the foundation they need to achieve great success with services. Most would benefit from increased investments into strategic sales and marketing, as well as reinvestments into their own business. A supportive relationship with the right vendor — one with the resources to support not only a provider's immediate needs but also their longer-term growth — can make all the difference.
Acronis delivers complete cyber protection solutions through the Acronis Cyber Cloud platform, including disaster recovery and notarization capabilities. In offering these services through a single, integrated portal, Acronis ensures cross-solution compatibility while enabling simple upselling to existing clients — making it easy to add new revenue streams, reducing challenges around sales and marketing, and boosting customer retention.
In addition, Acronis can help accelerate your growth through the Acronis #CyberFit Partner Program, our partnership program designed around the needs of solutions and service providers. Take advantage of:
Financial incentives, including rebates and market development funds (MDF)

Customizable marketing and sales assets, with additional automation and renewal tools coming soon

Account management assistance, robust technical support, and — for those at higher partnership tiers — dedicated marketing support

Sales and technical training via the Acronis #CyberFit Academy
As an Acronis partner, your success is our success. Learn more about the Acronis #CyberFit Partner Program and apply today.