Cyber Protect Home Office
formerly Acronis True Image
Discover the all-in-one recovery drive. Ensure you can start the OS for recovery. Capture your system to enable a quick restart. Make all of your backups instantly accessible.
Make your system recovery foolproof
You've made a backup of your data, but you neglected to create the boot media that's needed to launch the operating system so you can start the recovery process – and now you're stuck. It's like getting your shopping done, only to realize when you reach the checkout that you've left your wallet at home.
With an Acronis Survival Kit, you'll never have that problem. That's because this all-in-one recovery drive captures every you need to easily and efficiently get your system running again.

What is a recovery drive?
A recovery drive is the media used to boot the system and troubleshoot issues when problems arise. Back when prebuilt systems were the norm, you'd get a CD, DVD or thumb drive that had a copy of the factory-settings image of the system (which many people promptly lost). Today, Windows 10 lets you create a recovery disk from the D: drive that can help to some degree – provided you know to create the drive.
Advanced backup and hard drive data recovery software can deliver even more extensive options. Acronis True Image 2020 lets you create a single recovery tool on an external USB hard disk drive that includes boot media as well as all your backups – making it a recovery drive on steroids.
When you create a new task for a full image backup of either your entire computer or system disk, Acronis True Image 2020 automatically asks if you want to create a new survival kit so you capture all of your recent additions and changes.
If your system won't load and you have no recovery points, the Acronis Survival Kit can restore your machine.
How to create a recovery drive
You'll first want an external USB drive that will serve as the recovery drive. Since an Acronis Survival Kit can include all of your backups, you'll need an external USB hard disk drive with enough storage for those files as well.
Once you insert your USB hard drive into an open port, creating an Acronis Survival Kit couldn't be easier, it just takes a few clicks. Simply follow these three easy steps: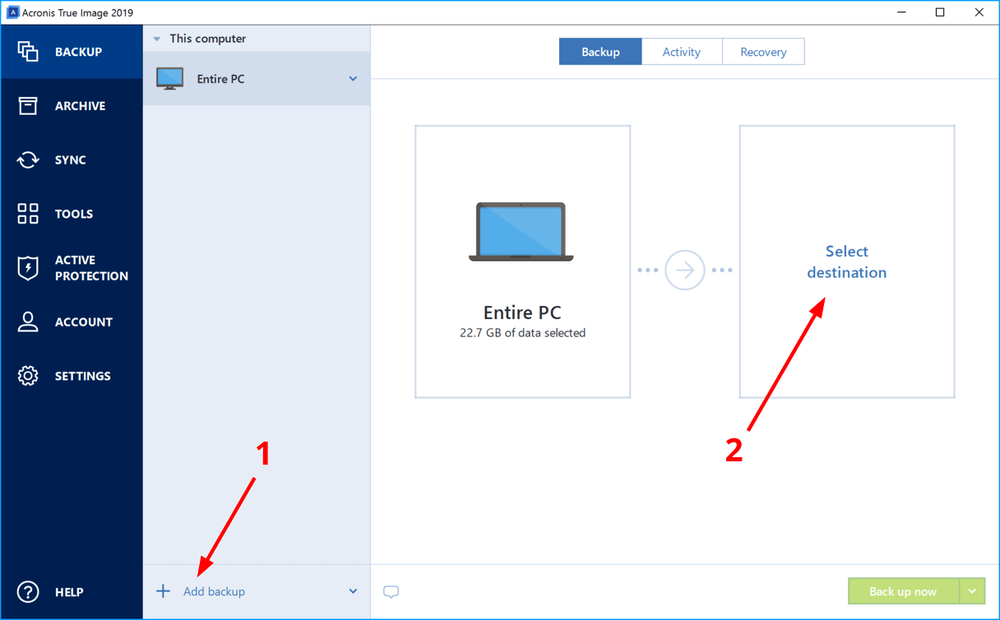 Open Acronis True Image 2020 and select Add backup

Specify both the source (either the entire PC or system partition) and destination (the external USB hard drive) of the kit

Select Create the Acronis Survival Kit option that appears under the destination panel

Follow the wizard instructions to create your boot media and backup.
Anytime you create a full image backup of your system, Acronis True Image 2020 will give you the option to create an Acronis Survival Kit. That way your all-in-one recovery tool has the most recent changes captured.
Benefits of Acronis Survival Kit
While Windows 10 lets you create a recovery disk from the D: drive, that version does not necessarily include changes you've made to programs and apps. The system backup that is used to restore, for example, reverts the registry, so programs you've installed may no longer work as intended.
With an Acronis Survival Kit, you create a completely self-contained recovery tool on an external USB hard drive. In addition to the required boot media and current system partition, it includes everything all of your backups, so all of your data, apps and systems are immediately available. By automatically capturing any changes you've made such as new apps, preferences or settings, it makes complete recovery almost as simple as plugging the drive into the USB port.
Recovering with an Acronis Survival Kit
To restore data with an Acronis Survival Kit, the boot order of your PC's bios needs to be set to first launch from the USB drive. Otherwise, it will try to load from the internal hard drive as normal. Guidance on changing your machine's boot order can be found here.
Once the USB is first in the boot order, the recovery process is simple:
Connect your external USB HDD

Start the computer

Choose the files for recovery from your backup
Only Acronis make recovery that easy and efficient.
About Acronis
Acronis is a Swiss company, founded in Singapore. Celebrating two decades of innovation, Acronis has more than 2,000 employees in 45 locations. Acronis Cyber Protect solution is available in 26 languages in over 150 countries and is used by 18,000 service providers to protect over 750,000 businesses.