Acronis

Cyber Protect Home Office
formerly Acronis True Image
Here are three simple tips that can help you quickly and effectively back up and safeguard the contents of your Windows PC and Mac.
It's inevitable that computers will fail at some point it's not a matter of "if ", but when. Whether it's due to an error like dropping a laptop or falling victim to a virus, or a natural disaster like fire and flood, or a power surge, no computer system is immune to potential failure. A fundamental part in case of unexpected events occur, is having the ability to recover the full Windows file history, computer files, or system files that were stored on your device before the disaster happened.
By using the lifesaving file backup software, you will be able to restore a full file history of previous versions on your devices and, of course find again all the folders and personal documents in their place.
That's why having a backup is crucial. Losing photos, valuable music collections, or sensitive financial information can be devastating for everyone. Not knowing how to perform a computer system backup can lead to heartbreaking losses. The best thing is that you receive complete risk protection with zero risk factors.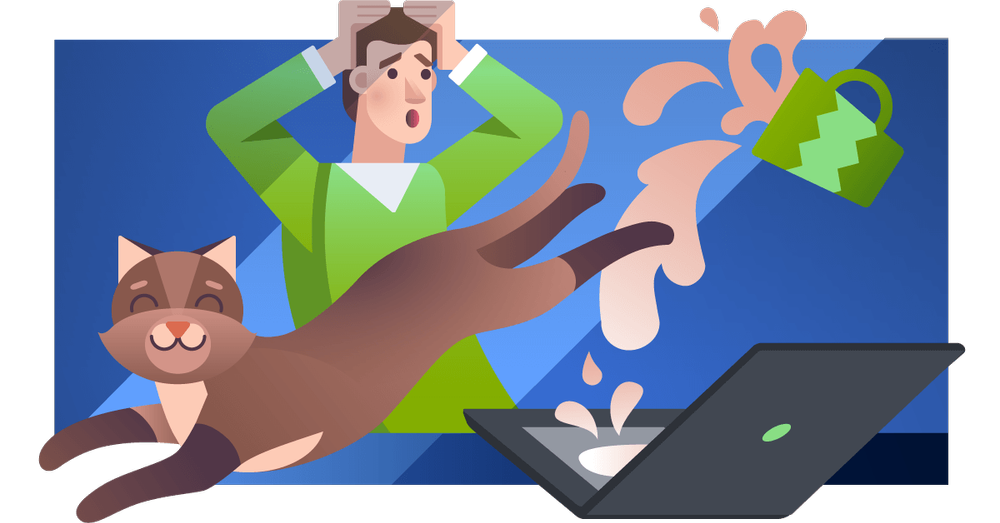 Have you ever experienced data loss of important files due to human error, or even a disaster, such as a fire or flood? If yes, you know that unequivocal pain. Fortunately, there is a very simple solution to restore files, images, and important information by using system backup. Let's explain with simple words what a computer system backup means.
What is a computer system backup?
Computer system backup is a process that copies all your stored files, data, and information and effectively creates two versions of them, one on your device and one as a backup version. The main purpose of the backup is to protect all your precious data and restore every single file by using a system image backup tool. By doing so, you will be able to recover from any unexpected circumstances.
Another priceless tool is the cloud backup services provided by third party software, where you receive complete protection for your multiple devices. Furthermore, the online backup cloud software has the capabilities to recover your full file history and specific files by using the sync settings properly, and once the initial backup is completed, as we said, this online backup can be executed on multiple computers.
It's easy to confuse cloud storage with cloud backup, but the differences are significant. Both services involve storing your files in a location to safeguard them from issues like power outages, fires, floods, and other unforeseen disasters. However, unlike cloud storage services, cloud backup is a software based solution that takes care of the process for you automatically.
This means that while your files are being backed up to the cloud, the software itself resides on your computer and quietly operates in the background, continuously backing up your files even when you're actively working on them.
What are the 3 types of pc backup?
There are mainly three types of file backup : full, differential backup and incremental backup. Let's dive in to learn more about the types of backup and have a closer look at the differences between them, and of course, which would be the best database backup for you and the advanced features it provides.
So let's start with the full backup process, which is the most complete backup, where you clone all the selected data and receive backup demands for all the important stored information you have. This includes files, folders, Windows file history, SaaS applications, hard drives, and even the system repair disc tool. The highlight of a full backup is the minimal time it requires to restore data and backup files.
Although, since everything is backed up in one go, it can take longer to backup database instances compared to the rest backup types. Everything sounds fine at that moment, but there is maybe just one thing we can look at as a negative and that is the fact that running a full backup overloads storage space. Another negative aspect is that you cannot request rapid recovery because of the large amount of files and information found in the backup repository locations.
That's why most businesses tend to run a full backup and follow it up with a differential, or incremental backup. This reduces the burden on storage space and increases storage drive backup speed.
A differential backup straddles the line between full and incremental backup. It involves backing up only files that have changed or been added since the last database backup. It lets you restore data faster than a full backup with the database backups tools it uses since it requires only two backup components, an initial full backup and the latest differential backup.
The first backup in the incremental backup is the execution of a full backup. The succeeding backups will only upload the changes that were made to the previous backup. This gives more flexibility to the businesses in spinning these types of database backup, as often as they want. Incremental backup requires space to store only the changes, which leads to lightning-fast database backups.
Does a system backup save everything on your operating system and external hard drives?
This is a common question when you think about taking the best measures to save your precious data by being able to recover it when necessary, and the answer is yes! If you have any concerns about your data, files, and information, the most reasonable thing to do your best to ensure the availability to recover all your files in case unexpected circumstances occur.
A system backup protects you in all of the scenarios where you are likely to lose files, including natural disasters, theft by cybercriminals, and the greatest threat of all - you! Yes, that is right, because human error is the number one reason for data loss.
The full backup process will guarantee that every single file will be saved and recovered, this makes the backup software and cloud storage service priceless because we all have experienced the disappointment of losing files by mistake or caused by unexpected reasons. The only salvation is using system backup software and a cloud storage, thus, you will ensure the safety of the entire data you have stored, even on an external drive.
System Image Backup Software
What is the system image backup software, and how does it work? Let's explain it as understandable as possible, so you can get familiar with the pros it provides. System image backup is a method used to create a backup of all the drives in a computer, including the operating system's state at the moment. This enables the ability to restore the computer a state of healthy and operating condition.
Here's how system image backup works:
The image backup software generates a copy of your backed up files on selected drives.
In cases where a drive contains several partitions, each partition is saved as a file commonly referred to as an "image."

The software also includes a copy of the boot sector.

System image backup solutions can provide assistance in scenarios where there is a hardware or software failure, a need for disaster recovery, or when faced with a malware attack. Additionally, in certain situations, you may find yourself requiring a system image backup if you wish to transition to different hardware while maintaining your current system settings and configuration.
One of the benefits of utilizing system image backups is the ability to quickly recover systems. The faster you are able to restore your data, the sooner you can resume your business operations. The implementation of system image based backups is actively employed for backing up and restoring production servers with the aim of improving recovery time and achieving recovery point objectives.
A backup program should also be able to create a bootable optical disc or USB thumb drive. Some will also create a restore partition on your hard drive, which can be used if the hard drive is still operational.
Find the Right Backup System to restore your backup files in no time.
Different backup software packages provide different functionality. Here is a checklist of features to look for when choosing a backup system:
The product backs up your entire computer, not just your files. For a complete PC and Mac backup and restore, you need a program that offers full backup copies of applications, data, drivers, system preferences, and patches — essentially taking a snapshot of your entire system at a given point in time. This is called a "full-image backup".
The system image tool allows you to create a full backup to an external drive or network-shared folder. However, it is best to use removable storage like a USB drive, which you can disconnect from the USB ports of your computer and store in a different physical location.
The backup software runs in the background while you continue working on files, browsing the Internet, and doing whatever else you do on your computer. You should not have to close applications or suffer sluggish performance while a system backup is in progress. One of the cons of most cloud storage service is that they only offer a few gigabytes of space for free, so you have to get the paid version in case you need more storage space.
It protects your backup data by encrypting it with government-grade security tools.

It allows you to store backup data in a numerous ways and on multiple drives : a protected partition on your laptop, a USB drive, CD, DVD, or Blu Ray discs, or in secure cloud backup storage.

Compare features, such as the ability to customize schedules and data compression, and incremental backup functionality. Incremental backup only backs up changes since the last backup, allowing for faster backups that take up less storage space.
Acronis Cyber Protect Home Office is a fast, easy, and complete solution that offers these features and more. For example, even if you're already using Windows backup software on your PC or Apple Time Machine on your Mac, you still need additional cloud backup to make sure all your important files and pictures are secure from the major causes of data loss. Also, you are able to recover your entire computer — including the operating system — in minutes or backup your local network via external USB drives. Another way to create backups and store them locally is by using a NAS (network-attached storage) device.
It is a good idea to have a local backup too, also known as on premises backup, which involves the process of creating a backup of your system, applications, and data on a device that's physically present at the same physical location as your data source. This device could be a disk, hard disk, flash, external hard drive, CD, or any other media that is kept nearby. It is generally recommended for organizations to have a local backup. However, it is equally important to have a data backup stored on a device (preferably, offsite) to ensure the safety and protection of your valuable data. Backing up to other computers or NAS boxes on your network or in remote locations is another way of physically safeguarding your data with an offsite, or at least physically discrete copy.
Make Sure the Computer Backup System has "Set it and Forget it" Ease-of-use.
With the right backup product, you configure it once, and system backups are performed automatically. You can also elect whether and how often to schedule a complete backup with disk and system imaging as opposed to backing up individual files, folders, or file categories.
Acronis Cyber Protect Home Office offers a powerful scheduler to run file backups at a preset time or after a designated period has elapsed. You can choose to schedule automatic backups when the user is idle, on user log-in or log-out, on system start-up or shut-down, and more. You can also suspend and enable tasks and specify dates to run a transfer files process to a preferred device, location, or your user folder.
Restore Your System Backup Fast
In the event of a disaster strikes, you need to restore your entire system to a previous version as quickly as possible to minimize downtime.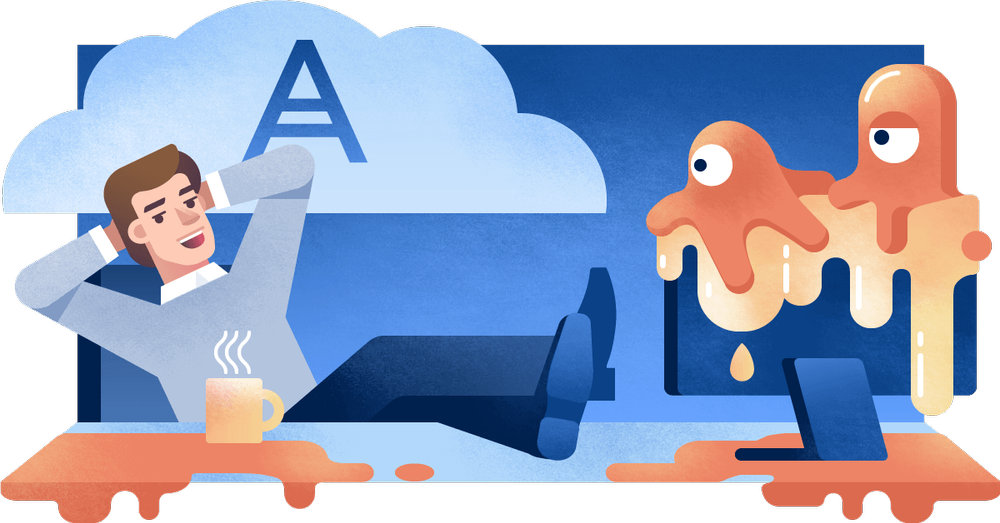 With complete PC and Mac backup and restore offered by Acronis Cyber Protect Home Office, you can rest easy knowing your computer will be back up and running as fast or faster when compared to any other product on the market.
It saves even more time when compared to solutions that merely back up data files and folders. With Acronis Cyber Protect Home Office, you won't need to reinstall your operating system, individual applications, drivers, and other components — all of which take time and effort. Instead, Acronis Cyber Protect Home Office captures all those elements and restores your computer to its pre-disaster state with the click of a mouse.
Best of all, you can restore your data anywhere and very easily with our friendly control panel. Has your laptop been stolen, or is your desktop fried? No problem. Acronis Cyber Protect Home Office restores your systems and data to the PC or Mac of your choice without having to search for the original hardware and software.
You get all of this, plus mobile phone and tablet backups, Facebook backups, and other easy-to-use but powerful features, such as file synchronization and the ability to back up a computer remotely!
If you have been guilty of putting off implementing a backup system for your PC or Mac, don't delay these necessary online services. By taking a few minutes now to set up your computer backup, you can save hours or even weeks of lost productivity when— not if — your computer fails.
Acronis Cyber Protect Home Office - The Best Computer System Backup Software
Acronis Cyber Protect Home Office is the most reliable and complete cyber protection and recovery software on the market, capable to create system image backups and containing a variety of useful backup tools. Furthermore, by using the advantages of our cloud storage service, Acronis Cyber Protect Home Office offers an easy way to back up your computer or any other device that you are using, anytime you need! Our attention is focused on providing the best tools for cybersecurity, ensuring threat protection, automatic recovery, full image backups, local backups, cloud backup software, and many other useful tools. Because our mission is to protect and provide tranquility to our customers.
Once you have downloaded and installed the software you can start Windows backup of your system in a matter of seconds. What is even better is that once you set up a backup and data recovery plan, by using Acronis Cyber Protect Home Office, your backups will run regularly and according to your schedule preferences, which you can adjust or modify however you want.
Creating and implementing a system image recovery strategy plays a key role in any plan to rescue data without losing a single file. However, in the event of a data disaster or accidental file deletion, simply creating and storing backups is only half the battle. Restoring or recovering different file formats quickly and thoroughly from the recovery drive becomes paramount when valuable data is lost or compromised. Furthermore, we have created a user friendly interface for the convenience of our clients.
With Acronis Cyber Protect Home Office, recovering data is as straightforward as backing it up— a few clicks are all it takes. Additionally, APFS support and crash fixing in case of database failure is another benefit to ensure that you have all the tools for comprehensive data protection and file recovery.
We are here because of you! Protecting your most valuable assets and private information because we believe in your progress and making your dreams come true, by ensuring a peaceful path to the goal. Don't hesitate and become a member of our community of winners we will take care of the rest!
About Acronis
Acronis is a Swiss company, founded in Singapore. Celebrating two decades of innovation, Acronis has more than 1,800 employees in 45 locations. The Acronis Cyber Protect Cloud solution is available in 26 languages in over 150 countries and is used by 20,000 service providers to protect over 750,000 businesses.