In today's increasingly digital world, managed service providers (MSPs) fight for their customers' attention, looking for ways to make them stay and purchase more services. One way to encourage that behavior is to develop a dependable brand of products and services that customers can trust.
What are white-label services?
White labeling refers to service offerings developed by one company to be sold to another business or brand. The buyer company can customize the service with their brand, logo and identity to sell it as if they have developed it.
For example, a company (we'll call it Company A) develops an automated backup service. Company A doesn't associate its brand or logo with the backup solution. Then, another company (we'll call it Company B) purchases the white-label software and is free to put its own branding on it.
The purchaser can focus on its internal business processes and marketing campaigns instead of the time-consuming process of developing its own solution. For a one-time purchase or a monthly subscription, they can ensure the needed time and workforce to bring in more clients and maintain a stable revenue stream.
Below are the most widely used white-label solutions for businesses.
Web app development

Web design and development

White-label email marketing services

E-commerce

White-label social media marketing

Pay-per-click management

Content development

Search engine optimization (SEO software)

Conversion rate optimization (CRO)
Growing companies should explore how white labeling works to satisfy their existing customers and secure new revenue streams.
Advantages of white-label services
White-label strategies bring many benefits to modern companies. Let's look at some of them below.
More freedom for your company
White-label services let your company concentrate on its core business processes rather than spend time in areas of minor to no experience.
Your teams can focus on finding the next great idea for your brand and ensure continuous business opportunities for your own solution or products.
Time and costs management
Having a white-label service means less time spent searching for resources. You won't need to hire in-house experts to develop an extensive product portfolio. Additionally, your teams can focus on your company's own product and important key performance indicators to maximize costs and productivity.
White-labeling enables you to offer new options to consumers. Maximizing your portfolio helps with the company's branding, reputation management, and revenue stream.
Many MSP clients are concerned with technical support. As top-tier remote support is a must by default, your client would likely want to know that a specialist can come to them onsite if an issue arises.
White labeling enables MSPs to ensure 24/7/365 remote support and onsite professional support when needed.
Client retention improvement
Developers offering white-label services strive to meet your every need. A robust white-label solution can take care of SEO services, social media marketing, email marketing, mobile apps and even the mass production of digital products.
Having a wide range of solutions translates to more loyal existing customers. Additionally, you can harvest new leads and bring in new customers more easily.
Better catering to customer needs
White-label services let you control your brand's image to customers. Your marketing campaigns can evolve to comprise all white-labeled products to align with your customers' interests.
A chance for small businesses to be competitive
Small businesses typically struggle to compete with well-known brand names, as they lack the workforce and budget to offer a wide range of brand solutions.
A white-labeled portfolio can often be the business opportunity they need. SMBs can put their own logo on a white-labeled product, sell it at a higher price, and grow their business more quickly.
Benefits of white-label services for SMBs
White labeling can be a powerful tool for SMBs to grow and stay competitive. Below are the most significant benefits for SMBs using a white-label product or software.
Quicker branding process

Resource management

An extensive portfolio to acquire new clients

Easier kickstart

Improved ROI

A stronger focus on digital marketing services to improve sales

End-to-end solutions to offer clients

Budget-friendly and execution-ready approach

Enhanced customer retention
White-label software for SMBs: An example
Suppose you run a small startup focused on social media marketing software. You aim to develop a unique lead-generation feature, but you only employ three people. You need all of them to work on your brand solution, but what do you do in the meantime? How do you secure revenue and business continuity?
Among your best options is to contact a white-label marketing provider. As they have an extensive portfolio, their own server, and enough workforce to offer constant customer support, your employees can focus on developing your native product. At the same time, the provider covers the rest.
They can provide white-label email marketing and social media software. They will also take care of remote support and offer an extensive list of additional marketing software for your potential clients. You can add display advertising tools, content marketing, sales promotion tools and even direct marketing services to your portfolio.
This way, you will offer enough marketing services to stay competitive while your experts are free to spend their entire time and energy developing your brand software.
What are white-label products?
White-label products are typically sold by retailers with their own branding and logo but are manufactured by a third party.
White labeling a product means the manufacturer will use the branding requested by the purchaser instead of its own, so the end product will appear as if the purchases has produced it.
Creating a product from scratch takes significantly more time if done by a single brand. White-label products enable one company to create the product, another to focus on marketing it, and a third to streamline selling it. This way, one firm doesn't have to cover all stages of product development and marketing, which saves time, money, and energy regarding production efficiency and marketing costs.
What's the difference between white-label products and private-label products?
The terms "white-label products" and "private-label products" are often used interchangeably. However, there's a subtle difference between the two.
With white labeling, the provider offers a range of possible specifications, but they still specify the design, ingredients, parts, and offerings of the white-label product. The purchaser only specifies the label outlook.
With private labeling, the buyer specifies the design, ingredients, parts, and offerings of the product.
Private-label providers can also be subcontractors to deliver your brand's products. You hire them, provide the necessary training and specifications for them to set the processes, deliver your brand product, and procure the required reporting.
Another difference between white-label and private-label products is manufacturing costs. As private-label products are manufactured following your specific preferences, the private-label company may need to build a manufacturing system that is used uniquely for developing your product. Even if there are similarities between your product and other white-label products, yours is manufactured exclusively for you. This limits the manufacturing system's ROI and may lead to increased costs.
With white labeling, the provider may produce the same product and sell it to multiple companies, with only the label changing. Because the manufacturer can make the product over and over for several clients, you'd share the efficiencies with the other buyers, which results in lower costs for all purchasers.
This scenario can shift if your company grows and requests more significant product volumes. You can also design your own cost-efficient manufacturing and produce the item or service without the help of a white-label provider.
Advantages of private-label and while-label products
Both private-label and white-label products come with positive and negative implications for companies. Let's explore the primary ones below.
White-label brands dedicate their resources to creating niche-specific products. This offers the same, if not higher, quality as national-brand products.
Companies can use white-label products to expand their product line and target customers strategically, which brings a competitive advantage.
White-label producers typically rely on huge contracts; those can come with guaranteed sales and enhanced revenue.
White-label products are commonly sold at a discount relative to national brands. This can boost revenue and help customer retention.
Disadvantages of private-label and white-label products
A powerful enterprise can push out SMBs and "keep" the market all for itself, eliminating all competition.
White-label products using similar packaging to other brands may confuse consumers. As copycatting is illegal in some cases, white-label companies should ensure they differentiate sufficiently from items sold by competitor brands.
The already existing private-label and white-label brands are growing in power, leaving a narrow margin for new firms to enter the market.
Types of white-label partnerships
Here, as an MSP, you will have one contract with a white-label provider and one with your client. Once the white-label product is ready, the white-label company will bill you, and you will, in turn, bill your client.
Throughout the white-label process, your client won't know of the existence of a white-label provider in the background.
In this model, the white-label agency acts as an in-house workforce for your company. Again, you'll have a contract with both the white-label provider and your client.
Your company will be in charge of the process, and the white-label provider will follow your directions. Once the project is complete, the white-label service will bill you, and you will bill your client.
Here, you will introduce the white-label provider to a client so they can keep direct communication. Depending on the project's size, you'll typically receive a commission from the white-label provider.
In this approach, both you and the white-label agency will have a contract with the client. Both will communicate with the client and work together to see the project to completion. Again, depending on the project's size, your company will typically receive a commission from the white-label company.
Types of white-label pricing models
White-label companies offer different price models depending on the needs of your business.
Here, you send project requirements to the white-label provider, which reviews said requirements, and sends a detailed proposal regarding timelines, deliverables, and a fixed price for the white-label product or service.
Here, companies will schedule a business meeting with the white-label provider to explain the expected types of tasks for the project. Afterward, you will keep communicating via project management tools (such as Trello) to assign tasks and monitor progress.
The white-label provider will record the hours spent on all tasks and bill you monthly.
Dedicated resource hiring
Here, you will interview a prospective candidate from the white-label provider to hire them, either part time or full time.
Again, you will rely on project management tools to assign tasks and keep track of progress. Typically, the white-label provider will charge you a fixed cost for each hired resource.
How to choose the most suitable white-label partners?
White labeling serves companies in a multitude of aspects. However, not every white-label provider will match your specific business needs and requirements.
It's best to take the time, do your due diligence, and only then choose the most suitable provider.
It's crucial to choose a white-label partner hellbent on delivering reliable services. Additionally, it's essential to choose a partner experienced in the field you wish to add to your company's portfolio.
For example, if you want to provide digital marketing services to your clients, white-label SEO software can prove helpful in expanding your offerings. The same goes for white-label email marketing solutions or white-label social media tools. Most providers offer white-label SaaS products, meaning you can get a package deal for all needed additions to your portfolio.
As the white-label software will carry your branding, your business can stay competitive without spending a great deal on in-house development and service management.
A reliable partner should expand your service offerings and ease reputation management.
Ensure that the white-label provider has a great reputation and performance history. They should have extended experience in your requested field and offer excellent customer support and services.
Once you've narrowed down your choices, test drive the candidates. It's crucial to examine how they respect the contract terms and carry out projects. Transparency is especially critical if you rely on the provider for long-term projects. (for example, white-label SaaS products manufacturing)
What to include in your white-label service agreement?
There are slight differences in service agreements for private-label or white-label providers. However, there are several crucial points to be included in the agreement, regardless of the approach.
You must include a non-solicitation clause prohibiting the white-label company from working directly with your clients.

You must define the expectations towards the partnership and the completed white-label product.

You must set a scope of management outlining responsible persons, project scope, deliverables, budgeting, and special terms (for example, what to do if the project goes beyond the set scope).

You must outline what will happen if your clients terminate the project before it's completed (including compensation details).

You must include a privacy clause to ensure your branding specifics, existing software, and other sensitive data are protected.
What is a white-label solution for managed service providers?
While managed service providers can sell multiple services from different brands, it doesn't build any real loyalty to the company itself. However, if they had their brand of dependable solutions, customers would be more likely to buy more services from that same brand.
This is why many service providers build their own solutions to sell to their customers. This way, they can offer valuable services to their customers branded with their own company names, logos, domain URLs, and their own contact information. These integrated services help them build necessary brand equity.
Customers like such branded solutions because they come from their own trusted provider, often at a special negotiated rate. Service providers like branded solutions because they help them to extend brand awareness, add value to their company, and to increase the stickiness of the services they provide to their customers. When customers are ready to purchase more capacity or look at adding new services, their trusted vendor's brand is right there to serve them.
While these are all excellent reasons for customers and service providers, one big challenge becomes apparent. Not every service provider has sufficient resources to build new integrated business solutions to meet the customers' demands. It also takes away from the service provider's core business of providing the best services available on the market. Especially in the world of IT software, with various vendors competing for the same market share, building the best-in-class software is usually outside the provider's wheelhouse. While it's possible to produce something that looks good on the surface, customers will soon find out if something is wrong and will look elsewhere for a better product.
A better option for IT service providers is to deliver white-label software from a trusted vendor under their own name, and with their own contracts. (See "Why A White Label Solution Is Easier Than Building Your Own" on Forbes.com.)
White-label software works just like the generic product brands found in supermarkets and big-box distributors — the retailer buys a product in bulk, packages and sells it to the customer at its own configuration, its own price, and stamped with its own name. The same model can now be applied to business software. Service providers don't need to develop in-house expertise to build the solution. Instead, they can apply their own pricing, packaging, and branding to a proven product. This way, MSPs save money, get to market faster, and are more likely to deliver a better service to their customers.
White-label solutions for service providers
White-label software solutions enable service providers to easily build value into their brand and deliver services their customers will stick around for. For service providers who want to start offering new or improved data protection services, the Acronis Backup Cloud is the perfect place to begin. The multitenant white-label backup-as-a-service solution is scalable and easy to use. Following just a few clicks to set up custom branding options, service providers can immediately start selling products under their own brand, focusing on solving their customers' issues and offering them a world-class backup service.
Acronis business continuity solutions — White-label backup
Acronis has built a trusted name in backup and data protection, pioneering a number of industry firsts, including full-image backup and Universal Restore technology. Today, with over a decade of experience building business continuity software, data protection products powered by the Acronis AnyData Engine are available to service providers as white-label solutions. When it comes to backup as a service (BaaS) or disaster recovery as a service (DRaaS), service providers know that their customers will trust a branded offering powered by Acronis.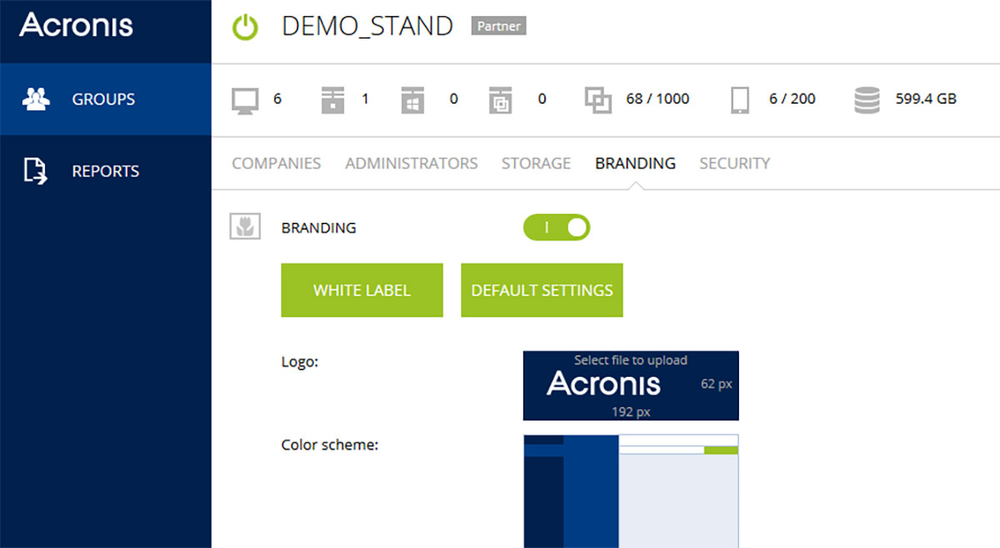 About Acronis
Acronis is a Swiss company, founded in Singapore. Celebrating two decades of innovation, Acronis has more than 2,000 employees in 45 locations. Acronis Cyber Protect solution is available in 26 languages in over 150 countries and is used by 18,000 service providers to protect over 750,000 businesses.