Managed service providers (MSP) are businesses that offer multiple, managed, information technology (IT) services to other businesses. MSPs today largely deliver their services remotely, over a network, although they may maintain other revenue streams that require onsite support.
Historically managed IT service providers serve small to medium-sized businesses, but now the landscape is shifting to include those who work with mid-market companies and enterprises. This means that the services MSPs offer depend on the customers they serve. For example, SMBs can engage managed service providers for basic IT needs (e.g. email solutions, data storage, hardware repair, software updates) and/or specialized offerings, like data protection. For growing or larger businesses, MSPs may be hired to augment in-house expertise – from vetting niche solutions and implementing them to reevaluating in-house IT needs and capacity as a company scales.
Of course, MSPs can specialize too – offering only niche services, like cyber security.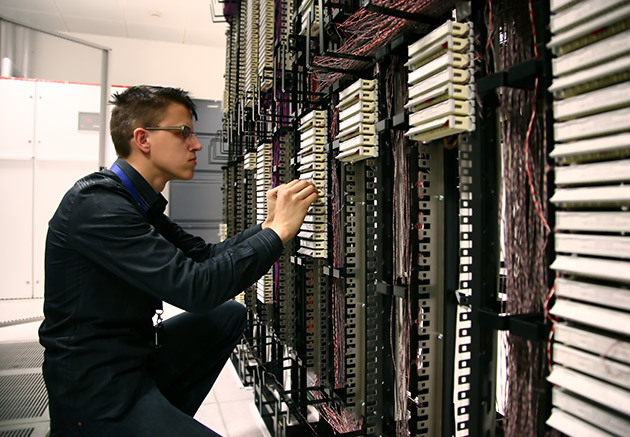 The benefits of using an MSP
Contracting with an MSP provides many compelling advantages that include:
24/7 IT support across the globe (if needed)

Temporary or permanent IT staff augmentation when needed for special/urgent projects

Access to IT experts across different technical disciplines

The ability to easily scale technical resources as business conditions dictate

Eliminating the need to hire internal IT experts

Freeing up the IT team so they can focus on the core business instead of troubleshooting IT problems

Improving business continuity with service level agreements (SLAs) that document the MSPs obligations

Mitigating data loss with managed backup and disaster recovery services

Better budget management with a pay-as-you-go service
Despite their advantages, managed service providers may also come with challenges. For example:
Many MSPs only offer partial data security services, such as firewalls and anti-malware. If you are looking for a provider of cybersecurity service, consider a managed security service provider (MSSP).

Dependence on the SLA can put a business at risk if the MSP fails to meet the terms.

Most MSPs manage their clients' IT infrastructures remotely as they are not local to the business. A client will pay extra if they need on-site support.

Some MSPs use proprietary technology/tools, which can make it difficult for the client to get access to their data should they decide to terminate the engagement.

It can be expensive to start an engagement with an MSP but the rate of return on the investment (ROI) can be good when you consider that the client does not have to purchase new technologies.

Not every MSP can support all technologies and applications so you will need an alternative solution or service to support out-of-scope services.
What types of services does an MSP offer?
The types of services MSPs can offer include:
Help desk

Managed infrastructure

Managed applications

Endpoint security

Business VoIP

Managed print

Database optimization/management

Managed cloud services

IT staff augmentation

IT strategy services

Partial data security services, such as firewalls and anti-malware
What is a managed service provider (MSP) business model?
A good way to understand the it managed services concept is by comparing it to break/fix services:
Rather than the break/fix model that results in a 'one off' fee-for-service approach, most MSPs today utilize a subscription model to establish recurring revenue streams and deepen customer relationships that help reduce churn.
With a subscription service, MSPs take responsibility for specific systems so they keep running. MSPs engage customers for a flat rate and then maintain IT services (detailed in service level agreements, or SLAs) on a continuous, monthly basis. Pricing per month is typically determined using one of the following methods:
Per-device. MSPs charge a flat fee for each device that they help manage.

Per-user. MSPs charge a flat fee for each user who's IT needs they manage.

ll-inclusive. MSPs charge a flat fee for all services delivered.
In addition, SLAs can be tied to fees. For more customized or hands-on services, for example, MSP pricing may be higher than for more basic services covered in a lower-tiered SLA.
Which companies are among the top 10 managed service providers?
Some of the leading managed service providers in the world are well-known American companies, like IBM, Accenture and Cognizant. India is also a leader, with Tata Consultancy Services, Infosys, Wipro and HCL Technologies posting billion dollar revenues.
Are there many managed service providers in the USA?
There are approximately 3,500 managed service providers in the United States. Here are the top ten global providers, according to Enterprise Management 360 magazine (2018):
IBM

Atos

InfoSys

Cognizant

Wipro

Tata Consultancy Services

HCL Technologies

Capgemini

Datapipe

Accenture
Are there managed service provider tools?
Yes, managed service providers must deliver numerous in-demand services that keep business running – doing so effectively requires robust MSP software. MSP tools help providers do everything from monitoring and managing systems remotely to keeping systems secure and sending invoices out for services rendered.
While use-cases vary, today all MSPs require tools that support:
Financial/accounting, like QuickBooks, Microsoft Dynamics GP, and Freshbooks.

Professional services automation (PSA), like Autotask, ConnectWise Manage, and Kaseya BMS.

Remote monitoring and management (RMM), like ConnectWise Automate and Autotask Endpoint Management.
The most sought-after tools within each of these categories naturally also deliver a high level of automation. This feature means managed service providers can work more efficiently.
Of course, while this list of go-to tools is essential for managing an MSP business, another key MSP tool is one that ensures MSP businesses keep running. That is, as the world has become more digitized, 87% of MSPs now offer backup and recovery services to customers. This means that MSPs no longer view backup and disaster recovery (DR) as a beneficial add-on service. Rather, these solutions are critical to business continuity: MSPs with their own infrastructure are wise to leverage MSP software for backup and disaster recovery too. Otherwise, everything is at risk – if a managed service provider's systems go down, their customers' businesses are also exposed.
PRO TIP: MSPs should prioritize backup and DR solutions that meet an important criterion – it should integrate anti-ransomware technology that guards systems, backups and the backup agent itself from an attack.
What is a managed service provider program?
Sometimes simply called a "partner program," managed service provider programs are offered by software and hardware vendors in order to help channel partners (MSPs) build and grow their business. Benefits include marketing, sales, and technical support ranging from marketing development funds (MDFs) and promotional opportunities that boost margins to research and development projects and product-specific training – anything an MSP may need to deliver services successfully.
PRO TIP: When you are vetting solutions that allow you to deliver key in-demand services to customers, do not underestimate the value a robust partner program delivers. A vendor that understands MSP needs makes it easier for you to deliver services – and grow.