Acronis

Cyber Protect Cloud
If you are a managed service provider (MSP) or an IT solutions reseller reading this article, then you are likely researching new data protection and disaster recovery solutions to enhance your client offerings. You are either considering both Acronis and StorageCraft, or you're already using StorageCraft and looking for alternatives.
Note: This comparison is based on publicly available information about StorageCraft product features as of December 2020.
This article offers an overview of how StorageCraft and Acronis compare and why service providers choose to work with Acronis for backup as a service (BaaS) and disaster recovery as a service (DRaaS). Let's start by taking a look at the solutions each vendor offers for data protection and disaster recovery. Then we'll share the key advantages Acronis offers its partners as a StorageCraft alternative.
StorageCraft is a well-known vendor that offers server backup and disaster recovery software.
For local backups of servers and virtual machines (VMs), StorageCraft offers three solutions:
ShadowProtect SPX – software that's installed in the client's data center for SMB customers

ShadowXafe — software that's installed in the client's data center with increased functionality for mid-sized and enterprise customers

OneXafe — a local backup appliance
The solutions integrate with StorageCraft Cloud Services in order to replicate local backups to the cloud and enable disaster recovery to the cloud.
For file-level, local-to-cloud backups of Windows workstations and laptops, they offer StorageCraft File Backup and Recovery.
For Microsoft 365 and Google Workspace backup, StorageCraft offers a separate solution that's not integrated with on-premises products: StorageCraft Cloud Backup.
StorageCraft has increased its fees and commitments, a change that partners are not happy with.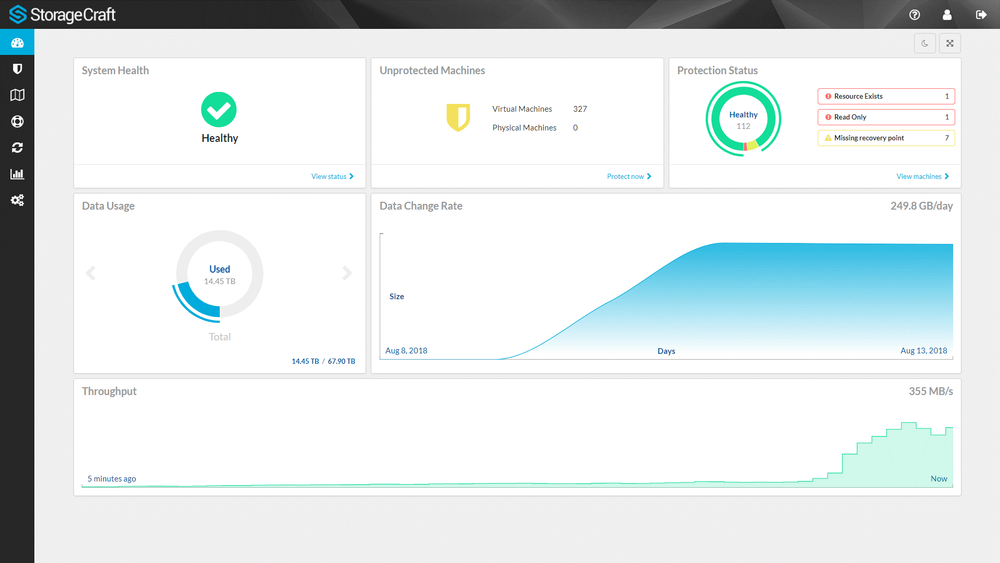 ShadowXafe's dashboard. Source
As you can see, StorageCraft has distinct tools to protect server infrastructure, employee Windows machines, Microsoft 365, and Google Workspace. This means that there is no single-pane-of-glass protection for the whole client environment, a noteworthy limitation.
For service providers (SPs), Acronis developed Acronis Cyber Cloud, a cloud-based platform that offers a suite of integrated cyber protection services, spanning backup, disaster recovery, malware and ransomware protection, plus other capabilities.
When it comes to data protection and disaster recovery, the Acronis Cyber Cloud platform offers the following services:
- Acronis Cyber Backup Cloud — the number-one hybrid cloud BaaS for any virtual, physical, and cloud environment, with built-in artificial intelligence (AI) -based ransomware protection
- Acronis Cyber Disaster Recovery Cloud — turnkey DRaaS for virtual and physical workloads, built on top of Acronis Cyber Backup Cloud
- Acronis Cyber Infrastructure — a brandable, scale-out, cost-efficient, and multi-purpose software-defined storage (SDS) solution for the edge
Additionally, service providers can easily upgrade their data protection and disaster recovery services to Acronis Cyber Protect Cloud, a groundbreaking new service that offers the only AI-powered integration of data protection and cybersecurity on the market today.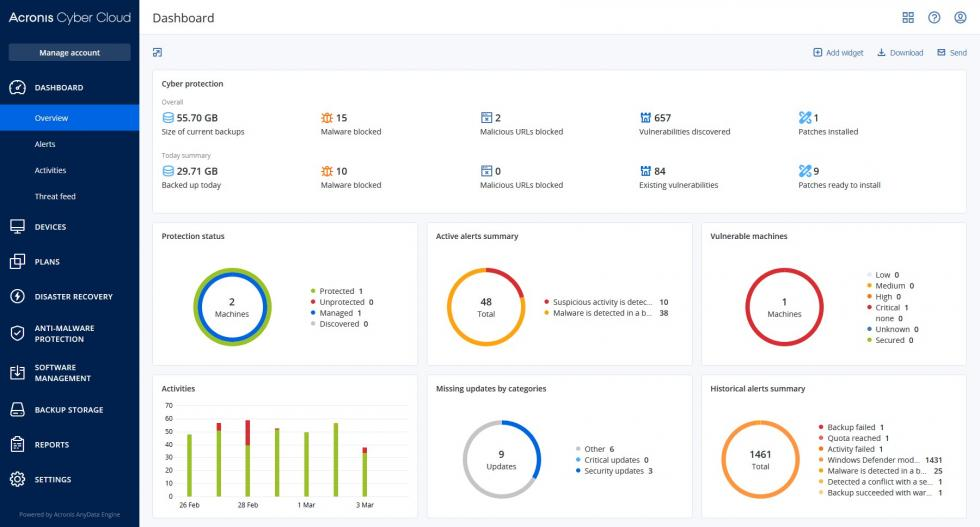 Acronis Cyber Cloud Dashboard
Five reasons service providers choose Acronis Cyber Cloud over StorageCraft
Acronis Cyber Cloud offers support for all small-to-medium business (SMB) devices and applications via a single console; the best level of security on the market; better deployment, backup, and licensing flexibility; much greater efficiency when it comes to a service provider's daily operations and larger business needs; and fast, reliable backup and recovery. Here's a more detailed look at these five key advantages.
1. Minimal solution juggling - protect all SMB devices and applications from a single pane of glass
Service providers (SPs) are looking for a unified data protection solution for all SMB devices, enabling them to deliver services more efficiently and increase ARPUs. Unfortunately, StorageCraft has separate — not integrated — tools for server infrastructure, Windows workstations, and for Microsoft 365 and Google Workspace. It lacks critical endpoint support for cloud VMs, Mac machines, mobile devices, some virtualization platforms, and business applications. Meanwhile, using multiple backup solutions hinders SP efficiency and adds administrative overhead — especially for the numerous service providers who cater to SMBs (rather than enterprises).
In comparison, Acronis not only provides better endpoint support — protecting numerous systems — but also empowers SPs to manage all of them through a single pane of glass. Supported systems include:
- Workstations: Windows, Mac
- Physical servers: Windows, Linux
- Hypervisors and VMs: VMware vSphere, Microsoft Hyper-V, Virtuozzo, Citrix XenServer, Linux KVM, Red Hat Enterprise Virtualization, Oracle VM Server, Nutanix Acropolis
- IaaS: Azure VMs, AWS EC2 VMs
- SaaS: Microsoft 365, Google Workspace
- Applications: Microsoft Exchange, SQL Server, SharePoint, Active Directory, Oracle Database, SAP HANA
- Mobile devices: iOS, Android
2. Integrated cybersecurity defenses — next-generation, full-stack protection against modern threats like malware
StorageCraft does not have malware and ransomware protection built into its products. With cyber threats emerging as the fastest-growing threat to data today, service providers need a reliable, effective way to safeguard data. With Acronis' cyber protection capabilities — an approach that combines robust backup with proactive, AI-based antimalware technologies — service providers can deliver the level of protection that clients require today.
Acronis Cyber Backup Cloud offers the most secure data protection on the market:
- AI-based ransomware protection with Acronis Active Protection:
- Machine learning-based detection of known and unknown ransomware strains, with models trained continuously in Acronis Cloud AI infrastructure
- Automatic stopping of ransomware processes upon detection
- Self-defense mechanisms to prevent modification of backups and disruption of Acronis software processes
- Automatic file restore — all encrypted files are automatically restored from cache, should ransomware manage to penetrate the defenses
- Data authenticity is ensured via automatic blockchain-based backup file notarization
When upgrading to Acronis Cyber Protect Cloud, service providers and their clients get even more in terms of cybersecurity:
- AI-based antimalware protection of systems
- Antimalware scanning of backups
- Data protection maps and compliance reporting
- Unified policies for data protection and cybersecurity
- Patch management
- Automatic endpoint backups before patching
- Safer recovery: automatic antimalware backup scans, patching, and antivirus database updates integrated into the recovery process, to protect against threat reoccurrence.
- Continuous data protection (CDP) — back up changes to critical applications' data between scheduled backups
- Windows Defender Antivirus and Microsoft Security Essentials management
- Forensic data backup
- URL filtering
3. Enhanced sales — control go-to-market efforts and win more deals with better deployment, backup, and licensing flexibility
Let's take each specific capability in turn:
StorageCraft offers very limited deployment options, leveraging either on-premises software or an appliance located at each client's site — which only allows replication to StorageCraft's cloud or to Amazon Web Services (AWS). StorageCraft does not offer a private cloud deployment option, greatly limiting service providers.
Moreover, different StorageCraft agents need to be deployed based on the protected environment — server, workstation, or SaaS.
With Acronis Cyber Cloud, SPs control their data protection system deployment with diverse, hardware-agnostic options:
- Acronis-hosted — turn-key SaaS, with all components ready to use in the Acronis Cloud
- Hybrid — SPs can choose the cloud storage that makes sense for their clients, whether in public clouds like AWS, Google, or Azure; the SP's own data center; or any third-party data center
- Service provider-hosted — a private cloud deployment option for SPs that host the system in their own data center
Note: Acronis Cyber Protect Cloud is available in all models listed above. However, there are some functionality limitations in the hybrid model. Meanwhile, Acronis Cyber Disaster Recovery Cloud is currently available via the Acronis-hosted and service provider-hosted models, with the hybrid deployment option coming in future editions. Users should ask a representative for clarification based on their individual use case.;
Acronis also leverages a single-agent deployment to address multiple business solutions, including backup, antimalware, and security management, regardless of the environment. This helps service providers:
- Minimize TCO (total cost of ownership) by consolidating costs for different solutions
- Simplify IT management with central management of all cyber protection functionalities
- Decrease device resource consumption with a single agent
With StorageCraft, SPs have to make a local backup first, and only then replicate that backup to the cloud. This means that with StorageCraft, users lack direct-to-cloud backup. On the other hand, Acronis partners stay in control, backing up as desired via:
- Local backups, with replication to any cloud
- Local backups, with replication to any secondary local storage
- Cloud-only backups
- Cloud-to-cloud backups
- Cloud-to-local backups
Flexible, simple, and transparent licensing
Customer use cases and selling models can vary tremendously. That's why it's critical for a SP or reseller to choose their preferred licensing model based on the advantages that make the most sense for their business. StorageCraft presents highly-limited licensing options with only subscription-based licensing offered to MSPs. The company is increasing its licensing fees and commitments. Moreover, StorageCraft bills its partners based on buckets of storage in the cloud, not actual consumption, while Acronis bills for actual compressed data stored in the cloud.
In the same time, Acronis offers significantly higher licensing flexibility:
- Per-GB or per-workload licensing
- Consumption-based/pay-as-you-go or prepaid models
- A single billing structure for all services and features (rather than juggling multiple paid add-ons)
- Ability to upsell with antimalware and advanced security capabilities, or cross-sell multiple other services for better ARPU
4. Superior SP operational efficiency and service differentiation
Operational efficiency will always be a key priority for service providers: ideal solutions minimize ongoing maintenance and usage costs, not to mention everyday management, startup, and proof of concept (PoC) costs. SPs should have the ability to customize, extend, and brand the vendor's solutions. It's also important for service providers to be able to easily deliver multiple managed services via a single platform for increased ARPU and less IT management overhead.
Moreover, to enable easier custom product integrations, service providers require broad API support. StorageCraft Cloud Services, unfortunately, offer only a REST API for requesting information about a specific cloud account, retrieved in JSON format.
Unlike StorageCraft, Acronis supports service providers with:
- Additional RMM and PSA integrations, including ConnectWise Manage, ConnectWise Control, and SolarWinds MSP (coming soon), in addition to Autotask, ConnectWise Automate, and Kaseya
- Hosting control panels and billing system integrations: cPanel, Plesk, WHMCS, HostBill
- Marketplace-provider integrations: CloudBlue, AppDirect
- Multiple services ready for delivery via a single portal: Acronis enables easy upsell/cross-sell for increased ARPU and seamless switching between solutions with just a single sign-on
- Modern, intuitive web-based portal: Beloved by partners for its ease of use, Acronis Cyber Cloud makes bulk task management seamless
- Reseller management capability: SPs can turn themselves into value-added resellers, allowing them to sell beyond their traditional end client market
- White-labeling: SPs can stand out from the competition with flexible branding options
- Broad API support: Acronis Cyber Cloud supports custom integrations with a broad set of APIs:
- Account Management API automates provisioning and billing of Acronis Cyber Cloud services for your customers and serves as an identity and access management framework.
- Software in 25 languages: Acronis offers user-based settings and easy switching between languages
- A set of APIs provides the common functionality for Acronis Cyber Cloud services:
The Alerts API enables activation, inspection, and removal of alerts generated by Acronis Cyber Protection.

The Tasks API enables inspection of tasks and activities performed by Acronis Cyber Protection.

The Agents API provides information about agents registered in Acronis Cyber Protection and their endpoints.

Software in 25 languages: Acronis offers user-based settings and easy switching between languages
5. Fast, reliable backup and recovery
You may have seen that some service providers chose Acronis over StorageCraft due to the improved storage consumption and faster recoveries offered by Acronis. While you'll have to conduct PoC tests yourself to see if this proves true for you, it's helpful to know that Acronis uses top-notch archiving technology — the result of 15 years of ongoing research and innovation — to ensure reliable, high-speed backups. This approach allows users to:
- Avoid corruption of backup files, even in case of power failure in contrast with StorageCraft that supports Windows Resilient File System (ReFS) to detect and respond to data corruption automatically only in Windows environments without protection against data corruption due to power failure.
- Pause/resume back up jobs at any time, picking up where the process left off — even if the system is restarted
- Use data compression to reduce the amount of storage space needed for backups and enable faster recovery
- Back up and recover systems and files quickly — up to two times faster than the closest competitor
Leverage automatic data recovery in the event of ransomware attacks
In addition, Acronis Universal Restore facilitates quick and reliable recovery by allowing users to swiftly recover Windows and Linux systems to bare metal. It does so by detecting the systems' hardware and auto-installing appropriate drivers, thereby removing incompatibility issues and reducing recovery-related costs.
Upgrade to Acronis Cyber Protect Cloud and receive integrated data protection and cybersecurity, enabling service providers to deliver safer recoveries with integrated antimalware scanning of backups, automated installation of the latest security patches, and antivirus definition updates.
Do I need a local backup appliance?
Acronis plans to release a local backup appliance in late 2020. Even without this appliance, however, you can use Acronis Cyber Backup Cloud to cover the same data protection needs by:
- Using it as a middle ground, leveraging third-party virtualization software and hardware as well as Acronis Instant Restore to run VMs directly from backups in seconds.
- The Agents API provides information about agents registered in Acronis Cyber Protection and their endpoints.- Leveraging the Acronis Cyber Infrastructure Appliance, a ready-to-use solution that integrates proven and tested hardware and software in one easily installed and operated unit. You can instantly deploy it as backup storage for Acronis Cyber Backup Cloud and use it as shared storage for general needs like documents, graphics, and video files.
Rising above the competition
As a channel-focused company, Acronis is serious about partner success. Those who registered with Acronis' Partner Program reported selling one and a half times more than those who didn't. That's because Acronis gives partners a dedicated account manager; 24/7 priority support; direct access to its senior management team; and key sales and marketing tools and resources via its award-winning Partner Program — including product materials, regular webinars, laudable technical and sales trainings and certifications, pre- and post- sales support, and more.
If you're looking to increase profitability by consolidating your day-to-day operations and support for all popular modern workloads, Acronis Cyber Cloud can help. The made-for-SP platform offers an easy, efficient, and secure solution that also addresses modern client needs. This means service providers can leverage just one tool to go beyond traditional BaaS and DRaaS offerings, stand out from the competition, and deliver the level of protection that's needed today: cyber protection.
For more insight, find service provider solution reviews on sites like G2 and Gartner Peer Insights.
Vetting Acronis Cyber Cloud for your needs
Our pros are available to discuss your unique challenges and show you how our service provider-first solution can help.
About Acronis
Acronis is a Swiss company, founded in Singapore. Celebrating two decades of innovation, Acronis has more than 2,000 employees in 45 locations. Acronis Cyber Protect solution is available in 26 languages in over 150 countries and is used by 20,000 service providers to protect over 750,000 businesses.