Complete cyber protection for Mac

Easy-to-use backup and antivirus

Protects everything – photos, files, applications, systems, and the devices they're on – through an intuitive interface that's accessible from anywhere.

Efficient all-in-one protection

Unifies

reliable backup

and anti-malware in one

full feature

solution, reducing the cost, complexity, and risk caused by managing multiple stand-alone products such as antivirus and Time Machine.

Secure from all threats

Stops any threat from disrupting your entire digital live – from Mac failure to lost or stolen devices to the latest cyberattacks specifically targeting Macs. It even protects your Windows or Android devices.
Have peace of mind knowing your devices and backups are protected
Choose a cyber protection plan that meets your needs
Formerly Acronis True Image
Award-winning cyber protection solution
Over 5.5 million users rely on Acronis Cyber Protect Home Office every day
An all-encompassing tragedy-prevention solution
Looking for Help?
Frequently Asked Questions
How do you back up a computer?

A computer backup is a second copy of your data that you store separately from the original. That includes family photos and videos, documents, emails and contacts, and the apps and operating system that powers your computer. If the originals are located on your laptop or a mobile device, you keep the backup somewhere else that safe – that way you can use the second copy to restore your files or system in case something happens to the original.

To ensure all of this data is accurately copied so you can use it to recover your computer, backup software is a must. A solution like Acronis Cyber Protect Home Office (formerly Acronis True Image) automatically captures changes to everything, including hidden files that can be missed by manually copying files, and makes the process of recovery easy and efficient.

How do you back up a computer to external hard drive?

With Acronis Cyber Protect Home Office (formerly Acronis True Image), creating a full image backup on an external hard drive is as easy as two clicks. Once the drive is connected and Acronis Cyber Protect Home Office is running, you click Add backup. The entire computer is the default backup source, so you simply need to assign the external drive as the Backup destination and then click Back up now.

What does it mean to back up a computer to the cloud?

Computer backups need to be stored someplace safe. Acronis recommends the 3-2-1 backup rule, which includes storing a copy of your backup files locally (on external hard drives, network drives, and NAS devices) and another copy off-site. That way, if a fire or flood damages both your original files and the local backup, the off-site copy is available to use for recovery.

"The cloud" is a term that describes a remote network of computers and servers that you access via the internet. Because you just log in via the internet, the cloud is a convenient way to store your files off-site, where they are safe from local damage. Subscriptions to the Advanced and Premium editions of Acronis Cyber Protect Home Office (formerly Acronis True Image) include cloud storage, as well as cloud-based features and anywhere access to your data.

With Acronis Cyber Protect Home Office, you also have the ability to automatically replicate local backups in the Acronis Cloud, so you always have an off-site copy of your data available without having to manage a separate backup plan. By choosing this option, after the first successful backup, your backup and replication will be done simultaneously, in parallel.

What is Acronis anti-malware protection?

Acronis' advanced anti-malware gives you peace of mind by delivering outstanding multilayered threat protection. It uses a set of integrated technologies that address specific attack vectors:

Superb protection against known and unknown malware, including ransomware, cryptojackers, and fileless attacks.
Behavioral analysis and dynamic detection rules that combat any emerging threats.
n-demand antivirus scan that checks all files on your computer for any kind of malware: Trojans, viruses, backdoors, worms, keyloggers, spyware, and others.

Acronis continuously safeguards your device and backups from the latest cyberthreats.

Do I need Acronis anti-malware protection if I already have specialized antivirus, anti-malware, firewall, or other security software?

Yes. Acronis anti-malware uses a set of integrated technologies that deliver data protection capabilities many third-party antiviruses don't. Such as:

It keeps your backup safe. A dedicated module of Acronis anti-malware protection guards your backup files and the backup agent, preventing deletion or alteration by malware.
It restores ransomware-affected files automatically. The majority of other security software only prevents the attack, without automatically recovering the ciphered data.

Is Acronis' anti-malware protection compatible with other anti-malware solutions?

We are aware that you probably have specialized antivirus, web filtering, or other security software installed on your device. Even though we recommend uninstalling the third-party software and fully relying on Acronis' anti-malware solution, you can still keep it active. Acronis' anti-malware protection is compatible with most common anti-malware solutions. They do not conflict with each other for resources and do not create an extra overhead on the system.

However, our real-time protection switches on only if there is no third-party real-time protection solution running on your device. If third-party software is detected, you'll receive a message on your protection dashboard notifying you that another piece of software is protecting you from malicious files.

Note:Note: If you continue using an existing third-party solution for device protection rather than Acronis' anti-malware, we cannot guarantee the reliability of that third-party protection. Acronis' anti-malware protection is compatible with most common anti-malware solutions. They do not conflict with each other for resources and do not create an extra overhead on the system.
Works on multiple platforms
Microsoft Windows
Windows 11 (all editions)
Windows 10 (all editions)
Windows 8+ (all editions)
Windows 7 SP1 (all editions)
Windows Home Server 2011
Windows file systems
NTFS
Ext2/Ext3/Ext4
ReiserFS(3)

Linux SWAP

HFS+/HFSX

FAT16/32/exFAT
Apple macOS
macOS Ventura 13
macOS Monterey 12
macOS Big Sur 11
macOS Catalina 10.15
macOS Mojave 10.14
macOS file system
APFS
HFS+
Core Storage
FAT32
NTFS (including Boot Camp)
Mobile operating systems
iOS 12.0 or later
Android 7.0 or later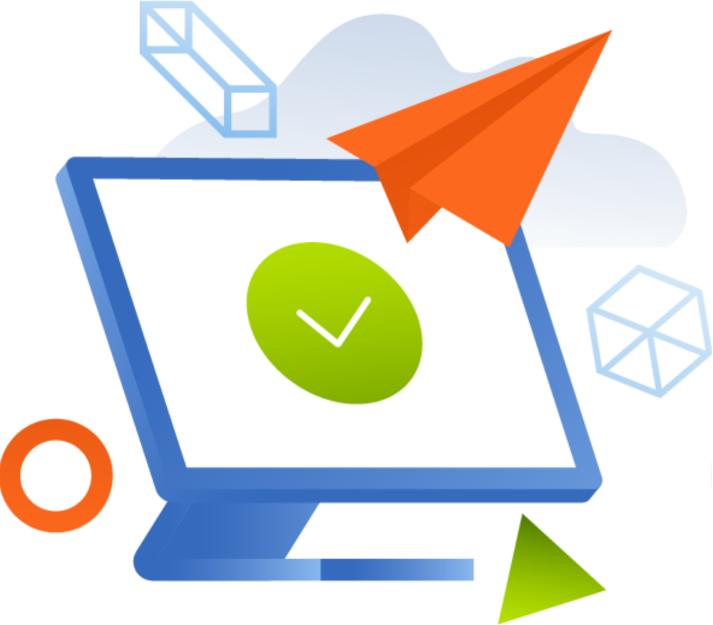 Subscribe for tips, news and occasional promotional offers from Acronis
Sorry, your browser is not supported.
It seems that our new website is incompatible with your current browser's version. Don't worry, this is easily fixed! To view our complete website, simply update your browser now or continue anyway.